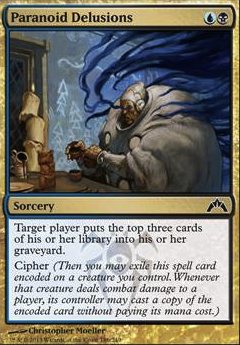 Paranoid Delusions
Sorcery
Target player puts the top three cards of his or her library into his or her graveyard.Cipher (Then you may exile this spell card encoded on a creature you control. Whenever that creature deals combat damage to a player, its controller may play a copy of the encoded card without paying its mana cost.)
Paranoid Delusions Discussion
1 month ago
I could give Paranoid Delusions a shot. Might be mroe consistent for milling. Just having issues deciding what to give up for it
1 month ago
if you could get them i would keep the Sphinx's Tutelage and drop the Archivist The repeat mill is amazing. Also if you are swinging a lot and not getting blocked maybe consider Paranoid Delusions
1 month ago
I got to thinking about cipher on cards like Paranoid Delusions and I got kinda confused about how it works. I checked the official rules, but it still didn't answer my question. When I cast a card with cipher, then encode it onto a creature, then that creature deals combat damage to a player, then makes a copy of the first spell, Can I put the copy on a new creature, then have two creatures with the encoded ability? I know this is probably the worst and most confusing way to ask it, so sorry... Thanks in advance!
2 months ago
Have you considered adding some cipher spells to the deck? Paranoid Delusions would work great, both because it adds mill, but also because each time you land a successful hit, you cast it again, activating Circu's ability. Call of the Nightwing and Whispering Madness wouldn't be half bad either.
2 months ago
Instead of using Followed Footsteps you might as well use Paranoid Delusions .
Legality
| | |
| --- | --- |
| Format | Legality |
| Legacy | Legal |
| Vintage | Legal |
| Commander / EDH | Legal |
| Modern | Legal |
| Duel Commander | Legal |
Related Questions