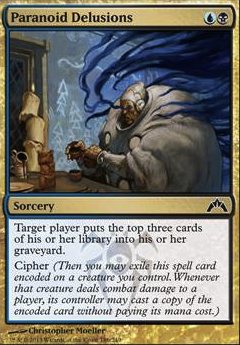 Paranoid Delusions
Sorcery
Target player puts the top three cards of his or her library into his or her graveyard.Cipher (Then you may exile this spell card encoded on a creature you control. Whenever that creature deals combat damage to a player, its controller may play a copy of the encoded card without paying its mana cost.)
Paranoid Delusions Discussion
1 day ago
Run Thought Scour instead of Pilfered Plans. Or both. Just make sure you have a decent number of cantrips that aren't too expensive to cast. I love mill decks, but damn do they make you look stupid when they run out of gas. You need stuff that keeps your hand from emptying too quickly.
The control aspect of your deck needs some improvement. Don't use those -X/-0 spells, they're not worth it - why waste your mana on Hydrosurge when you can bounce their attackers (Void Snare, Vapor Snag) or simply counter them before they even hit the board (Mana Leak, Spell Snare)? Speaking of counters, Countersquall is in your colors and doubles as a source of damage.
Codex Shredder is painfully slow, and Grindclock doesn't do much without some tap/untap shenanigans. Replace them with Mesmeric Orb or Altar of the Brood.
Your creatures are also all over the place. Archaeomancer, Elite Arcanist, Kraken Hatchling and Lord of the Void (SEVEN MANA!) all suck - each for different reasons, but they all suck. I'm not sure about Mirko Vosk, Mind Drinker either, especially as a 1-of. Prioritize creatures that cost 1 or 2 mana, unless they're powerful enough to justify their high cost (Consuming Aberration). Add more Wights, more Phantasms, more Hedron Crabs and one more Aberration and get rid of the others, and you'll soon notice how much more consistent your deck has become. If you want more creatures, try Invisible Stalker - great card to encode Paranoid Delusions on!
Oh, and by the way, want to know a nice little trick I always use when I play U/B mill? Turn 2 Nihilith, turn 3 Mind Sculpt. Gets you a 4/4 with haste and fear, seven cards in the graveyard and probably one mana open for Jace's Phantasm or whatever. In other words, get Nihilith ASAP!
1 month ago
Add Wight of Precinct Six, Keening Stone, 2x Paranoid Delusions, 2x Traumatize, swap 1x Lazav, Dimir Mastermind and 1x Brainstorm for 1x Mirko Vosk, Mind Drinker and 1x Wrexial, the Risen Deep. Remove some of the draw cards, because they don't do anything to do with milling. Also, remove the Bojuka Bogs for some other lands, and push the land count up to 24.
| | |
| --- | --- |
| Color(s) | Black Blue |
| Cost | UB |
| Converted cost | 2 |
| Avg. draft pick | 9.75 |
| Avg. cube pick | 1.86 |
Legality
| | |
| --- | --- |
| Format | Legality |
| Legacy | Legal |
| Vintage | Legal |
| Commander / EDH | Legal |
| Modern | Legal |
| Duel Commander | Legal |
Related Questions