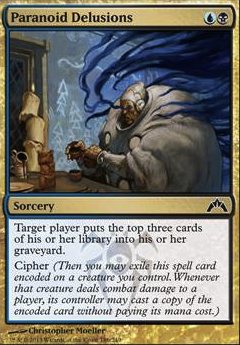 Paranoid Delusions
Sorcery
Target player puts the top three cards of his or her library into his or her graveyard.Cipher (Then you may exile this spell card encoded on a creature you control. Whenever that creature deals combat damage to a player, its controller may play a copy of the encoded card without paying its mana cost.)
Paranoid Delusions Discussion
3 days ago
If by "become more consistent" you mean "turn into a mill deck," then I completely agree. The only problem is that this isn't a mill deck.
The point of this deck is to equip, enchant, and encode unblockable creatures with effects that trigger when they deal damage to an opponent. The win condition is reducing the opponent's life total to zero. While making the deck mill-focused is a completely viable strategy (especially with Paranoid Delusions and Trepanation Blade), I don't think that's what the deck's creator was going for. Just because a deck is Blue/Black doesn't mean it's a mill deck.
I actually have a similar deck, inspired by this one.
Legality
| | |
| --- | --- |
| Format | Legality |
| Legacy | Legal |
| Vintage | Legal |
| Commander / EDH | Legal |
| Modern | Legal |
| Duel Commander | Legal |
Related Questions