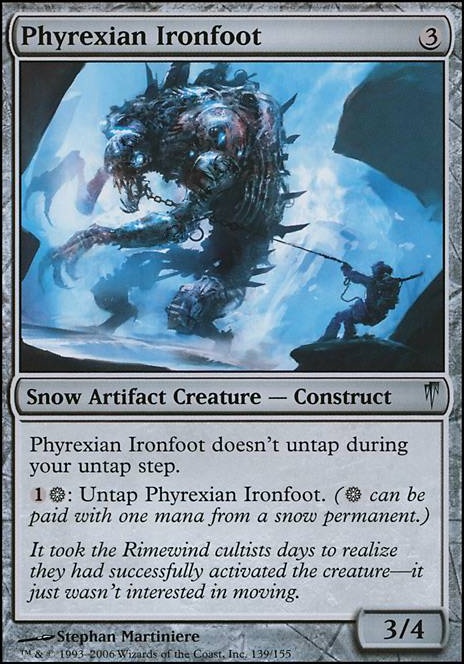 Legality
3 years ago
Scrying Sheets is free, reusable card advantage from a land. The only downside is that if you up fetchland density (which you should for deckthinning purposes) it has less effectiveness.
23 lands is really high. You can cut down to 20 rather easily, especially with the scry/draw you run. Frost Marsh should 100% go, ETB tapped. I would also cut Watery Grave Breeding Pool and Urborg, Tomb of Yawgmoth , your color intensity really isn't that high and they aren't snow permanents. If you up Coldsteel Heart to 4x, you should not have any problems with color requirements, especially with fetches.
Consider Rimefeather Owl as a possible 1x or 2x finisher. Its like the Treefolk except it flies and can generate further snow advantage. I'm also surprised you aren't running the Treefolk as a 4x.
I think Icehide Golem or Rimebound Dead both are better than Phyrexian Ironfoot . You aren't using ironfoot to combo with the untap + payload, so it just means it becomes a mana sink. Icehide is better if color intensity is too high, Rimebound better against aggro decks.
Also peek Centaur Omenreader .
5 years ago
Proposed change:
ADD (14)
MOVE TO SIDEBOARD (10)
REMOVE (4)
REMOVE FROM SIDEBOARD (10)