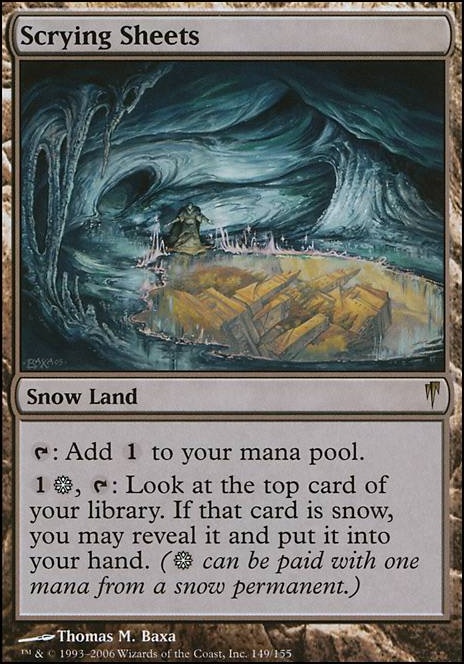 Legality
| | |
| --- | --- |
| Format | Legality |
| Tiny Leaders | Legal |
| Noble | Legal |
| Leviathan | Legal |
| Magic Duels | Legal |
| Canadian Highlander | Legal |
| Vintage | Legal |
| Modern | Legal |
| Vanguard | Legal |
| Legacy | Legal |
| Archenemy | Legal |
| Planechase | Legal |
| 1v1 Commander | Legal |
| Duel Commander | Legal |
| Oathbreaker | Legal |
| Unformat | Legal |
| Casual | Legal |
| Commander / EDH | Legal |
Scrying Sheets
Snow Land
: Add to your mana pool.
, : Look at the top card of your library. If that card is snow, you may reveal it and put it into your hand. ( can be paid with one mana from a snow permanent.)
Scrying Sheets Discussion
5 days ago
Bazzul I love the deck btw - though it won't likely compete with Godo, that's ok.
I've crunched the numbers and currently your mana cost for the entire build is 72 - the minimum mana cost for using naus is like 52(?) I believe. So the likelihood of you having enough mana's worth in hand to reliably cast naus as a simpler method is just not going to work.
Skeletal scrying for 30-odd would find you a decent chunk of what you're looking for, even giving you the chance to pitch Phantasmagorian without unmask.
Increasing your consistency I'd recommend some basic stax: The Tabernacle at Pendrell Vale , Wasteland , Strip Mine ; some further lands you could consider: Myriad Landscape , Blighted Fen (for Bone Picker ), Bazaar of Baghdad , the new Blast Zone , Forbidden Orchard is a card that works collectively with opponents to block tymnas (you give them enough spirits that they can double-block to remove it / whatever you feel is necessary), Deserted Temple will make ritual lands faster, Scrying Sheets with snow-covered swamps will help you to dig for removal (albeit a bad mana sink).
Some good ideas would be to run Mutavault , Zoetic Cavern , any other manland you can think of Mishra's Factory as they'll make your combo more condensed and provides redundancy for Bone Picker
For real though, love the brew; I tried to work something out with Belzenlok when he got spoiled, so seeing this puts me to shame. Nice one.
1 week ago
Reminds of the one I played. It was my 1st mono-black edh http://tappedout.net/mtg-decks/25-01-15-form-blazing-sword/. I say look at it and see some of the unblockable ways to get damage through. Dauthi Embrace gives ANY creature shadow. Hatred lets you end it in One Punch Man. Prowler's Helm , Trailblazer's Boots are another great way to get through. It's rare you go up against a Wall or a deck that has 0 non-basic lands in the deck. If you need more ramp you can always go the Extraplanar Lens + Snow-Covered Swamp route it is one of the cheapest to do the process for they are .50 each. It may take a while but its so worth it.Add Scrying Sheets for sweet top deck ramp. Terrain Generator Thawing Glaciers also serve as extra ramp in black.
1 week ago
If you do switch to Snow-Covered Island s don't forget to add Scrying Sheets .
Also since Worldslayer on big bird simply is game over maybe put in some more ways to find it.
2) Kuldotha Forgemaster (not sure about this one)
3) Reshape
4) Transmute Artifact (a little pricey, but if you proxy one I doubt anyone would mind)
Once again, love the deck idea man and if I can think of anything else that might improve it I'll let you know.
2 weeks ago
A nice trick you can pull with monocoloured decks is swapping out all of your Mountains for Snow-Covered Mountain s and then making room for Scrying Sheets . It can also pick up the Coldsteel Heart you're already running, meaning there's a little card advantage it can eke out for you every now and then. Mouth of Ronom and Skred might also be worthy inclusions if you go that route.
Some other intriguing ways for you to score a lot of tokens include Thopter Assembly , Lightning Coils and Retrofitter Foundry - even if you keep ditching the tokens immediately, those comes-into-play triggers will add up!
1 month ago
Scrying Sheets works pretty well when paired with 20+ Snow-Covered Plains . 1 or 2 would give you some extra draw lands and ensure your draws are all gas.
1 month ago
CyborgAeon: You are correct, except I melded the SB and MB board so I would not clutter the page. Ravenous Slime gets swapped in and out based on whether or not I will be facing a hulk deck.
I would really like to hear about your test games, outside of myself I haven't actually had anybody say they've tried the deck. Something I am really eager to see, but I digress.
I tried Strip Mine / Wasteland , but at 31 lands, I barely make it to 4 lands before I start popping off by other means, so saccing a land really hurts my curve, since every land I get almost always needs to be used for mana.
Sea Gate Wreckage : I've always loved this card, but achieving hellbent on this deck usually means I have won, or the game is about to end. I've always loved cards that do something while nothing is happening, but my meta has removed these breather moments, so I never get value out of fun cards like this and Scrying Sheets . In all honesty though, I would run them if it wasn't for the cutthroat nature of my current meta.
Isolated Watchtower : This is something I might try, since it isn't as intrusive and I do have a Lord Windgrace deck running rampant in my pod right now. Thanks a lot for this one.
Brown Ouphe : Not a fan of the need for haste, so it feels like a weaker Caustic Caterpillar . However, Ouphe Vandals is a card I didn't even know existed. This one I will definitely test, since that's pretty sick. Thanks a lot for this one, I will be testing it. Also, please note it doesn't hit triggered, just activated, which is not bad though cause of scepter. (Time to wrack my brain looking for a slot)
As for the fetches, yes, it's for the shuffling and for Dryad Arbor , which is great in situations where I need to Skullclamp something, Natural Order / Eldritch Evolution , get more out of Regal Force / Gaea's Cradle / Great Oak Guardian . I am also aware that deck thinning is more or less a myth, but in a deck that runs 31 lands, knowing one will eliminate the possibility of drawing another is a blessing in a combo deck (my 2 cents).
I wanted to thank you for taking the time to look at my deck, words cannot describe how much I appreciate it and thanks for the awesome card suggestions!
1 month ago
I'd assume that this is a decision based on your meta, but is the Ravenous Slime in the board due to a lack of flash-hulk decks about?
Also, a few tests show that you could think about running Scrying Sheets , Arch of Orazca , Sea Gate Wreckage , Isolated Watchtower , Strip Mine , Wasteland - all of these are low-power & will likely take time to notice the advantage that they give, but it's relevant.
Brown Ouphe stops a reservoir activation; not great for hate - but it does work. This can also stop dramatic scepter. Ouphe Vandals does this as a one-shot vs triggered abilities too. Just saying
Lastly I'd like to ask: are the fetches used for shuffling away cards returned via sylvan library, or am I missing an alternate benefit?
Load more
Scrying Sheets occurrence in decks from the last year
Commander / EDH:
All decks: 0.01%