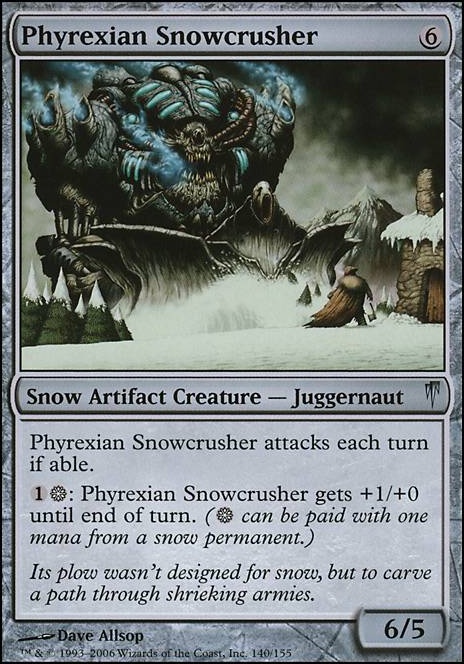 Legality
1 year ago
Caerwyn If I'm getting your response to me right, Phyrexians should have that creature type because they were (in-story) specifically made to be Phyrexians. Phyrexians should be a creature type to reflect their unique biological and ideological modifications.
If that's right, it seems like the Phyrexian typing is designed primarily to integrate the story into the mechanics. The Phyrexian creature type is as much about worldview as biology, not fitting neatly into a "class" or "race" subtype. Which would be more correct for Glistener Elf, Elf Phyrexian Warrior or just Phyrexian Warrior? For Blighted Agent, Human Phyrexian Rogue or Phyrexian Rogue? Phyrexian Battleflies as Insect or Phyrexian Insect?
I would love to see Phyrexian added to the typeline of Phyrexian Snowcrusher.
This isn't going to change any minds at WotC, so back into hypotheticals, but would something like Cyborg or Augmented (maybe less sci-fi-ish) have been more acceptable?
5 years ago
Proposed change:
ADD (14)
MOVE TO SIDEBOARD (10)
REMOVE (4)
REMOVE FROM SIDEBOARD (10)