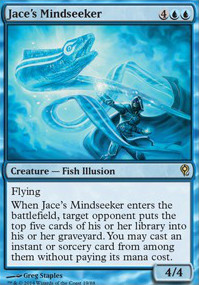 Jace's Mindseeker
Creature — Fish
Flying When Jace's Mindseeker enters the battlefield, target opponent puts the top five cards of his or her library into his or her graveyard. You may cast an instant or sorcery card from among them without paying its mana cost.
Browse Alters
View at Gatherer
Trade
Legality
| | |
| --- | --- |
| Format | Legality |
| Tiny Leaders | Legal |
| 1v1 Commander | Legal |
| Magic Duels | Legal |
| Canadian Highlander | Legal |
| Vintage | Legal |
| Modern | Legal |
| Pioneer | Legal |
| Leviathan | Legal |
| Legacy | Legal |
| Duel Commander | Legal |
| Oathbreaker | Legal |
| Unformat | Legal |
| Casual | Legal |
| Commander / EDH | Legal |
Jace's Mindseeker occurrence in decks from the last year
Commander / EDH:
All decks: 0.0%
Jace's Mindseeker Discussion
7 months ago
Maybe you could do an +1/+1 counters version of aristocrats with Undying and cards like Epochrasite ... basically sacrifice them into a powerful engine before the end of everyone's turn.
Or... (here's one): Insurrection , Gonti, Lord of Luxury and Diluvian Primordial could be a "I play your cards" betrayal theme:
9 months ago
I LOVE this deck strategy, and there's a lot of cards that can support it (it's also super fun in commander). You are in red so if you want to go the Traitorous Blood , Hijack , etc. route, you easily can.
First thing that comes to mind of though is Knowledge Pool . Absolute sh*tstorm every time, so much fun.
Lastly, you have a bunch of other things thrown in here that don't follow this game plan (but do follow the game plan of your commander well). Things like Tatyova, Benthic Druid . I'm thinking you should make this specific deck less of a Stealing Deck, and just make it a better Kynaios and Tiro of Meletis deck. Then take all your Stealing cards and pick a different commander for that deck strategy (because it does sound super fun).
This is all off the top of my head, but I hope you get some help from it.
10 months ago
Hi there!
It's us again; spreading the love for your budget decks. Here's some more budget options that we're using in our Brago deck:
Jace's Mindseeker ; a 4/4 flyer and you have a chance to cast from your opponents' libraries whenever it enters the battlefield; nice value!
Mentor of the Meek ; some sweet extra draw when you're blinking your weaker creatures.
Eerie Interlude ; wonderful way to blink stuff at instant speed in any phase (nice response if someone tries to go for a wipe).
Hope this helped a bit. Cya!
Wkr,
Mrs. and Mr. NV_1980
10 months ago
Oath of Teferi , Venser, the Sojourner , Noxious Gearhulk , Ashen Rider , Angel of Despair , I am personally a big fan of Gonti, Lord of Luxury , Jace's Mindseeker is decent, Conjurer's Closet for sure... maybe Jace, Unraveler of Secrets for top manipulation.
1 year ago
Thanks so much for your help 5c0r910n and pillowmint:)
I have made the following cuts:
Boreas Charger, Trinket Mage, Yennet, Cryptic Sovereign, Treasure Hunt, and Lightform
To add:
Mulldrifter, Ashen Rider, Infinite Reflection, Trinket Mage, Lavinia of the Tenth, and Reveillark
These are just preliminary cuts and adds. I see a lot more cards I want to put in the deck from your suggestions, but I am not sure what cards to cut for at least some of the following:
Dire Undercurrents, Cathars' Crusade, Knight-Captain of Eos, Rite of Replication, Jace's Mindseeker, and Pull from the Deep
Day of dragons looks awesome do you think Synthetic Destiny would be a worthy include as well?
I don't have a specific outlet for the Peregrine Drake combo but both cards are super powerful in blink and getting infinte mana is always helpful:) Do you think I should work some outlets in for the possibilty of comboing off or is it not worth it?
Thanks again for all your help:)
1 year ago
so i don't know why your running Trinket Mage, doesn't hit like anything in your deck.
In my opinion Boreas Charger isn't very good, and same goes for Pilgrim's Eye.
i don't think Lightform and Yennet, Cryptic Sovereign are too good considering your lack of big stuff
Eldrazi Displacer can only be activated with like three of your lands, so i don't think its worth running.
Mulldrifter is good here, might as well run it instead of one of your draw cards, definitly better then Treasure Hunt.
Infinite Reflection is a whole lotta fun, powerful, dumb stuff
Day of dragons is insane in this deck. Basically you get a whole bunch of 5/5 flyers, hit you opponents with em, then flicker it to get a bunch of etbs from your minions, and then get the 5/5s back. Also makes you basically immune to board wipes, including your own. Angel of Despair Luminate Primordial and Ashen Rider are good high end to help you beat down your opponents with high value etbs.
cards like Lavinia of the Tenth, Stonehorn Dignitary, Knight-Captain of Eos and Azorius Justiciar do a good job of protecting your face and aminatou, and stalling for the big stuff
if you like gonti then Jace's Mindseeker is for you.
Cathars' Crusade and Dire Undercurrents are really good with stuff like Eerie Interlude
Rite of Replication, Hour of Eternity and Pull from the Deep are crazy in the late game
if you can find one Blade of Selves is really good
Load more