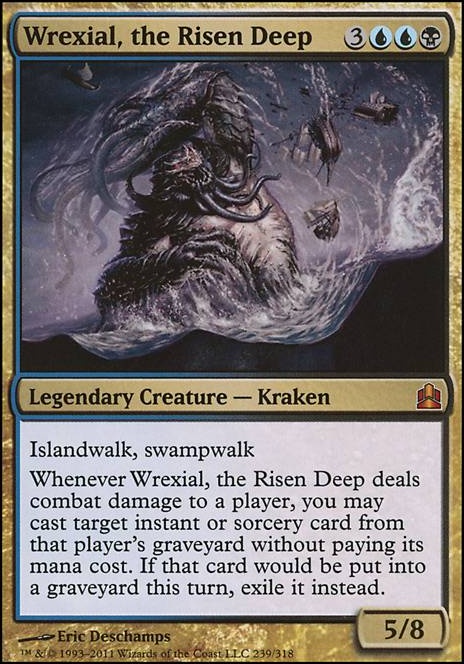 Legality
| | |
| --- | --- |
| Format | Legality |
| Tiny Leaders | Legal |
| Noble | Legal |
| Leviathan | Legal |
| Magic Duels | Legal |
| Canadian Highlander | Legal |
| Vintage | Legal |
| Modern | Legal |
| Custom | Legal |
| Vanguard | Legal |
| Legacy | Legal |
| Archenemy | Legal |
| Planechase | Legal |
| 1v1 Commander | Legal |
| Duel Commander | Legal |
| Oathbreaker | Legal |
| Unformat | Legal |
| Casual | Legal |
| Commander / EDH | Legal |
Wrexial, the Risen Deep
Legendary Creature — Kraken
Islandwalk, swampwalk (This creature can't be blocked as long as defending player controls an Island or a Swamp.)
Whenever Wrexial, the Risen Deep deals combat damage to a player, you may cast target instant or sorcery card from that player's graveyard without paying its mana cost. If that card would be put into a graveyard this turn, exile it instead.
Wrexial, the Risen Deep Discussion
3 weeks ago
Maybe you could do an +1/+1 counters version of aristocrats with Undying and cards like Epochrasite ... basically sacrifice them into a powerful engine before the end of everyone's turn.
Or... (here's one): Insurrection , Gonti, Lord of Luxury and Diluvian Primordial could be a "I play your cards" betrayal theme:
1 month ago
Removed:
Added:
Not sure if this adds too much high end...gulp.
1 month ago
"One-card wincons" to consider: Insurrection , Expropriate , Painful Quandary , Rise of the Dark Realms , Revel in Riches , Cut / Ribbons . Perhaps Clone Legion , Rite of Replication , Mogis, God of Slaughter , Hour of Promise , Blatant Thievery , Grave Betrayal , or Mind's Dilation .
The Chain Veil , Inexorable Tide , Contagion Clasp , and Contagion Engine maybe?
One thing to think about is getting Nicol Bolas flipped and maybe joined by the other planeswalkers and casting Obliterate , Jokulhaups , Devastation , or Decree of Annihilation . Almost guaranteed ultimates. Nicol Bolas, Dragon-God

would be the best--proxy for now and include in first build?
Possible upgrades:
Boardwipes: Toxic Deluge , Black Sun's Zenith , Hour of Devastation , Decree of Pain , Curse of the Swine , In Garruk's Wake , Deadly Tempest , Evacuation , Nevinyrral's Disk , Last One Standing , Perilous Vault , Oblivion Stone , Kindred Dominance , Necromantic Selection , Subterranean Tremors
Removal: Capsize , Bedevil , Hero's Downfall , Chaos Warp , Kolaghan's Command , Reality Shift , Pongify , Rapid Hybridization , Vraska's Contempt , Rakdos Charm , Price of Fame , In Bolas's Clutches , Plaguecrafter , Merciless Executioner , Fleshbag Marauder , Unstable Obelisk , Vandalblast , By Force , Shatterstorm , Hostage Taker , Yawgmoth's Vile Offering , Settle the Score , Dark Impostor , Hour of Glory , Sever the Bloodline , Silence the Believers , Spread the Sickness , Slave of Bolas , Electrodominance
Draw: (I would add Erebos once you're home) Patient Rebuilding , Phyrexian Arena , Greed , Arguel's Blood Fast Flip, Notion Thief , Windfall , Mystical Tutor , Blue Sun's Zenith , Pull from Tomorrow , Stroke of Genius , Braingeyser , Mind Spring , Expansion / Explosion , Invoke the Firemind , Deliver Unto Evil , Augur of Bolas , Painful Truths , Fevered Visions , Search for Azcanta Flip, Fact or Fiction , Dig Through Time , Treasure Cruise , Tidings , Thassa, God of the Sea , Day's Undoing , Reforge the Soul , Standstill , Deep Analysis , Necrologia , Steady Progress , Tezzeret's Gambit , Oath of Jace
Random utility: Ophiomancer , Metallurgic Summonings , As Fortold, Pendrell Mists , No Mercy , Stranglehold , Fated Return , Dark Intimations , Spellseeker , Sire Of Insanity , Thief of Sanity , Spark Double , Primal Amulet Flip, Dragon's Hoard , Mystic Retrieval , Shreds of Sanity , Spelltwine , Ashiok, Dream Render , Torpor Orb , Baleful Strix , Darksteel Myr , Solemn Simulacrum , Wayfarer's Bauble , Vedalken Orrery , Saheeli, Sublime Artificer , Will Kenrith , Mana Geyser , Gem of Becoming , Thran Dynamo , Narset, Parter of Veils , Keranos, God of Storms , Thrilling Encore , Star Compass , Coldsteel Heart , Kazuul, Tyrant of the Cliffs , Ensnaring Bridge , Crawlspace , Expedition Map , Burnished Hart , Torment of Scarabs , Cruel Reality , Mnemonic Betrayal , Yawgmoth's Will , Bloodchief Ascension , Nightscape Familiar , Gonti, Lord of Luxury , Thaumatic Compass Flip, Dreadhorde Invasion , Fraying Omnipotence , Thrummingbird , Viral Drake , Past in Flames , Mizzix's Mastery , Omniscience , Tainted AEther , Aid the Fallen , Deepglow Skate , Flux Channeler , Rings of Brighthearth , Silent Arbiter , Meekstone , Mudslide , Astral Cornucopia , Everflowing Chalice , Lethal Vapors , Sunbird's Invocation , Stolen Strategy , Maze of Ith , Spreading Plague , Merchant Scroll , Polluted Bonds , Black Market , Grave Upheaval , Memory Plunder , Pain Magnification
Beaters: Dragonlord Silumgar , The Scorpion God , The Locust God , The Scarab God , God-Eternal Kefnet , God-Eternal Bontu , Darksteel Colossus , Colossus of Akros , Visara the Dreadful , Tsabo Tavoc , Avatar of Woe , Balefire Dragon , Nicol Bolas , Hellkite Tyrant , Bladewing the Risen , Grave Titan , Inferno Titan , Steel Hellkite , Vampire Nighthawk , Torrential Gearhulk , Noxious Gearhulk , Combustible Gearhulk , Dominus of Fealty , Roil Elemental , Tidespout Tyrant , Kokusho, the Evening Star , Keiga, the Tide Star , Ryusei, the Falling Star , Wrexial, the Risen Deep , Etali, Primal Storm , Nezahal, Primal Tide , Tetzimoc, Primal Death , Dread , The Haunt of Hightower , Niv-Mizzet, the Firemind , Razaketh, the Foulblooded , Enigma Drake , Crackling Drake , Archfiend of Depravity , Sheoldred, Whispering One , Thing in the Ice Flip, Niv-Mizzet, Parun , Sepulchral Primordial , Molten Primordial , Diluvian Primordial , Ob Nixilis, Unshackled , Sire of Stagnation , Utvara Hellkite
1 month ago
Heh, it's been awhile. Thank you for the suggestions on my deck, sorry I promised I'd get to this and didn't get back to it sooner. Awesome build, loving the theft theme of the deck.
3 months ago
Pillowfort/Taxation:
Thievery:
Control:
Mana Fixing:
The Rest:
---
Cards to consider ousting:
5 months ago
Thada Adel, Acquisitor is great at stealing other people's Sol Rings, amongst other potentially desirable artifacts. Wrexial, the Risen Deep is basically unblockable with Intimidate, Islandwalk, and Swampwalk.
Fireshrieker allows you to double up on a creature's combat damage trigger, and it can be tutored by Deadeye Quartermaster , who can also help you grab any of the equipment cards in your deck. Another good equipment to consider is Bloodforged Battle-Axe .
Other cool cards include Lord of the Void , Sphinx Ambassador , and Drana, Liberator of Malakir .
Happy brewing!
5 months ago
@ DiverDown I think Wrexial, the Risen Deep is definitely fun. I have a good friend of mine playing with him and he is damn fun to play with. Optimized and tuned he scales down to the power level of the people you play with. I would highly consider playing with him as dimir has so much cool cards in it's combination. I am particularly a fan of Shadow of Doubt especially.
@ _Delta_ Thank you very much for the upvote! Yeah I am super proud of my Tuvasa page, even more than my baby Teneb page. The color scheme, music, and name for Tuvasa the Sunlit matches perfectly! Feel free to take your time with the feedback I been having so much fun playing with her!
@ DrkNinja I also agree with you buddy, I am also an upvote whore, so whenever I get the chance I will upvote someones deck here when posted as well as give feedback if I can provide an adequate one, I usually don't provide feedback if it's not within my area of knowledge.
@ IAmTheWraith Congrats on upgrading the account and I'll take a look at your deck list a bit tomorrow! I just came back home from my LGS and it was a terrific day today, just met a couple new players in the area and pretty much pubstomped/inspired them to come back for more :P
Load more
Wrexial, the Risen Deep occurrence in decks from the last year
Commander / EDH:
All decks: 0.01%