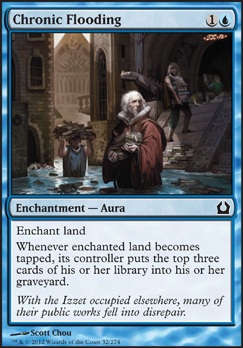 Chronic Flooding
Enchantment — Aura
Enchant landWhenever enchanted land becomes tapped, its controller puts the top three cards of his or her library into his or her graveyard.
Chronic Flooding Discussion
2 months ago
Got some good playtesting done over on untap.in, and the results were...odd.
I still think that getting the Cyclonic Rifts was worthwhile, but I'm pondering delegating them to the sideboard.
Twincast has proven useful, but can't target Wipe Away due to its Split Second-ness.
This deck is VERY slow. I did manage to avoid a mill out due to the Elixir of Immortality, but I lost against a land destruction deck.
I still think this could be a great land-shenanigan deck, but I'm wondering which way it should go. I could add in some Chronic Flooding to mill them with the few lands they DO have in play, or I could splash some green or red for land destruction.
3 months ago
My friend destroyed me today using Chronic Flooding in his mill deck, by the way. :p
| | |
| --- | --- |
| Color(s) | Blue |
| Cost | 1U |
| Converted cost | 2 |
Legality
| | |
| --- | --- |
| Format | Legality |
| Legacy | Legal |
| Vintage | Legal |
| Commander / EDH | Legal |
| Modern | Legal |
| Duel Commander | Legal |