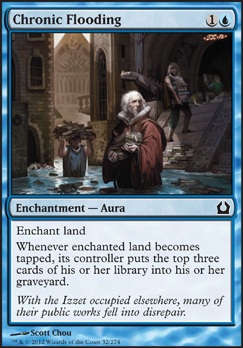 Chronic Flooding
Enchantment — Aura
Enchant landWhenever enchanted land becomes tapped, its controller puts the top three cards of his or her library into his or her graveyard.
Chronic Flooding Discussion
1 month ago
+1 for Pauper EDH and Stormheart shenanigans.
If you are looking for Artful Dodge, I'd also suggest Distortion Strike. I find the +1/+0 more relevant than choosing when you want Spellheart Chimera to be unblockable. Brute Force is also a sweet card for this deck.
And one other idea: What if you milled instants and sorceries? They go into your graveyard and give Spellheart Chimera a boost. I would suggest trying stuff like Taigam's Scheming, Armored Skaab, Chronic Flooding, Dream Twist, Drowner Initiate, Mental Note, Murmurs from Beyond, Ray of Erasure, Strategic Planning, Thought Scour, Tome Scour, and Vision Charm. Note: I just searched up blue/red commons that can mill you. It might not be smart to add too many, but it could still be pretty powerful if you mill a bunch of instants/sorceries.
2 months ago
Soul Barrier, Energy Flux, Errant Minion, Lim-Dul's Hex, Seizures, Awesome Presence, Erosion, Mana Chains, Mind Whip, Paralyze, Pendrell Flux, Singing Bell Strike.
If your opponent isn't playing enough creatures for some of your Auras to target, use Hunted Phantasm. Tie it all together with Psychic Venom, Pooling Venom, Chronic Flooding, and maybe Rising Waters / Stasis if you're feeling particularly cruel.
| | |
| --- | --- |
| Color(s) | Blue |
| Cost | 1U |
| Converted cost | 2 |
| Avg. draft pick | 12.7 |
| Avg. cube pick | 11.02 |
Legality
| | |
| --- | --- |
| Format | Legality |
| Legacy | Legal |
| Vintage | Legal |
| Commander / EDH | Legal |
| Modern | Legal |
| Duel Commander | Legal |