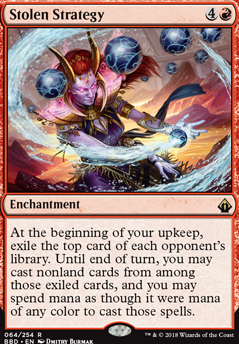 Legality
| | |
| --- | --- |
| Format | Legality |
| Tiny Leaders | Legal |
| 1v1 Commander | Legal |
| Magic Duels | Legal |
| Canadian Highlander | Legal |
| Vintage | Legal |
| Custom | Legal |
| Leviathan | Legal |
| Legacy | Legal |
| Duel Commander | Legal |
| Oathbreaker | Legal |
| Casual | Legal |
| Commander / EDH | Legal |
Stolen Strategy
Enchantment
At the beginning of your upkeep, exile the top card of each opponent's library. Until end of turn, you may cast nonland cards from among those exiled cards, and you my spend mana as though it were mana of any colour to cat those spells.
Stolen Strategy Discussion
6 days ago
"One-card wincons" to consider: Insurrection , Expropriate , Painful Quandary , Rise of the Dark Realms , Revel in Riches , Cut / Ribbons . Perhaps Clone Legion , Rite of Replication , Mogis, God of Slaughter , Hour of Promise , Blatant Thievery , Grave Betrayal , or Mind's Dilation .
The Chain Veil , Inexorable Tide , Contagion Clasp , and Contagion Engine maybe?
One thing to think about is getting Nicol Bolas flipped and maybe joined by the other planeswalkers and casting Obliterate , Jokulhaups , Devastation , or Decree of Annihilation . Almost guaranteed ultimates. Nicol Bolas, Dragon-God

would be the best--proxy for now and include in first build?
Possible upgrades:
Boardwipes: Toxic Deluge , Black Sun's Zenith , Hour of Devastation , Decree of Pain , Curse of the Swine , In Garruk's Wake , Deadly Tempest , Evacuation , Nevinyrral's Disk , Last One Standing , Perilous Vault , Oblivion Stone , Kindred Dominance , Necromantic Selection , Subterranean Tremors
Removal: Capsize , Bedevil , Hero's Downfall , Chaos Warp , Kolaghan's Command , Reality Shift , Pongify , Rapid Hybridization , Vraska's Contempt , Rakdos Charm , Price of Fame , In Bolas's Clutches , Plaguecrafter , Merciless Executioner , Fleshbag Marauder , Unstable Obelisk , Vandalblast , By Force , Shatterstorm , Hostage Taker , Yawgmoth's Vile Offering , Settle the Score , Dark Impostor , Hour of Glory , Sever the Bloodline , Silence the Believers , Spread the Sickness , Slave of Bolas , Electrodominance
Draw: (I would add Erebos once you're home) Patient Rebuilding , Phyrexian Arena , Greed , Arguel's Blood Fast Flip, Notion Thief , Windfall , Mystical Tutor , Blue Sun's Zenith , Pull from Tomorrow , Stroke of Genius , Braingeyser , Mind Spring , Expansion / Explosion , Invoke the Firemind , Deliver Unto Evil , Augur of Bolas , Painful Truths , Fevered Visions , Search for Azcanta Flip, Fact or Fiction , Dig Through Time , Treasure Cruise , Tidings , Thassa, God of the Sea , Day's Undoing , Reforge the Soul , Standstill , Deep Analysis , Necrologia , Steady Progress , Tezzeret's Gambit , Oath of Jace
Random utility: Ophiomancer , Metallurgic Summonings , As Fortold, Pendrell Mists , No Mercy , Stranglehold ,