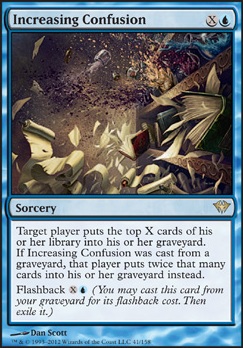 Increasing Confusion
Sorcery
Target player puts the top X cards of his or her library into his or her graveyard. If Increasing Confusion was cast from a graveyard, that player puts twice that many cards into his or her graveyard instead.
Flashback XU (You may cast this card from your graveyard for its flashback cost. Then exile it.)
Have (14)

H

a

v

o

k

X

, ShadowWesley77 , LabRattKing , sonnet666 ,

j

w

e

9

4

, yerfdog1935 , benjibot789 , Faybian , army88strong , Valentine35 , TroyMicheal , x754 ,

C

a

l

i

g

u

l

a

,

m

a

i

d

e

n

7

7

Want (1)
Arashisenko
Increasing Confusion Discussion
2 weeks ago
Brain Freeze , Chancellor of the Spires , Countermand , Curse of the Bloody Tome , Increasing Confusion , Keening Stone , Memory Erosion , Mindcrank , Psychic Spiral , Riddlekeeper and Telemin Performance are all very viable mill cards if you want to go deeper into that , Library of Leng will work really well with your commander and Learn from the Past and Gilded Lotus are good cards to have in this kind of deck
1 month ago
You're doin god's work son.
Phenax, God of Deception, Hover Barrier, Fog Bank, Wall of Frost, Undead Alchemist, Mind Grind, Glimpse the Unthinkable, Archive Trap, Hedron Crab, Keening Stone, Increasing Confusion, Jace, Memory Adept, Altar of the Brood, Sword of Body and Mind
Lim-Dul's Vault bc goddamn that guy can't top deck to save his life
2 months ago
Lol I have those in a pile of maybe cards I'll have to look the deck over and see what can be removed to add those in thinking Mind Sculpt for Increasing Confusion
2 months ago
right on,
might I also suggest Archive Trap
nothing is more satisfying than having that pop off when someone cracks their Evolving Wilds
also, Increasing Confusion would fit your game plan. The flashback on it is killer. you might also want to put in a Bojuka Bog to exile someone's graveyard once its been heavily milled through.
| | |
| --- | --- |
| Color(s) | Blue |
| Cost | XU |
| Converted cost | 1 |
Legality
| | |
| --- | --- |
| Format | Legality |
| Legacy | Legal |
| Vintage | Legal |
| Commander / EDH | Legal |
| Modern | Legal |
| Duel Commander | Legal |