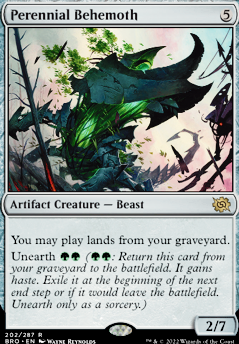 Legality
8 months ago
Thank you Profet93!
Fierce Empath replaces Time of Need. I like the early blocker and the classic synergy with Woodland Bellower.
Seek the Horizon replaces Kodama's Reach. Three lands per card is better than two.
Gaea's Cradle and Itlimoc, Cradle of the Sun are pretty good here. But this deck goes tall with a few creatures rather than wide as you said about Eldrazi Monument. Even though I have the card and there is no budget technically, I can play this deck in more pods when not running the more competitive card that is not at its best here anyway. Leaving it out for now but mostly because I want to play this deck as often as I can.
I'm keeping Shared Summons in for now as well because I like the cast triggers of Kozilek and Ulamog which are my most tutored Eldrazi. I'll try to find a spot for Tooth and Nail too as it helps with velocity even if I don't get the cast trigger.
Harrow and Springbloom Druid effectively give Azusa extra lands, just from the graveyard. They help with consistency when I don't hit Lotus Vale, Lotus Field, or the fetch lands and help justify Ramunap Excavator, Crucible of Worlds, and Perennial Behemoth. Speaking of, Perennial Behemoth's unearth ability is handy when Eldrazi Monument is out and even when I don't have it on the battlefield there are usually some other fodder like Tireless Tracker, Springbloom Druid, or Ramunap Excavator to buy three or more turns of indestructible flying Eldrazi which make the monument more than just a flavor win. If I cut the monument I would still need some protection from boardwipes in that spot. This is why Planar Bridge is so useful as I can grab Eldrazi Monument or Akroma's Memorial to get damage through. And using Planar Bridge to get Mana Reflection is also a near game winning play too. These cards are imperfect but they are hard to replace with single cards. Like Heroic Intervention or Asceticism or even Wrap in Vigor don't give multiple turns of indestructibility and evasion (flying).
I hear you on Desolation Twin. It does do work after a boardwipe though and I don't want to diminish organic threat density too much. Maybe this is where Tooth and Nail belongs. I'll try it out.
I really appreciate your ideas!!
10 months ago
bonus points for being an artifact creature itself and a Wayne Reynolds!