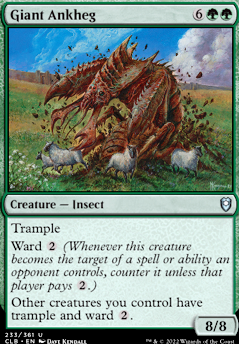 Legality
1 month ago
Lands:
Card Draw:
Removal:
Protection:
Ramp:
9 months ago
Alright, so. Right off the bat, sorry for this being a bit late, I thought I was gonna get to it the other day, and then I worked two 13 hour shifts in a row. But, im here now, so lets get started.
I can see that you chose to go more of a landfall route as apposed to the stompy route that I did. Respectable, I like it. However, I think that this deck struggles with some of the same things that my deck does, which is getting creatures through to hit face. It's why I have such a high priority on trample effects. Cards like Rhonas's Monument or Aggressive Mammoth are big hitters in my deck just because Ashaya, Soul of the Wild is often already around a 20/20, giving her trample is what brings it together to make her significantly more terrifying. Giant Ankheg is a favorite of mine for this purpose, it gives so much value.
A few big beaters I'm surprised you don't have are Ghalta, Primal Hunger because, lets be honest, shes basically a 12/12 trampler for 2, or cards like Worldspine Wurm or Moldgraf Monstrosity. Big, hard hitting creatures that you can easily power out pretty quickly. I would also consider Blackblade Reforged as a card, as it effectively doubles Ashaya's power and turns a scarily large creature into something terrifying.
Multani, Yavimaya's Avatar is a card that I really like in my deck. She's basically as big as Ashaya, so she is a good beaters, seeing as how she has trample, but personally, I prefer her in the gy. There are a bunch of sneaky ways to protect your creatures with Ashaya. I see you already have Quirion Ranger, but I suggest Multani as well as Scryb Ranger. Instead of protecting your creatures with Sylvan Safekeeper and having to sacrifice something else to do it, why not just bounce them to your hand and fizzle the effect? Then you get to play them out again and get another etb/landfall trigger for whatever you have on board that cares about that. This also works better against board wipes, as shroud doesn't help with that.
For landfall effects, Rampaging Baloths or Tireless Tracker are some cards I would consider, as they either make basically infinite 4/4s or they give you clues, which, after playing this deck a lot, that card advantage is very necessary, you can absolutely run out of cards very quickly. That's why I run Ulvenwald Mysteries and Rishkar's Expertise in my Ashaya deck. Ulvenwald gives you consistent clues and a chump blocker to boot, and Rishkar's, combined with Ashaya, or Multani or whoever else, draws you like, 20 cards and then lets you put something onto the battlefield.
For ramp/land effects you can go in a ton of different directions, what you do doesn't matter much, as everything is effective imo. I personally run Bootleggers' Stash and Zendikar Resurgent because you can ramp into them very quickly and they can both give you insane amounts of extra mana. Other cards like Augur of Autumn or Karametra's Acolyte are both good utility/ramp cards, as well as Stone-Seeder Hierophant.
Now, I really just have a few questions. Why are you running Yavimaya, Cradle of Growth? Isn't everything already a forest? That pick, I'm afraid I just don't understand, could you explain what I'm missing? And if you're going for a devotion style deck, Nykthos, Shrine to Nyx and Gaea's Cradle are both amazing lands. Granted, idk what your budget is and Gaea's Cradle isn't exactly cheap lmao. Another thing, why are you running 45 lands? I understand that there is a landfall theme, but that seems extreme even to me, most landfall decks I've seen run around 38. I would reduce your land count imo and invest those slots into artifacts and instants that either pair well with your deck, or that protect your creatures.
11 months ago
multimedia I'll definitely keep an eye on those areas. Brave the Sands was already on my watch list for potential things to cut. I already have a Satyr Wayfinder, so I'll go ahead and swap that in. I cut it from an early version of the deck when I was averse to self-mill. Nothing felt worse than milling only instants and sorceries into the yard and not even getting a land out of the deal.
In fact, I'll probably swap in all of those suggestions except I'm going to push back on Ghoultree and Dream Devourer. You're probably right about DD, but I like the idea of putting away a Living Death for an opportune moment. And Ghoultree feels like an easy way to drop a 10/10 for one mana fairly early in the game if I've been dredging well.
I'll look at Ramp too. I know I keep giving the same defense of "when my Fauna Shaman engine is running", but that's another situation where, when it works, I'm playing two lands EVERY turn, no questions asked.
This may be a dumb question, but I ask it in all sincerity: what am I hoping to draw that would keep me relevant in the game, especially if I'm cutting removal cards like Putrefy?
Truthfully, I don't see myself mutating Nethroi more than once per game, so I've been trying to focus on how to just end the game in that reanimation. My ideal situation would be to mutate onto Hydra Omnivore, recur Mogis's Marauder, use Yannik, Scavenging Sentinel to exile Karmic Guide and a big creature like Ghoultree to give enough +1/+1 counters to the Commander to end the game with commander damage for each player, since Omnivore deals damage to each player equal to the damage dealt to defending player. To better achieve that goal, I was considering swapping out Giant Ankheg for Archetype of Endurance since it grants all my creatures Trample. It only gives my creatures Ward 2 instead of hexproof but it might be worth the trade off if I can end the game right there... is that crazy? Am I putting too much stock in my ideal situation?