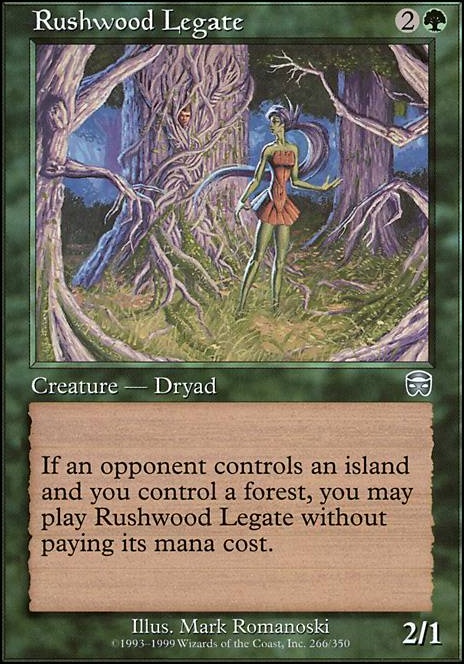 Rushwood Legate
Creature — Dryad
If an opponent controls an Island and you control a Forest, you may play Rushwood Legate without paying its mana cost.
Latest Decks as Commander
Rushwood Legate Discussion
1 year ago
3> Ahhh I've been wanting to play with Obosh, the Preypiercer and Angrath's Marauders - glad you found a spot for them. While you're at it, you could also consider other "damage doublers" such as Wound Reflection and Fiendish Duo

. I've thought about a Vial-Smasher deck with a White partner just to add Gisela, Blade of Goldnight.
3> I see you enjoy big monsters and X-spells here. Oh to be young again... but seriously, this seems like a good deck to play them in as you would be rewarded. Instants are your friend, as you can Smash Vials on everyone's turn! No Comet Storm?
3> I would be worried about Vial-Smasher getting nuked from orbit as soon as your turn passes and it's no longer indestructible. You'll find Heroic Intervention and Slippery Bogbonder will help with targeted Exile removal. You already have Destroy and Sacrifice covered I see.
3> I see some cost-reduced and commander-free spells in there, but you have a limited suite. While doing research for my thoughts on Vial-Smasher, I found the following might be helpful - list is just copy/paste, so it will include some White and/or Blue cards:
3> I see some cost-reduced and commander-free spells in there, but you have a limited suite. While doing research for my thoughts on Vial-Smasher, I found the following might be helpful - list is just copy/paste, so it will include some White and/or Blue cards: