How To Be the Worst EDH Player in the World, Presented by KrazyCaley & Miinor_Threat
KrazyCaley 2 March 2013 96120 views

---

How To Be the Worst EDH Player in the World

---
miinor_threat : We know that there are a lot of bad EDH (or as they call it, "Commander") players out there who are looking to take their bad play to the next level. Bad players who want to step up their game and become truly awful. This is the guide for you. We here at the Research-Institute-For-Terrible-Play have designed a foolproof system that can turn even a good-natured, skilled player into the most worthless, uncreative, mouth-breathing primate ever to wrap its club-like, Dorito-cheese-dust-covered-hand around a 100 card deck. We know you have it in you!
KrazyCaley: That's right, folks. Why settle for the mediocrity of merely being annoying, when you can be such an awful person that card shops empty at the sound of your approach? You know what I call a playgroup that only has you in it because everyone else left because they hate you? Automatic first place.
miinor_threat: (Emperor Palpatine voice) Yessss. You've opened the article and and read this far. Let the hate flow through you. I can taste your anger. Come to the dark side of EDH play.
All you have to do is follow the 9 steps in our patented D.O.U.C.H.E.B.A.G. system:
Don't Pay Any Attention to FUN or THEME
Obvious Unfun Combos
Use Spells That Slow Down the Game
Common Staples Should Makeup 100% Of Your Deck
Have An Overpowered And/Or Overplayed General
Everybody Loves It When You Take Extra Turns!
Build Your Deck To Play Exactly The Same Way EVERY TIME
Always Proxy Expensive Cards (In Fact, Proxy Everything)
Get Pissed-Off And/Or Whine When You Aren't Winning
---
DISCLAIMER: All EDH players are occasionally guilty of the above sins. We do not mean to imply that the reader is a douchebag merely for having engaged in a few of these practices from time to time, merely that the systematic application of many or all of them is what makes for a truly unfun EDH player.
---
DON'T PAY ANY ATTENTION TO FUN OR THEME
miinor_threat: Truly bad play starts during the deckbuilding process. You need to make sure that there is nothing unique or cool about your deck from the get go. Personality and flair are anathema to being a D.O.U.C.H.E.B.A.G. As a bad player, your job is to prevent fun.
Think of the Iron Chef. His job is to cook new and unique dishes out of eclectic ingredients for the benefit of others. He wins when the judges respect and savor his dishes, and thus he vanquishes his opponents. He is a good EDH player. We hate him. Instead, you should netdeck cold-meatloaf from Ralph's and put a note in the mashed potatoes threatening to kill the judges' families if you don't win. That way, you're more likely to win, and that's all that matters.
Stay away from fun cards in general. The life bidding in a clutch Mages' Contest is always going to be fun, don't run it. Making 18 cobra tokens with a Snake Basket is not an option for you. Using Bind in Mono-Green to stop a JMS ultimate is going to get high-fives, so you can't do it. Pongify and Ovinize are out (You came here to combo off, not to turn Ulamog, the Infinite Gyre into a sheep and then block him and kill him with a bird token, what do you think this is!?).
KrazyCaley: Especially avoid any kind of unifying theme. Don't make your deck about octopi and kraken, or time counters, or Thieves' Auction, or anything that will make people think you are creative or out to have fun. The theme of your deck should be winning. Pay no attention at all to questions of flavor, art, unusual card interactions/play states, or wonky, rarely-used generals. In fact, why pay attention at all when you could just grab a ruthlessly optimized decklist of the ol' internet and ruin your friends' desire to play Magic for the rest of the week? It's all a part of what I like to call "dickbuilding," which is really just the best form of deckbuilding.
---
OBVIOUS UNFUN COMBOS
C: Picture this scene - you and a group of friends are all shuffling, sitting around a table, talking, laughing, maybe drinking a little bit, looking forward to a nice rousing game of multiplayer EDH. You're on the play and drop a Swamp. Everybody else goes. Turn 2, Dark Depths, Dark Ritual, Vampire Hexmage, and oh look at this! Before anyone else even has Oblivion Ring mana ready, you have Marit Lage. LOL, hope you mulliganed to Swords to Plowshares, suckers.
Remember, the key to an unfun combo is that it be:
A) Incredibly powerful and preferably used at some point in competitive play; bonus points if any of the cards were banned BECAUSE of this combo,
B) An extreme buzzkill due to its ability to suddenly knock at least one person out of the game without any fair fight or real opportunity for them to do anything about it, and,
C) Completely devoid of any complexity or thoughtfulness; two cards is ideal; three cards is ok but pushing it.
miinor_threat: This is where bad players truly shine. A great game of EDH is like a debate, everyone contributes and it can be a long, thoughtful, complex process. Normally you win by making good points and establishing your position and credibility. A combo player, on the other hand, wins by letting out a long, loud fart which brings that conversation to an abrupt halt and makes everyone else want to leave. Have you ever been in the 40th minute of a game that was just getting good when someone pulls out the old Mikaeus, the Unhallowed-Triskelion combo and ends the game with wah-wah trombones? How about some good ol' Kiki-Jiki, Mirror Breaker-Pestermite right when things were getting interesting? If science could bottle the feeling of Melira, Sylvok Outcast plus Woodfall Primus and a sac outlet they could use it to induce vomiting in poisoning victims.
Because here is the thing that good players don't understand, these "obvious" combos are a secret that ONLY YOU were smart enough to figure out. You invented Basalt Monolith plus Rings of Brighthearth because you are CREATIVE and you deserve to use it because you are AWESOME. It makes you a better player (obviously). Other players choose not to use combos because they are stupid and you are better, not because they realize those combos are rude and ruin the experience. You are the only one who is smart enough to figure out Power Artifact, other people don't use it because they suck.
SIDENOTE: Four EDH combo players playing together is a beautiful sight to behold. All four of them silently trying to assemble their combo, not speaking, not interacting, basically getting together on a Sunday afternoon to play four games of solitaire at the same table, seeing who can end the game fastest. It's like that Zen koan about one hand clapping, except it's one hand masturbating (times four).
---
USE SPELLS THAT SLOW DOWN THE GAME
miinor_threat: EDH is already a slow format. Games take a while to get going and take a while to wrap up. You should take every opportunity to slow the pace down to a tedious grind. Use tools like Winter Orb and Armageddon to really grate on your opponents' nerves. Your goal is to make their experience like something between World of Warcraft power leveling and a trip to the DMV.
Don't stop there, play really slowly in general. You should be agonizing over every decision, counting your lands, and checking your graveyard and your sideboard every turn. That way, you can limit the afternoon to no more than 1 or 2 total games, so everyone regrets coming.
KrazyCaley: And don't forget that this cuts both ways; never play anything that will have a tendency to make the game run faster and smoother. But just failing to speed the game up and make it fun isn't enough. You have to slow it way down. Casting spells like Stasis and Rule of Law (or better yet, BOTH) is the kind of thing you need to do, especially when combined with the aforementioned constant 2-hour-long turns that you take while agonizing over whether to put Swords to Plowshares or Path to Exile on the top of your library with Sensei's Divining Top.
---
COMMON STAPLES SHOULD MAKE UP 100% OF YOUR DECK
KrazyCaley: Let's assume you disregarded our advice and are actually building your own deck from scratch. This is actually still ok, because if you know the right cards, you can build a deck without ever having to think! Here are some cards that should go in every EDH deck. EVERY. EDH. DECK. If one of these cards doesn't work well thematically with the rest of your deck, well then you need to remember what the D in DOUCHEBAG stands for. The cards:
Wow, that's 10% of the deck, RIGHT THERE! And that's before we even get INTO cards that should always be there for a given color! Who says deckbuilding is hard?
miinor_threat: If all of your decks run all of the above cards, you may already be a D.O.U.C.H.E.!
This method gets extremely easy when you are running more than one color. For tri-color Bant, piece of cake! Slap in an Austere Command, throw in a Survival of the Fittest, Cyclonic Rift, toss in a Mother of Runes, little Wrath of God, Overwhelming Intellect, Sylvan Primordial, Sylvan Library, Bribery, maybe a Jace, all the obvious counterspells, a token Sun Titan, a Clone (or a Phantasmal Image). With enough dogmatic, thoughtless adherence to staples, it doesn't really even matter who the General is, because you don't have any room for any other cards anyway. The other players in your playgroup should never have to read your cards because your card choices should all be so stale and commonly used that everyone has already seen them 1,000 times.
Pro Tip: Good players use these cards like spices to power up good decks. You basically want nothing but spice, so the dish is inedible.
HAVE AN OVERPOWERED OR OVERPLAYED GENERAL
KrazyCaley: What is essential here is not just that you just play a commonly-used general. What is essential is that you use that general in a broken and overplayed FASHION, using long-established deck archetypes that have been around forever and are much more powerful compared to the rest of the field. It's not enough to run Jhoira of the Ghitu, you have to run her WITH THE THINGS THAT MAKE HER BROKEN. Here's a (non-exhaustive by any means) short list:
---
(For reference, Mind Over Matter )
KrazyCaley: Also, include every blue tutor in the game. Long-Term Plans? HELL YES.
miinor_threat: Azami decks turn into a 15-minute-long-turn-jerk-off fest around turn 4. #Solitaire
---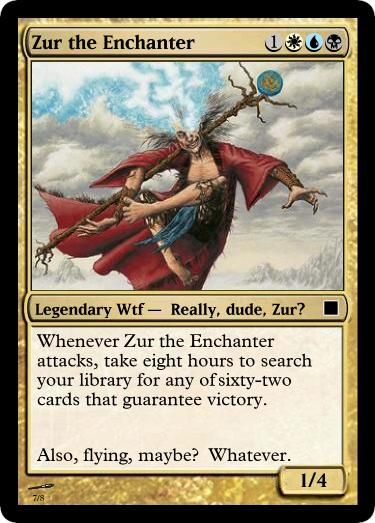 KrazyCaley: As soon as he attacks, be sure to make him indestrucible. Then give him hexproof. Just keep it going. The best part is this whole process is unstoppable after you put that first enchantment on there.
miinor_threat: That's for Zur rookies. When really terrible people run Zur, they run mana rocks so Zur can come out swinging turn 2 or 3 and fetch Erayo, Soratami Ascendant. If you can't get past Erayo on turn 3, the next combat phase is Rule of Law. Zur turns a game about playing spells into a game of sitting. You literally can't do much worse than be a Zur player. #TheAIDSofGenerals
---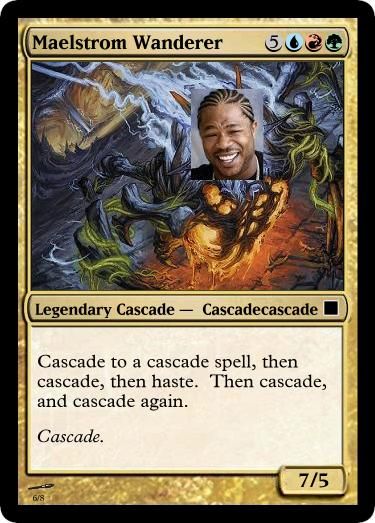 miinor_threat: M: Yo dawg, I herd you like cascade, so I put some cascade in your cascade so you can cascade while you cascade. Whenever someone sits down with Wanderer, I always visualize the Swedish chef from the Muppets (google that s**t if you're ig'nant) going "Derp derrrr, ramp ramp ramp and I terk an erxtra tern! #InfiniteTurnsAreGay
KrazyCaley: The only way this would be sillier is if he were five-color, and there were about 25 more cards in the game with cascade.
---
miinor_threat: Oona is regarded as the poster child of infinite mana. Real assholes tend to slip in other combos in as well, Hinder and Tunnel Vision is common, as is Leyline of the Void and Helm of Possession. #JustPlayModernFaeries
KrazyCaley: I'm sorry, Mistbind Clique! I'm sorry I talked trash about you! You're MUCH less infuriating than all these infinicombos! Please come back to the Oona deck! I promise I won't tear you to shreds whenever you're cast!
---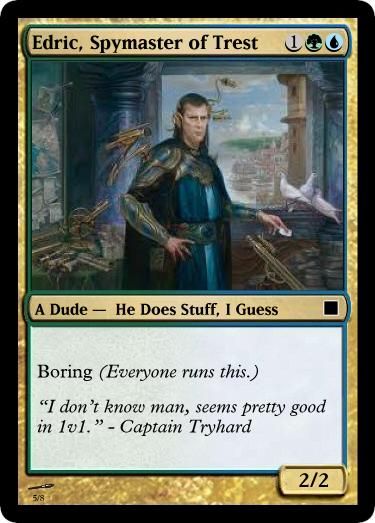 miinor_threat: If you really want to never stand out, you should have been running Edric in 1v1 leagues here and in Europe last year. In some places, the meta-game at tournaments was greater than 50% Edric, and the Edric v. Edric mirror was the most dangerous match (it was later banned by French rules in 1v1). #SameS**tDiffDay
KrazyCaley: Counterspells and weenies and weenies and counterspells. And drawing cards and answers and counterspells and weenies. Counterspells and weenies and weenies and counterspells and counterspells and weeeeeniiieees.
miinor_threat: M: "I'm a complete Beavis" 1v1 General honorable mentions - Vendilion Clique and Rafiq of the Many (Seems pretty good in 1v1, Bro!)
---
miinor_threat: Jhoira is also the queen of Time Stretch, which wins you the gold medal in the Olympics of miserable time wasting. #KikiJikiAnarchistThatS**t
KrazyCaley: On the plus side, at least she gets it over with quickly so your playgroup can go on to something else, like crochet.
---
KrazyCaley: Really, it's not fair to say that Arcum Dagsson is the same as running a banned card. Really, it's like running infinite copies of a banned card.
miinor_threat: This guy carries the stench of combo - BLUE ARTIFACT combo to be precise. Arcum Daggson is to being a combo player what James Lipton is to being a failed actor. #InfiniteMindslaver
---
KrazyCaley: As the card says, be sure to include Necropotence to have utterly unfair card advantage. Try to prevent your opponents from drawing at all to become a true master.
miinor_threat: See also: Teferi, Mage of Zhalfir if you want to lock them down completely. What's that gnarly combo with him? Omen Machine? I couldn't hear you. I was getting up to go play with a different group. #DrawGo
---
EVERYBODY LOVES IT WHEN YOU TAKE EXTRA TURNS
KrazyCaley: Note the plural, turns. One extra turn is for wusses. A resolved Time Stretch is mere competence. What I'm talking about is turns, man, TURNS. Lots of turns. Maybe even INFINITE turns. I'm talking about Time Stretch getting double teamed by Deadeye Navigator and an Archaeomancer with Twincast on your Isochron Scepter. That's the ice you want on your fingers. Using this strategy, you can have great fun playing Magic by getting rid of the most annoying and detrimental thing in the game, namely all the other players.
miinor_threat: Extra turns give me the dry heaves. When I see you play Walk the Aeons with Cast Through Time on the field, and then play Call to Mind and do it AGAIN (and again and again) just as I thought I was going to actually participate in this match it makes me wish I could take a long white Halloween beard out of my backpack and put it on and glare at you while you go through the tedious motions of killing everyone while taking your infinite turns.
---
BUILD YOUR DECK TO PLAY EXACTLY THE SAME WAY EVERY TIME
miinor_threat: Remember, when 60 card players evolve and grow tired of the predictability of short decks running 4x of their power cards, they turn to the 100 card singleton world of EDH, where the variability and viability of a hugely expanded cardpool ensures dynamic and unique matches every time. F**k that.
Change is scary and fun and is like exercise for your brain. You want to avoid that. You should aggressively (and I mean aggressively) tutor for that one thing that makes your deck run exactly the same way every time. By turn 2 you should already be playing Demonic Tutor/Enlightened Tutor/Fabricate/Expedition Map for Sneak Attack/Survival of the Fittest/Phyrexian Metamorph/Cabal Coffers or what have you. Your deck should run like an algorithm that requires you to make very few choices from game to game. If you aren't running 10+ tutors, your'e leaving everything to chance.
KrazyCaley: It is merely stating the obvious to say that in a 100 card singleton deck game, deck tightness is the clear priority of the format. Be sure to adhere to this principle by including far too many tutors, a ton of cards that work exactly the same way, and card interactions that guarantee that the same things will happen over and over again, no matter how many times you play! EDH is all about predictability, dreary deck efficiency, and ruthless performance. Don't let the rest of the table get away with fun. Building decks that behave with even slight variance is a terrible mistake, and must be punished.
---
ALWAYS PROXY EXPENSIVE CARDS (IN FACT, PROXY EVERYTHING)
miinor_threat: This one is near and dear to my heart. Proxying hard to find cards or cards that you are testing is a common practice that generally no one minds, it's a simple matter of common courtesy and the accepting, casual nature of EDH.
As a terrible player, you want to push the bounds of that courtesy and acceptance until you have totally destroyed it and given yourself a huge advantage. We recommend proxies that are impossible to easily recognize so that it takes WAY more thought and attention than normal to have any clue of what is going on on your board.
There are two main schools of thought on this, "Lazy" and "Over The Top." The "Lazy" school will typically use post it notes or scribble on commons or basic lands with a sharpie. A mountain with just "cryptic command" written on it in illegible handwriting is a classic example. Imagine a whole row of lands which are covered in post-its. One says "U/R," (Volcanic Island, obviously) and you can't really read the rest of them. Someone attacks, and you use a crudely proxied Razor Boomerang with "Maze of Ith" written on it to nerf the attack. You can see the frustration on the attacker's face and it kind of gives you a chub. PRO TIP: DO NOT offer to let them take the attack back.
The other school of thought is "Over the Top." This is a sophisticated technique. It's like scrapbooking for assholes. These players make their entire deck into customized foil Japanese Magic Set Editor proxies of anime school girls with giant breasts (or whatever).
KrazyCaley: "Over the Top" is indeed a rewarding technique, Dave; why have "Swamp" when you could have a Yu-gi-oh card with a crude skull drawn minutely on one side? Hey, dude, I thought you said you were cool with my proxies! Remember, too, that cards that are offensive to play against and/or incredibly expensive should always be proxied regardless of your income level. Some people think that there are cards that it's never ok to proxy, like Shahrazad, or The Tabernacle at Pendrell Vale, or Moat, or any card from Portal: Three Kingdoms, or Mana Drain, and so on. You have no idea why anyone would feel that way. Seriously.
---
GET PISSED-OFF AND/OR WHINE WHEN YOU AREN'T WINNING
KrazyCaley: This is the glue that holds the rest of D.O.U.C.H.E.B.A.G. together. Sure, every EDH player might accidentally stumble into one or the other of the above faults from time to time, but even if you manage to be a D.O.U.C.H.E.B.A., you'll never be a true doucheBAG without an aggressive, hostile attitude, especially when losing. When winning, of course, you want to puff up like a Middle Eastern oil baron and talk as much crap as possible. Losing is another case, though. Remember that losing is never due to your deck, nor any play errors by you, and also not your opponents' skills. Your opponents got lucky and you got crappy draws. Here are some handy phrases to deploy after a lost game:
"I could have drawn this card, that card, this other card, that other card, THIS card, and like a million other cards to kill you, but NO."
"Nice deck. I guess using cheaper cards is ok if you get a god draw every time."
"(incoherent mumbling about getting unfair hate)"
"I should have pile shuffled. I had SO MANY lands out last game."
"Wow, you drew like, EVERYTHING you needed."
And don't forget, after a victory, be sure to deploy this time-honored classic, with a tip of the cap to MinscAndBoo, whose recent forum post reminded me of it:
"I still had (various answers and threats that guaranteed victory even if your opponent topdecked out)."
Remember - The best part about being a douchebag is rubbing your foot in their face and making them taste the douche.
miinor_threat: Caley is right. This is the cherry on the turd cake. This is where you bring it all together. You knew full well how much everyone hates your Memnarch-combo-jank deck and how much everyone hates when you go off and take infinite turns. This is where you have to dig deep and pretend to have the GALL to act surprised when the entire table gangs up on you eliminates you first (PROTIP: This is not a surprise). You have to act as petulant as possible, blame your loss on missing a few land drops, and then give obvious advice to the remaining players. At that point, if anyone is still willing to play with you, try actually getting mad and storming off, or maybe raising your voice. "This cardboard with art on it is SERIOUS BUSINESS MAN, why you gotta Mind Twist me!?"
---
KrazyCaley: And that's our guide on total EDH douchebaggery. We hope that you are able to profit by it and become the most annoying Magic: The Gathering player in (subject hometown here). Join us next time, which could literally at ANY TIME, except for the past.
miinor_threat: This article is dedicated to all those EDH players who run balanced, awesome decks that are both competitive and fun. I believe the true test of a deck is 2 equally important questions: "Can it win?" and "Is it fun to lose to?"
---
Caley and Dave also pay their respects to Sheldon Menery (the Godfather of EDH) and the Rules Committee for inventing and embodying the spirit of the format.