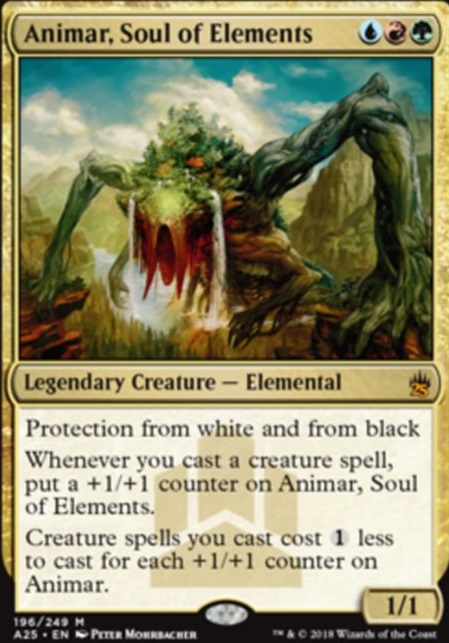 Legality
| | |
| --- | --- |
| Format | Legality |
| Tiny Leaders | Legal |
| 1v1 Commander | Legal |
| Magic Duels | Legal |
| Canadian Highlander | Legal |
| Vintage | Legal |
| Leviathan | Legal |
| Legacy | Legal |
| Duel Commander | Legal |
| Casual | Legal |
| Commander / EDH | Legal |
Animar, Soul of Elements
Legendary Creature — Elemental
Protection from white and from black
Whenever you cast a creature spell, put a +1/+1 counter on Animar, Soul of Elements.
Creature spells you cast cost less to cast for each +1/+1 counter on Animar.
Have (12)
ibraJG84 , jrschnoebelen , MyTotoro , angesoir ,

F

o

r

k

b

e

a

r

d

,

A

z

d

r

a

n

a

x

, Lucan2000 , Slowbro23 , Thunderbeard ,

O

l

o

r

o

_

M

a

g

i

c

,

D

i

m

a

r

x

, Florg
Want (9)
kovellen , spike1395 , Papstxiii , darthnuchi , Rathe ,

g

o

l

g

a

r

i

i

z

z

e

t

, corys , DFDGamer , epic-jargon
Animar, Soul of Elements Discussion
5 days ago
Biggest issue I see here is a lack of focus and not enough creatures for a creatures only matter deck.
Animar, Soul of Elements wants two main things: Cast creatures and get +1/+1 counters to cast larger creatures. Everything in the deck should be focused on those two goals.
Setting up the deck to achieve this purpose will make it efficient and powerful. All cards should therefore do one of the following:
Ramp up to Animar.
Protect Animar.
Place counters on Animar.
Cast game ending creatures for cheap or free.
Draw cards to allow us to do 1 through 4.
Priority should be given to cards that does something now > does something before your next turn > does something on your next turn > does something eventually.
Because Animar offers a discount based on creatures played, the deck shouldn't be filled with only high cmc game enders, but creatures from low to high cmc, preferably with as little colored mana symbols as possible, to give the deck a natural progression to casting free or cheap high cmc game ending creatures.
Let's split the deck into 3 parts. Pre-Animar setup, Post-Animar setup, Finale.
Note that $: (0 to 0.99), $$: (1.00 to 4.99), $$$: (5.00 to 9.99), $$$$: (10.00 to 19.99), !$!: (20.00+)
Unnecessary on a computer, very helpful on a phone.
This section will be all ramp, and protection to get Animar out quickly and make sure he is secure.
- The land base should be arranged to where there is more emphasis on , then , then since can color fix and can offer protection.
- Exotic Orchard is pretty good and cheap and can usually offer every color in multiplayer, especially if an opponent has a Command Tower out or even a Vivid Grove without even needing charge counters. - Kazoo lands such as Simic Growth Chamber, Izzet Boilerworks, and Gruul Turf are good in casual EDH where there is lack of land destruction and they artifically increase your deck ammount by posing as two lands in one. Though overall you do not want too many tap lands as you'll constantly be a entire turn behind.
This section will be about setting up our board state to win. All cards from this point onwards will be casted after Animar has been casted.
This section will be about ending the game with giant behemoths.
1 week ago
TheDeckMaker2300, yep, Sigil is exactly unable to fit on this list for that exact reason.
thrane, actually one of the inspirations for this list was to showcase that paying 3 mana to recur one card as being a pretty bad rate of return in comparison to everything that's available, notably Regrowth. Outside of synergies with ETB creatures (which means that E-Witness would be a card that would be good based on the commander strategy specifically, like Ancestral Statue in Animar, Soul of Elements, although not quite to that extreme), Regrowth will always be better since it's 1 mana cheaper.
Oak_Guy I've been considering cards like Reap that only work against certain colors. I'm still on the fence for all cards except ones against blue/islands, because of how common blue decks are, but I'll keep Reap in mind. Thanks!
3 weeks ago
What cdkime said.
Ninjutsu isn't an alternative cost, it's an ability that functions from your hand rather than when the creature is on the battlefield. Aether Vial isn't an alternative cost either, it's just an ability that puts a creature on the battlefield. Neither results in casting the creature, and can only be responded to with Stifle effects.
Similarly, an ability that reduces a creature's casting cost, such as on Animar, Soul of Elements, doesn't affect ninjutsu, because ninjutsu isn't an alternative casting cost. (Unlike things like Dash, such as on Kolaghan Skirmisher, or Morph, which are alternative casting costs.)
You either use Aether Vial to put the ninja on the battlefield using the vial's ability (the ninja will just be on the battlefield, not using its ninjutsu ability), or you use the ninja's ninjutsu ability to put it on the battlefield in place of an unblocked attacking creature of yours.
1 month ago
Also, link your cards if you can so everyone knows who you're talking about
1 month ago
Tainted AEther is pretty good against Animar, Soul of Elements, but otherwise feels like a silver bullet.
Moat doesn't affect cEdh decks, almost ever. I mean Sword of Feast and Famine gets hurt a bit, etc. Same thing goes for Ghostly Prison, Propaganda, Sphere of Safety. These cards are neither prison nor stax, just pillow fort.
"Damage Mitigation" isn't stax/prison either, just more pillow fort.
City of Solitude and War's Toll aren't "Stax" in a conventional sense (War's Toll is very close), but they are much closer to combo protection. Rule of Law or Ethersworn Canonist are real options for "Casting Stax". Nevermore and Gideon's Intervention are considered removal though.
Karmic Justice is just considered protection. It is in the same vein as Greater Auramancy, Privileged Position, Sterling Grove, and Asceticism.
That leaves you with the following real stax/prison effects.
Now, let's say all of these were efficient stax elements, like Stasis, Winter Orb, Armageddon, and Nether Void (Similar Average CMC)
Okay, would your deck be stax? No, it would have a few stax cards. Would it be prison? No though it can pull off one.
Now, lets go back to reality. You run 4 cards, of which Mystic Remora/Rhystic Study are may costs, and so can't pull off a prison, and War's Toll doesn't affect many decks. It can stop a bit of disruption, which is powerful as an effect, but it does set up a prison without other cards. Think how good it would be with The Tabernacle at Pendrell Vale, if they pay any upkeep costs, they tap all their lands, and their mana disappears by their main phase. But you don't run it for that.
Finally, the best Prison/Stax piece you run, Tainted AEther, which can affect a few very specific decks, and slow them down a turn or two. If you ran 6-10 of these silver bullets, and tutored them up dependent on the situation at hand.
To sum everything up, you run 4 stax peices, of which two can't set up prisons, one doesn't in this deck, and one that could, but is a silver bullet. You are not Stax nor are Prison.
1 month ago
ah nvm i get it now. we're supposed to assume the Animar, Soul of Elements has enough counters to make the creatures as cheap as they possibly can be. thats something you should really include in the deck description. also,
1 month ago
Okay, so, speaking of combos...there's a lot of lines missing, in my opinion. Plus, too many missed opportunities for tutors that can win game for you. And a complete lack of mana rocks. Which, I get, is kinda the whole point of Animar, Soul of Elements. But what do you do against someone's turn one Torpor Orb? Or someone's turn two Nevermore?
Other good rocks for someone with no budget: Mana Vault, Mana Crypt, Fellwar Stone, any Moxen, and Commander's Sphere.
A Panharmonicon would probably go over really well in this deck.
A good tutor that is missing is Tooth and Nail. I like it over Green Sun's Zenith because it can send the cards to your hand, and allow you to cast it for Commander Triggers.
Also Mirran Spy + Banishing Knack would be a really good combo for your deck, in terms of infinite creature casts.
Another backupwin con to Walking Ballista and Purphoros, God of the Forge would be Aetherflux Reservoir. You definitely can cast enough spells to make just the lifegain worth it.
And I would probably add another land or two to the deck. 30 with almost no rocks is risky. My decks run 33 with a lot of rocks, and still sometimes can hit trouble. But if the number has worked for you so far, keep at it. Because if I could go with less lands, I would.
Load more
Latest Commander