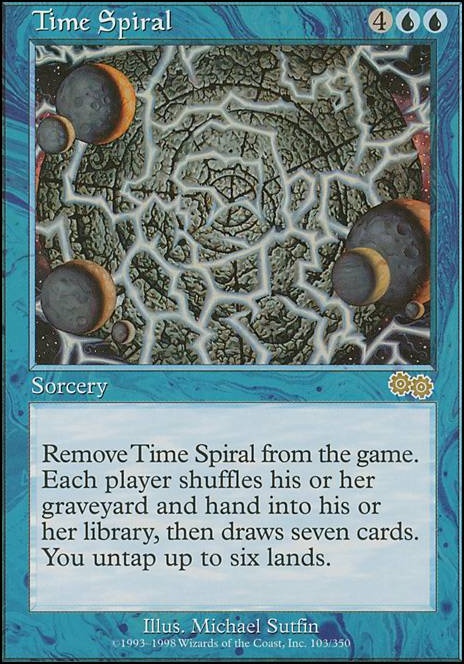 Legality
| | |
| --- | --- |
| Format | Legality |
| Tiny Leaders | Legal |
| Noble | Legal |
| Leviathan | Legal |
| Magic Duels | Legal |
| Canadian Highlander | Legal |
| Vintage | Legal |
| Custom | Legal |
| Vanguard | Legal |
| Legacy | Legal |
| Archenemy | Legal |
| Planechase | Legal |
| 1v1 Commander | Legal |
| Duel Commander | Legal |
| Oathbreaker | Legal |
| Unformat | Legal |
| Casual | Legal |
| Commander / EDH | Legal |
Time Spiral
Sorcery
Each player shuffles his or her graveyard and hand into his or her library, then draws seven cards. You untap up to six lands.
Remove Time Spiral from the game.
Time Spiral Discussion
6 days ago
Hey, @jaymc1130, Thanks for the in Depth response I really appreciate it!
"there are a number of choices that are particularly awkward in terms of Cedh and prevent this list from being as competitive as it could be"
Now that would be merely a biased opinion in a dataless world were no tournament viable feedback or anything else is available except for some wonky "FUNmander" youtube channels that attempt to play "Cedh" but don't even come close to what a tournament setting and maximum competitiveness would represent...
Either way, Our commander league, Tournaments, and FNM over here don't mean anything either but the experience of some of our pods are easily on par or even way better than any player on any power/tier/whatever list or any channel/stream you can imagine (not talking about the garbage command zone, TeamTurnThree, or star-city games but most of them are irrelevant anyway as they always have the 4-5-6-7 same people in 4 man pods which does not mean anything either regarding consistency or tournament level competitive viability ;) )!
Nonetheless, I will go over your thoughts with care, but my list seems to have been outdated when you were typing: s
(Cards marked with were already cut during the time of your writing and for some reason you saw an outdated build or my deck hadn't updated yet nonetheless I left at 19:00 ish after the feature and update I did :) )
Yeet !
Your exclusions?
1 - Aetherflux Reservoir was already cut, the list just didn't want to update for an entire day now but this card isn't needed indeed...
1.1 - Jace, Wielder of Mysteries Though is an equally okay flex slot as for example "consul" or "tainted pact" routes as an extra backup when loopable spells no longer become an option or get used/exiled along the way... Just going for the same strategy is often not always possible and this can fight trough rule of law effects/sphere/ and heavy Stax meta pretty easy regardless of being drawn or not... while just exiling the entire deck under Urza and only having to resolve Jace and a +1 winds-of-rebuke/Labman/and also drawing you a card +1 ... you can side it out pretty easily here as well with any generic draw or interaction spell like you mentioned later on.
I' de say it's consistency would definitely not suffer from running Jace...
---
2 - Time Spiral : same as fluxervoir... didn't update for the longest time was taken out around 19:00 - 20:00 before featuring it as I had to go to work but yeah still working on the list, after tests and what not xD
---
3 - Unwinding Clock I can see where you are coming from but being able to tap out for single/multiple activations of Urza or tapping out for anything else and still untapping to be able to interact again still sounds good enough for me. Perhaps sinks could use it to create more advantages but I'm pretty sure just 1 or 2 of those won't make the difference... Yisan also loves its Seedborn Muse although here it's a bit more specific for artifacts and Urza...
---
4 - The Tabernacle at Pendrell Vale It is Just too good in dork/tymna/frog/ or 90% of the decks that need their commander in play to actually do something Meta (najeela,sissay,yisan,gitrog,selvala,and the list goes on and on and on)... + great against Hatebears.. it is fairly expensive sure but if it's not in your budget just use any utility land you see fit or an extra island...
---
5 - Gilded Lotus : List didn't update...
---
6 - Tezzeret the Seeker

: Tezzeret is a wincon -5 + more mana +1 + a tutor for everything this deck is about so definitely not the wrong deck for it...
---
7 - Fabricate : Mages are too narrow and don't even compare to Fabricate as it can fetch any artifact at the same CMC so why handicap yourself on specific CMC when you, for example, aren't looking for that CMC 2 card and could have won using a way more flexible tutor...
---
8 - Fellwar Stone : Fellwar stone 70 % of the time always taps for blue... But you're right there are better Artifacts to slot in, but since I'm on so many I'm actually going to give Sai a shot as he can also combo with some of the cards already in the deck and draw cards...
---
9 - Merchant Scroll , Dig Through Time , and Fact or Fiction : The cards have always worked and will always work + dig deep so they are kinda auto-includes for me and many others amongst the Cedh community.
---
10 - Rhystic Study : Hmm, even if they pay for it it has done its job pretty damn well... The amount of time you can come back from otherwise lost games with this card is Absurd... even if it's only one extra card per turn cycle it's worth it and on many occasions, not everyone can afford to pay up... This is a Mono-Blue deck and will have a lot of grindy games so why not grind harder than everyone else? Again if you don't forget the trigger having them pay 1 more for everything sounds like an auto-include one-sided sphere effect to me with the added bonus of drawing you and generating card advantage at any stage of the game if they don't or can't...
========================================
Onto your inclusions for this deck:
11 - Crystal Shard : Just no... pretty bad card...
---
12 - Voltaic Key : List didn't update...
---
13 - Trophy Mage : Mages are too narrow...
---
14 - Tangle Wire is okay to run but does die off rather quickly and should see more play in Stax heavier Urza decks... But Trinisphere As mentioned in the primer can only effectively be shut off during the end step of the opponents turn before your turn... it untaps in your turn and you can not break parity like you can with the orbs... Because using it for mana during your turn shuts it off for the others... So a no go for any Urza deck compared to the orb effects... even playing null rod is better than playing trinipshere here...
---
15 - Aether Spellbomb : Casting Urza and recasting Urza is a bad and slow plan I'm not committing this deck to and requires more dead slots... I'm fairly happy with the artifact suite right now + The Monolith package as it works and wins if it resolves paired with their respective pieces... I've been on Oona long enough and yea having more pieces to the puzzle that do the same and work together is pretty nice...
---
16 - Pongify and Rapid Hybridization : Are In the maybeboard, they are flex slots if your meta has more creature win conditions but here it's too mixed to have full effect from these (also loopable spell slots if you don't want a bird army but an ape army for example... the same goes for Reality Shift under a second scepter (copy artifact) it still requires a target for it to work though, but can be a wincon when looped)
---
17 - Mishra's Workshop : Sounds pretty good, to be honest!
6 days ago
Interesting build, but there are a number of choices that are particularly awkward in terms of cEDH and prevent this list from being as competitive as it could be.
First and foremost: Aetherflux Reservoir and Jace, Wielder of Mysteries . At 4 mana these cards are on the slower side for cEDH, and what's worse is both are only good in the situation where you are actively in the process of comboing off. 99% of the time you draw these they will be dead cards. You will lose more games per 100 played against top tier decks just running these cards than if you ran any 2 other random cards. Much too card slot inefficient for cEDH, I personally would never run either of them in any cEDH deck and expect to win consistently.
Time Spiral : If you already own and are running Timetwister then including this card seems very odd. It can't loop your Timetwister and is very difficult to cast. It's not a terrible inclusion for the purpose it serves, it's just that running it makes the deck less consistent in terms of opening hands and early plays as it will also be a dead card outside of actually comboing off. Another card that is too inefficient card slot wise to make the cut for cEDH.
Unwinding Clock : Cute, but it doesn't really have much synergy with the rest of the list. I'm looking for mana sinks that can repeatedly make use of the extra mana available, but Sai is in your maybe cards, there is no Kefnet or similar effect, not even so much as a Compulsion to generate value from the Clock triggers. Ultimately this Unwinding Clock is a card that is already fringe viable for cEDH and while I think there might be an Urza build that could make good use of it your current list seems rather lacking in it's ability to leverage that extra mana for maximum value.
The Tabernacle at Pendrell Vale : I'll be honest, I immediately included this card in my original lists as well. And then I play tested with it and found out that it was often proving more of an impediment to me than my opponents. Urza + Construct makes for a hefty upkeep tax without considering any other creatures that might come into play on your side or that you might wind up with multiple huge constructs out that are a serious threat you don't want to sacrifice but also can't afford to keep if you want to be able to interact with an opponent. I made the choice to cut this card and keep it as a side board option for specific creature heavy meta's where I'd run a less creature intense list myself and this decision wasn't all that difficult. It's also an extremely expensive card so many people who are not as lucky as I am to own a copy will find it difficult to accommodate.
Gilded Lotus : While this card is a staple for CVT decks, it's not a relevant card the majority of the time for an Urza deck. Urza is already turning all artifacts into mana rocks, it costs 5 mana, and since Urza makes blue mana the colored mana is also not relevant. Fine card, wrong deck for it though.
Tezzeret the Seeker

: Similar to Gilded Lotus, this card is a staple for CVT, but out of place in Urza decks. Too mana intensive, a bit on the slow side, and running Paradox Engine as a primary means of untapping basically turns him into a 5 mana artifact tutor that can't fetch Paradox Engine itself. Fine card, probably the wrong deck.
Fabricate : I've been back and forth on including this and ultimately have opted not to run it. I think it's an acceptable card to run, even if it's a bit on the edge of what's truly cEDH viable, but Urza builds focused on low cost artifacts can probably get more value from the tutor mages (Trophy, Trinket, Tribute). Particularly when combined with an Urza must run card I will get to later, the mages out perform Fabricate for their ability to be reused and as blockers that can trade for Tmnya (a very important consideration in cEDH).
Fellwar Stone : In a mono blue deck where all your artifacts are regularly turned into blue moxen this card seriously under performs when compared to Thought Vessel or Mind Stone which offer some utility outside of being pure mana rocks. It seems like a very odd inclusion if the goal is to be cEDH level competitive. Card slot efficiency is key and the other options mentioned bring more to the table.
Merchant Scroll , Dig Through Time , and Fact or Fiction : I've elected not to run any of these for the time being, let me know how they work for you. I'd be really interested to hear how consistently they create the right kind of value as these are options I have on my radar but feel there are better inclusions.
Rhystic Study : Is a card I've cut from every single cEDH deck I have. The meta has become to grindy with games taking quite a long time and tons of mana available to every player for this card to generate any value at all in my games. Everyone pays for it every time, it's just too slow to get it out, and the mana spent to deny draws seems to very rarely impact opponent's abilities to interact appropriately. I consider this card at the moment to be extreme fringe viable for cEDH at best.
On to some noticeable exceptions from your list.
Crystal Shard : This card is an absolute must run win con for Paradox Engine Urza lists for cEDH. It's hands down proven to be the single most reliable and effective method of winning games in my testing so far and should be run even by budget lists as the card is very affordable to acquire. Generating an infinite army of infinitely large creatures that generate exponential mana ramp all at one time is more than enough to win games. It's never a dead card as it can generate value outside of winning the game where cards like Jace and Aetherflux cannot and is easier to cast than either. A must run for cEDH Paradox Urza lists.
Voltaic Key : Another must run combo enabler and value generator card for any Paradox deck of any color that also runs Top and mana rocks. Just assembling Key, Top, Engine, and mana rocks totaling at least 2 mana production means infinite draw and untap triggers, infinite storm count, and eventually infinite mana as you draw into more rocks. Absolute must run for cEDH viability. At worst it's a 1 cmc mana rock, at best it wins you the game.
Trophy Mage : A quality value body that can find a number of pieces that buy Urza the time needed to go off or the all important Crystal Shard (often the first target, so you can reuse the mage repeatedly for the other targets).
Tangle Wire and Trinisphere : Already running Static Orb, so Tangle Wire should be a no brainer to completely lock down opposing board states and create an opportunity to combo off. Trinisphere, likewise, can be better leveraged by Urza than any other commander and can seriously complicate opponent's abilities to interact, advance board state, etc. Easy to tutor for with Trophy Mage. Turn into mana rocks that allow you to deactivate their effects at will. The best time buying options available to cEDH Urza lists.
Aether Spellbomb : Already running Academy Ruins and Candelabra, so this should be an auto include. Worst case scenario, it's a one cmc mana rock. Situational use scenario, it can interact with the board when needed. Best case scenario, it wins the game through allowing repeated castings of Urza, or infinite draw triggers to draw itself (using Ruins to put it on top of library before it's draw trigger resolves) which generate infinite spell casts for infinite Paradox untap triggers for infinite mana to do basically anything you would like. Must run if already running Candelabra and Ruins.
Rings of Brighthearth and Basalt Monolith : I run these as a flex combo for extra resiliency and more consistent access to infinite mana generation. Between Paradox Engine, Dramatic Scepter, and these its going to be very difficult for opponents to shut down all our infinite mana generation options with a lucky Ashiok, Dream Render activation or similar effect. These two also happen to be easy to tutor for as Trophy mage can target them both. Brighthearth also combos with SDT for multiple draw triggers allowing the drawing of the whole deck and infinite spell casts into infinite untaps with Paradox Engine out for 1 more mana than Key+Top. Redundancy like this where multiple pieces all provide the same net effect makes the deck's performance more consistent against other top tier decks that will all be running tons of interaction and disruption elements that can often stifle your first, second, or even third attempts to position for a win.
Pongify and Rapid Hybridization : Cheap effective creature interaction in a color that often lacks good ways to deal with creatures. I'm not running Gilded Drake at the moment, but that has more to do with my meta not including good targets for it (like Gitrog Monster). These 3 cards are going to be the primary means of dealing with a troublesome creature for cEDH Urza lists, and you must be able to run enough interaction to interact often enough in the longer, grindier meta of cEDH at the moment.
Mishra's Workshop : Doesn't feel like a must run to me, but I have rather enjoyed it's performance in my games thus far. Particularly potent on turn 1 when you have multiple mana rocks in hand and can enable extremely early Paradox Engine drops.
I've got my list here if you'd like to take a look: Looper
1 week ago
I understand the reasoning behind the lack of 2 cmc rocks, but I also really like not having to worry as much about recasting Urza if he gets countered/destroyed. I haven't tested it, but on paper it seems a bit more safe.
I also really dislike Recurring Insight. Why not just use Urza's last ability more times with that mana? I've playtested this build multiple times now and tbh I've never drawn more than 4-5 cards (and that's casting the card in two different games). It just seems really bad.
Additionally, I think that Rings+Basalt+Power Artifact should be added in. There's a lot of synergy to be found in the cards and easy wins pop out when you cast them. I can understand the reasoning behind inclusions like Future Sight and Jeweled Amulet (especially after playtesting them), but the deck feels weird without those strong cards.
My CEDH for the last 3-4 years was Arcum, and the builds of the decks, in my eyes, were going to be quite similar. Obviously, different wincons, but ramping into a 4 cmc general that, if left unanswered, would win. It feels strange to be playing a Mono-U artifact-based deck that doesn't run some of these cards.
Lastly, your primer mentions winning with a Teferi ult but no teferi is found in the deck. Also, another budget option for timetwister (at least based on my playtesting) is Echo of Eons . I kinda understand your reasoning for replacing twister with Stroke of Genius , but the cards seem to fill different purposes, hitting it off an uzra activation seems really bad, and why not just run Blue Sun's Zenith ? Time Spiral may also be worth looking into. The Tabernacle at Pendrell Vale needs a) a budget replacement or b) to just be cut in general. It's not the worst thing in the list at all but has some major issues that others have mentioned in the comments. Also, Trinisphere is obviously really good, but don't you have to tap it during your turn to not be affected by it? And if so, wouldn't that make it not work on your opponents' turn? (Without unwinding clock, of course.) You also have Impulse and Copy Artifact in the main and maybeboards.
I think there's still some work to be done with this list. After playtesting, I wish I had a bit more creature removal and less instances when I just durdle out. I hope to see some changes!
Last thing: snow-covered lands are for people who run Extraplanar Lens or what?
4 weeks ago
I found your response of calling card selections "cute" to be incredibly patronizing. You'll have to forgive my terse tone if you truly weren't trying to patronize me, but regardless, you have as much time as you need between postings to look at your deck and the suggestions. If you are truly a competitive player and this is truly a competitive deck, people should not have to spoon feed you the reasoning as to why a card works with 8% of the cards you run (I didn't even include the mediocre synergy Seat has with Sai, Master Thopterist or Fabricate ). You have to consciously put every card into the list, so they were all intentional choices you made. You should have familiarity with the cards you run, especially if you claim this to be a competitive deck. You should also have familiarity with competitive concepts, like removal that requires 2 turns and 2 mana to work is far worse than removal that requires 1 mana to work at instant speed (why run Legacy's Allure before Pongify or Rapid Hybridization ? They are both less conditional and cheaper).
A close reading of my earlier comment will also show I only had a strong tone towards the card choices and deck building ideas, not at a person. Also quick shout out to all the people swearing at me and calling me a douche, the bad card suggestions, lack of card suggestions, and ad hominems have been pivotal to the development of this list. I'm not gaining anything from writing paragraphs explaining easy includes for YOUR list, so if you want to keep flinging mud I'll simply leave you to it. If you want to talk cards, put on your big boy pants, realize that you can make an ignorant or bad card choice without being an ignorant or bad person, and lets talk winning.
Mind Over Matter is expensive to cast, and combos out with tap to draw permanents, which this list doesn't run. It's been ignored by cEDH due to the massive color cost requirement + CMC and how weak the combo pieces are outside of combo.
Riddlesmith could have value, but this list doesn't have the artifact density required. It also does absolutely nothing by itself, meaning it has no value without other pieces to make it go. Relatively weak card and any loot effect for 1 or 2 cmc will outperform in a fast format like cEDH.
Time Spiral is also mostly ignored because it doesn't generate the value you want. It isn't reusable like Timetwister , so it doesn't generate value with looping as a wincon. It requires 6 mana to cast, and you're only getting 6 untaps with 6 lands in play, meaning turn 6 as the earliest (read: 3 turns after someone else has won). Even with 3 mana and getting 3 mana back (so it effectively costs 3), it has a high initial cost which means it will sit in hand without being used, while Timetwister could be used earlier. Hits for a lot off Ad Naus and Dark Confidant , which are format staples. Mediocre replacement for twister, but you'd be better off running another 1 2 or 3 cmc draw piece that isn't already used, Sleight of Hand comes to mind for this list.
Precognition Field does the same thing as Urza but allows you to peek top of library. Just like Future Sight , the slot is literally wasted with this commander, because you don't need another infinite mana outlet. If you need help getting to your infinite mana combo pieces, you should run more tutor and draw, not a slow and expensive top of deck value engine.
Cephalid Coliseum is usually ignored because of how unreliable threshold is. Timetwister resets it, and GY hate is very common. Its a painful non-island island in the vast majority of games, and generates land disadvantage when you can use it. Coliseum has its place though; it's very useful in Doomsday decks as a low opportunity cost pile cracker and sifter, but is still sometimes passed over in those lists because of the cost of Doomsday. It can also be used in decks that run Laboratory Maniac as a way to draw on an empty library, but most ignore Coliseum because they achieve no cards in library by drawing the deck, which means they will almost definitely have a draw card they can play that isn't dependent on a land drop. Also Coliseum gets caught by all the non-basic land hate that sees play.
Darksteel Citadel is a worthwhile include if blue mana density is high enough. Dodges Armageddon and opens up same lines that Seat of the Synod does.
I also have one more suggestion. Baral, Chief of Compliance has more value in this list than Etherium Sculptor . You run a total of 32 instants and sorceries, 15 of them which can be cost reduced (the 32 matters in case opponents play a tax effect). Meanwhile, of the 21 artifacts you play, only 15 of them can be cost reduced due to the amount of 0 cost rocks. Baral also generates value on the ridiculously large amount of counterspells you run though, which makes it a more worthwhile include. If you do decide to up artifact density (and include Mishra's Workshop , which you should due to playing under Trinisphere and orb effects anyways), then sculptor may end up being the better slot.
You also really don't need future sight in your infinite lines. Voltaic Key can replace it in the Paradox Engine line, and the other line is weak anyways because its creature based (easiest permanent type to remove). Voltaic Key untaps Sensei's Divining Top while top trigger is on stack, and use Top again. Sensei's draws a card, then goes to top of library on first trigger, then draws itself on second. Assuming you have 2+ mana in rocks you break parity, on 3+ you generate positive mana. You can do a similar thing with Rings of Brighthearth and Sensei's Top, plus Brighthearth combos with both the monoliths, so it serves as a second B for the A + B of Power Artifact and Monoliths.
4 weeks ago
This is marked 'Help.' Below is my attempt at doing so:
First off, if you aren't averse to it on flavor grounds, I suggest the off-color fetches like Windswept Heath and Scalding Tarn . These could replace Temple of Silence and other ETB tapped lands, fetching your duals and shocks. These also allow for more shuffle effects off cards like Brainstorm .
If your meta is like mine, Sen Triplets will draw a lot of hate. Wearing down enemy resources can be useful. Pox is one of the most brutal EDH cards, but its younger brother Smallpox is sometimes better. It's good as a compliment to Liliana of the Veil , and fits within the control theme. Adding Waste Not to the mix, along with effects like Words of Waste , may be fun. I realize that this lowers the number of cards you have access to in your opponents' hands, but it is still a very powerful effect.
Preordain is a good cantrip with Brainstorm and Ponder .
You may have more luck with Cataclysm than Scourglass . It also wipes planeswalkers, but for less mana. Additionally, being able to access opponents' hands means you can rebuild faster than your opponents.
Remand seems like a good card in your deck, seeing as you can return a spell you want to cast, then target the opponent you countered and cast the spell yourself. Similarly, bouncing a juicy permanent during the end step before your turn means you can play it on yours. Winds of Rebuke and Snap might merit an include.
If you want to be a REAL douche, you can stick in Stasis in conjunction with Smothering Tithe . That's a BRUTAL combo.
Notion Thief is typically a good idea in a control deck that includes Dimir colors. Using him means Arcane Denial becomes straight busted, and running it with cards like Windfall and Time Spiral can simply shut people out of the game.
Telepathy can give you information on who you want to target with your general's ability.
Have you considered running Karn, the Great Creator in conjunction with the Mycosynth Lattice ?
I'm not sure what your meta is like, but mine includes things like Gaddock Teeg . I suggest running Toxic Deluge to get around this sort of effect. Another meta call is Mental Misstep , which I've also had luck with.
I like your Mystic Remora and Rhystic Study . I suggest things like Jace, the Mind Sculptor or Painful Truths .
I apologize if my suggestions are less than ideal; I've never had much success with this general. But that's what comes to mind. Good luck.
4 weeks ago
And sorry for double posting but what about Riddlesmith ? 2 cmc to start looting for stuff you need doesnt seem too bad since we run Academy Ruins which can just recover what we threw away. I dont own a twister, so what are your thoughts on Time Spiral ? Sorry for all the questions im just super stoked for this deck hahaha
1 month ago
Been super busy lately so sorry for the late replies!
@Limo: Thanks for the upvote! I'll be sure to take a look at your deck!
@MooneBoyIrish: If you had read the deck description I've put the relevant ruling for auras there as many get confused by them; basically auras only target when cast so if they are put into play as part of an effect (ie. Zur, Replenish , Open the Vaults , etc) they can be attached to a legal permanent of your choosing (as defined by the enchant ability) without targeting that permanent. As MtgMaster02 pointed out Triclopean Sight is indeed both backup to Daybreak Coronet as well as an effective means to get Stasis up and running.
@SlowMoon17: I'd say both yes and no. I've slightly drifted away from the straight 1v1 environment to make it more resilient and able to at least hold its own in multiplayer as well (due to the local meta). I feel like there are faster ways of combo winning ( Doomsday , Phyrexian Unlife , etc) but that's just boring. There's something about playing land destruction/ Stasis and seeing the light drain from your oppenents' eyes that just makes it oh so worth it haha.
@Im_ygy: Yea... lol. I just looked it up and the entire decklist non-foiled, without Timetwister and OG duals is still around $2100 NM/PL
@MordMetal: It really depends on how budget you want. Obviously don't foil it lol; but in all seriousness you can save a ton on the land base alone. Add more basics and tap lands ( Arcane Sanctum / Vivid Creek / Vivid Marsh / Vivid Meadow ), use Evolving Wilds / Terramorphic Expanse instead of fetches, etc. If your overall CMC is still low swap Dark Confidant for Dark Tutelage , Snapcaster Mage for Archaeomancer / Mnemonic Wall . As for Timetwister it really depends on what effect you are looking for... GY shuffle: Elixir of Immortality , Card draw: Windfall , both: Time Spiral although it costs double the mana (and untaps!) and is still expensive although still cheaper by a phenomenal amount. These are just some examples. I'd recommend doing an advanced Gatherer search (https://gatherer.wizards.com/Pages/Default.aspx) for specific effects you are looking for in a cheaper card variant.
@Dankey Thank you! I like running Jace, the Mind Sculptor for the Brainstorm effect (and Unsummon effect if needed) to filter away any enchantments that find thier way into my hand (so i can tutor them up for free). In 1v1 Jace basically lets me know what my opponent is drawing most of the time too; so for now I think he is just too versatile to get rid of.
@cango35: I really like Winding Canyons in most creature based decks but i think it'd be kind of a waste here for a few reasons. Firstly I overall barely have any creatures. Secondly the additional 2 mana is killer... it'd mean i'd need 6 mana PLUS the land to get it off and that's just not worth the luxury of flash in my opinion. Thanks for the suggestion though!
@hoffie4: I've had Strionic Resonator in the deck for ages! You must've missed it XD
@Auraprime1984: There are a few options. The rest of the mana base is pretty solid, so to be honest it doesn't matter a whole lot. You could add more basics, the third painland ( Caves of Koilos ), Exotic Orchard , maybe Tainted Isle / Tainted Field , Urborg, Tomb of Yawgmoth , Prairie Stream / Sunken Hollow , Choked Estuary / Port Town , etc. You could also use some tap lands like Arcane Sanctum , Celestial Colonnade , Fetid Pools / Irrigated Farmland , Temple of Deceit / Temple of Enlightenment , etc. Signet lands are also an option Darkwater Catacombs / Skycloud Expanse . You mostly just have to figure out what would work best with your build. Hope that helps!
1 month ago
Here are my thoughts, in no particular order
Your land base is just 1 card away from running Tainted Pact for use with Labman lines. You should ditch that 2x island and run it. Also run the new Jace as a back up.
Omniscience + Show and Tell should be cut. Replace with Dramatic Reversal + Isochron Scepter . Its a more compact win, doesn't have the opportunity to blow up in your face, combos with Top and Copy Artifact, and both pieces have higher quality than the pieces they are replacing.
You run a lot of large CMC junk cards that will either end as dead draws or don't win upon resolving. Consecrated Sphinx should be put into play with reanimation, but since you don't run you should cut. Bolas's Citadel is just a bad Ad Nauseum. The handful of wheel cards over 3 CMC should be cut. Why spend that time giving your opponents cards on a soft combo when you could be tutoring and winning with the very easy A + B of Labman + pact? Specifically, Time Spiral Wheel and Deal Reforge the Soul Whispering Madness . Replace those cards with more format staple counterspells and removal. Swan Song Dispel Flusterstorm Red Elemental Blast Abrade Shattering Spree .
Really not wild about Molten Psyche or Winds of Change either. You are losing card advantage on both (-1 to be precise). Notion Thief and Waste Not are both strong when used with a wheel, but it isn't worth devoting that many deck slots to combos that don't explicitly win. You would be better off running tutors instead, which will help you get whichever A or B part of the Notion Wheel combo you don't have in your hand.
You really don't need to run Mission Briefing if you are running Snapcaster AND yawgill AND past in flames.
You should highly consider Chain of Vapor as well as Hurkyl's Recall . Both allow you to gain mana and storm when combined with the mana positive rocks, which feeds into your Aetherflux Reservoir line. They also double as removal and can combo break opponents who are trying to win.
You should include Mana Vault , its much better than Basalt Monolith . Thought Vessel should also be cut, even Prismatic Lens is better. The no maximum hand size will literally never be relevant, because if you are drawing that many cards you should be able to win instead of passing the turn. If you do have to discard down to 7, just keep the 7 that allow you to win and protect the win. You should also run Chrome Mox because of the high card advantage you generate.
28 lands means you're in danger of getting staxed out, very easily. Any artifact hate with early taxes means you're caught and discarding cards for multiple turns. The land base you're running could also use a tune up. You should include the painlands Underground River etc. as they enter untapped and provide color diversity without extra requirements. The two-or-more-opponents lands I'm not a fan of, but playing in a pod means they'll be live. The two-or-fewer-lands lands I'm not a fan of, and firmly believe you should cut. Checklands are fine, but replaceable long term. You should also run more rainbowlands, specifically Forbidden Orchard Gemstone Caverns Tarnished Citadel . If you are running Tolaria West as a 0 drop tutor, don't count it as a land towards your total, if you're running it as an island, it comes out tapped so cut it.
You should get a creature sweeper. Earthquake is great and can double as a wincon if you're above opponents in life, also ignores Kess. Pyroclasm clears opposing mana dorks for very cheap.
Your cantrips are a bit goofy too. Thought Scour should be replaced with Sleight of Hand , which gives you more flexibility about the card you get as well as gets around draw restrictions such as Alms Collector or Spirit of the Labyrinth . Fact or Fiction is simply too much CMC. I'm personally not a fan of Scroll Rack but that's entirely your call.
Terminate should be Pongify or Rapid Hybridization . Its 1 cmc cheaper and less color intensive, and if you lose to a 3/3 token you were going to lose anyways. Notably, Kess can kill the token by blocking.
Load more
Time Spiral occurrence in decks from the last year
Commander / EDH:
All decks: 0.02%
Blue: 0.2%