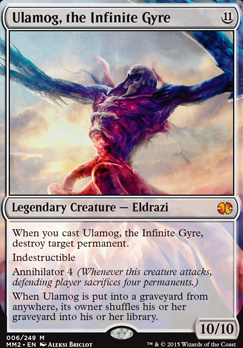 Legality
| | |
| --- | --- |
| Format | Legality |
| Noble | Legal |
| Leviathan | Legal |
| Magic Duels | Legal |
| Canadian Highlander | Legal |
| Vintage | Legal |
| Modern | Legal |
| Vanguard | Legal |
| Legacy | Legal |
| Archenemy | Legal |
| Planechase | Legal |
| Duel Commander | Legal |
| Unformat | Legal |
| Casual | Legal |
| Commander / EDH | Legal |
Ulamog, the Infinite Gyre
Legendary Creature — Eldrazi
When you cast Ulamog, the Infinite Gyre, destroy target permanent.
Indestructible
Annihilator 4 (Whenever this creature attacks, defending player sacrifices four permanents.)
When Ulamog is put into a graveyard from anywhere, its owner shuffles his or her graveyard into his or her library.
Have (32)
warcry02 ,

R

o

a

d

h

o

g

,

m

e

n

t

o

r

6

, TehDelta , ibraJG84 , robbnoble , ironax , joshw335 , JAT0 ,

V

a

s

b

e

a

r

1

, kaboomeow ,

c

k

l

i

s

e

, zachi , mziter501 , DFDGamer , lorddarkstar ,

r

o

c

k

l

e

e

m

y

h

e

r

o

,

A

z

d

r

a

n

a

x

, MagnaAura , Justinaut ,

G

o

l

d

G

h

o

s

t

0

1

2

, angesoir ,

K

a

m

o

t

z

, Shiromakuro , a_murpheus , Florg , gildan_bladeborn , Mousemke ,

T

h

e

L

a

z

y

G

r

i

m

,

F

r

i

e

n

d

s

h

i

p

i

s

t

h

e

O

n

l

y

P

o

w

e

r

, Riku580 ,

H

e

l

l

s

i

n

g

Want (47)
Nerubian , Georgez96 , plazma7 , kovellen , sleepy104 , joshw335 , buildingadeck , theMarc ,

C

o

o

l

B

e

a

n

s

B

r

a

t

t

a

h

, Maethanial , fireborne1986 ,

S

o

l

l

i

s

n

e

x

u

s

, xpsychovampx , upgraded ,

T

r

a

n

q

u

i

l

W

y

v

e

r

n

, EnderA , blzrby ,

N

e

m

e

s

i

s

, correcthorsebatterystaple , Pyromaster6425 , __Tabs , snowmaster55555atgmaildotcom , richardmv ,

S

i

l

v

e

r

f

1

s

h

, romesinakilt , Acilper , jeremy3036 , VaultTechy , VampSlayer , Vestrinex , Xunfor6iv3nX , snoopywashere , ryuzaki32667 , Daeyel ,

K

i

n

g

M

a

t

h

o

r

o

,

v

a

s

h

a

c

l

a

r

e

n

s

, Syram ,

K

i

n

g

C

a

r

t

e

r

, imlinuxgeek , Xikitten123 ,

i

t

h

e

o

r

y

z

, Iveliᴓs , Blue_Otaku_No.1 ,

y

u

n

g

x

a

k

, superdude2431 , klokwurk ,

E

x

i

l

e

d

_

s

o

u

l
Ulamog, the Infinite Gyre Discussion
5 days ago
Biggest issue I see here is a lack of focus and not enough creatures for a creatures only matter deck.
Animar, Soul of Elements wants two main things: Cast creatures and get +1/+1 counters to cast larger creatures. Everything in the deck should be focused on those two goals.
Setting up the deck to achieve this purpose will make it efficient and powerful. All cards should therefore do one of the following:
Ramp up to Animar.
Protect Animar.
Place counters on Animar.
Cast game ending creatures for cheap or free.
Draw cards to allow us to do 1 through 4.
Priority should be given to cards that does something now > does something before your next turn > does something on your next turn > does something eventually.
Because Animar offers a discount based on creatures played, the deck shouldn't be filled with only high cmc game enders, but creatures from low to high cmc, preferably with as little colored mana symbols as possible, to give the deck a natural progression to casting free or cheap high cmc game ending creatures.
Let's split the deck into 3 parts. Pre-Animar setup, Post-Animar setup, Finale.
Note that $: (0 to 0.99), $$: (1.00 to 4.99), $$$: (5.00 to 9.99), $$$$: (10.00 to 19.99), !$!: (20.00+)
Unnecessary on a computer, very helpful on a phone.
This section will be all ramp, and protection to get Animar out quickly and make sure he is secure.
- The land base should be arranged to where there is more emphasis on , then , then since can color fix and can offer protection.
- Exotic Orchard is pretty good and cheap and can usually offer every color in multiplayer, especially if an opponent has a Command Tower out or even a Vivid Grove without even needing charge counters. - Kazoo lands such as Simic Growth Chamber, Izzet Boilerworks, and Gruul Turf are good in casual EDH where there is lack of land destruction and they artifically increase your deck ammount by posing as two lands in one. Though overall you do not want too many tap lands as you'll constantly be a entire turn behind.
This section will be about setting up our board state to win. All cards from this point onwards will be casted after Animar has been casted.
This section will be about ending the game with giant behemoths.
1 week ago
@Padbras Great questions. First off, let me say this: Xenagos, God of Revels is more consistent than Mayael the Anima. The deck wins faster and more reliably. Mayael is more for the kind of player who values the experience of playing as much as (or more than) they value winning. Some of the best Magic memories I have are flipping those top five cards, one at a time, just hoping to turn over that clutch blocker. That degree of randomness isn't for everybody, but it's how I most enjoy the game.
As to your follow up question, yes, I would definitely recommend running Mayael on a budget. Most of the money cards I run are for 1) mana base consistency and 2) topdeck filtering. Those make the deck more reliable, but they're not necessary for it to be functional. Also, the fatties you choose to run are easily tuned to any budget. There are plenty of sub-optimal inclusions that can fill the role of expensive cards and still make a splash on the board. Here's some easy changes you can make to slash hundreds of dollars off the price tag:
Alpha duals ==> Battlebond duals. This is a no brainer. Battlebond duals are almost as good, especially if you cut fetch lands.
Fetch lands ==> Pain lands, Larwyn filter lands, and Odyssey filter lands. Filters are just a notch below fetches for mana consistency. Pain lands are a notch below that.
Ancient Tomb, Strip Mine, Wasteland ==> Basic lands. You'll need to run a few more basics without top-tier lands at your disposal. Trim the pricey colorless mana.
Mirri's Guile, Sylvan Library, Sensei's Divining Top, Scroll Rack ==> Crystal Ball, Darksteel Pendant, Lifecrafter's Bestiary, Seer's Lantern. It's still really important to have some topdeck filtering. These will get the job done.
Rings of Brighthearth ==> Illusionist's Bracers
Tooth and Nail ==> Another 5+ power creature
Crucible of Worlds, Mana Crypt ==> Any other mana rock. Basically the same effect, just slower and more fragile.
Avacyn, Angel of Hope ==> Spearbreaker Behemoth
Balefire Dragon ==> Steel Hellkite
Kozilek, Butcher of Truth, Ulamog, the Infinite Gyre ==> Artisan of Kozilek, It That Betrays
Hope that helps!
1 week ago
Either way, I made my suggestions.
More creatures or creature makers because you need more than a single way to win. Whether that be playing a huge bomb like Ulamog, the Infinite Gyre or going wide with Assemble the Legion and Anointed Procession
It needs more cheaper burns because this is supposed to be a deck that abuses the burn style, and winning off Aetherflux Resevoir or Felidar Sovereign
If you are to lable it control, you need to make it more control. Hokori, Dust Drinker, Odric, Master Tactician, Elspeth, Sun's Champion are all good control pieces.
It also needs some search. A perfect example is Sunforger. And it needs more rocks to ramp to higher mana. What really wins control decks games is mana. The more mana you have available, the more you have to do. Anything that adds mana and ramps up works.
1 month ago
If you're running Vandalblast I would definitely recommend running Mycosynth Lattice AND Darksteel Forge
Still that's like 3 card slots for a very costly board wipe. Personally I'm surprised I don't see things like Kederekt Parasite, Tainted Strike, Barbed Shocker, Paradox Engine, Capsize, on your list, as they all synergize quite well. I would also recommend, tossing some of the Talismans & Signets despite being cheap for other more reliable mana ramping such as Darksteel Ingot Dimir Cluestone, Rakdos Cluestone, Izzet Cluestone (as they can all be sacrificed for a draw, and their Keyrune counterparts, as they can be turned into a chump blocker in a pinch if needed.
Isochron Scepter imprinting either Dark Ritual, Cabal Ritual, Desperate Ritual, Pyretic Ritual with a Paradox Engine on deck = Infinite Mana, for redundancy even with mana rocks out, Paradox Engine + Mana rocks, makes buyback spells VERY useful, as once you've got enough ramp Capsize = Infinite bounce, and there a few others that become arguably equally useful, such as Fanning the Flames, Lab Rats, Mind Games, Mind Peel, Reiterate, Whispers of the Muse, just to give you a few ideas. Evincar's Justice can be viable here too, although with Evincar's Justice you need to be mindful that it damages you and your creatures too.
Brush with Death essentially works like Tendrils of Agony if you take the Infinite Black mana route, naturally if it's countered you can't buy it back, BUT if you're wanting some redundancies for a storm / life steal win condition, it's there.
Leyline of the Void is a must add for any competitive Nekusar, the Mindrazer deck. With the wheel package you're essentially exiling everything your opponents are forced to discard. Toss in a Helm of Obedience = Player targeted, Instant kill activation.
Also, I would definitely recommend keeping Ulamog, the Infinite Gyre, specifically to prevent the self-mill, AND Leyline of Anticipation, and adding Vedalken Orrery for redundancy. You can easily create a soft lock & turn it into a complete hard lock with Teferi, Mage of Zhalfir and Knowledge Pool, and why more people aren't running Day's Undoing is a bit surprising, given the redundancy to prevent mill, especially if you've acquired the means to drop it at instant speed, even on your own turn, to kill a stack & end the turn.
Also, with proper ramping, Barbed Shocker is pretty amazing, especially since it doesn't need to deal combat damage to force the wheel, (any damage it deals will trigger it), just saying. Rogue's Passage is a pretty standard commander staple too.
Liliana's Caress, Megrim, Raiders' Wake are also all must haves. Especially since, Raiders' Wake, Barbed Shocker, Shocker, (unblocked) or a Robber Fly (if you can force them to block it), & a Rogue's Passage can win the game by themselves, if your Commander or an Underworld Dreams, Kederekt Parasite is out.
1 month ago
Predator Ooze -- Indestructible monster with a good ability
Ulamog, the Infinite Gyre -- Destruction trigger, indestructible, recycle on a stick. You can blow things up, draw cards, and refill your library for more show and tell shenanigans. It also has annihilator, sweet.
Kozilek, the Great Distortion -- Access to counterspells! Very useful with all of the draw in the deck.
Load more
Latest Commander