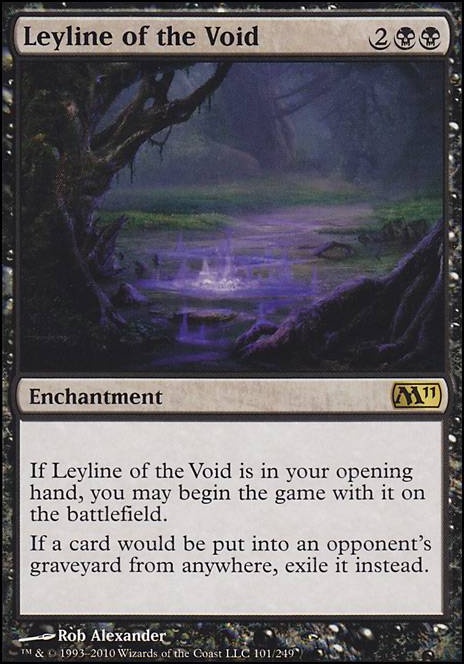 Legality
| | |
| --- | --- |
| Format | Legality |
| Tiny Leaders | Legal |
| Noble | Legal |
| Leviathan | Legal |
| Magic Duels | Legal |
| Canadian Highlander | Legal |
| Vintage | Legal |
| Modern | Legal |
| Vanguard | Legal |
| Legacy | Legal |
| Archenemy | Legal |
| Planechase | Legal |
| 1v1 Commander | Legal |
| Duel Commander | Legal |
| Unformat | Legal |
| Casual | Legal |
| Commander / EDH | Legal |
Leyline of the Void
Enchantment
If Leyline of the Void is in your opening hand, you may begin the game with it in play.
If a card would be put into an opponent's graveyard, remove it from the game instead.
Have (35)
Supremespeed , gildan_bladeborn , Zhorus_The_Bauqret ,

T

h

e

R

e

a

l

P

e

a

c

h

e

s

,

S

p

i

n

a

l

r

i

p

p

e

r

, duff87 , Fineontheoutside ,

W

o

l

f

n

i

n

j

a

,

V

a

1

m

a

r

,

W

o

l

f

e

b

l

a

d

e

e

l

i

t

e

,

s

a

j

0

2

1

9

, Kleptozaniac ,

d

u

c

t

t

a

p

e

d

e

c

k

b

o

x

, Notepad95 , AlbinoLion ,

T

h

e

A

n

n

i

h

i

l

a

t

o

r

,

g

o

o

d

a

i

r

, Candyman949 , Bluboltar , TheRealSpecialK , Mortiferus_Rosa ,

o

r

z

h

o

v

_

i

s

_

r

e

l

a

t

i

v

e

l

y

_

o

k

a

y

8

1

9

, RedSinR ,

f

a

i

l

u

r

e

c

h

i

l

d

8

8

, Lindough , DrPopular ,

N

e

m

e

s

i

s

,

m

e

n

t

o

r

6

, TehDelta , kaikaitanner , thetechzombie , KB2187 , Borg0th ,

E

p

i

d

i

l

i

u

s

, meowCat1234
Want (16)
Arcbounder , Liquicitizen , cybertop , Lordaether , cainedipp , king0fclubs , PRO-AUGMANDOO , itskevinmiller , jamiefosternz , flowersofevil ,

T

i

r

e

d

T

o

f

u

, Epoch5436 , kovellen , arthurxisde , mooseonwhiskey , rco
Leyline of the Void Discussion
1 day ago
NoOneOfConsequence shirei is one of the best recursion engines (so if you're beating a dead horse, at least we can expect it from a Shirei player). He provides significant advantage, provided you play an efficient & synergistic gameplan.
Bottle Gnomes
is a guaranteed 3 life per turn. This does not advance your gameplan, nor does it tax your opponents. This card is cute, I'll give you that, but it's excessive.
Liliana's Shade is 4 mana to tutor for a swamp every turn. Neat, but still it's 4 mana - unless you're going balls to the wall on 28-30 lands, I can't see how this is great for you, as it's an inefficient Skittering Surveyor . You have no other Swamp cards that I can see, therefore no reason to actually run the card in place of a more efficient version.
Black Market is great turn by turn, but pound for pound it's worse than Pitiless Plunderer , as with plunderer you make mana the same turn. Black market requires you to wait an entire turn-cycle before it does anything - and in those 3 turns you're not holding up mana to respond to all of your opponent's threats - basically gambling with the hope of a payoff on your turn.
Sanguine Bond & Exquisite Blood together are 10 mana to win. Flash-hulk is 2 mana. Exsanguinate & Torment of Hailfire are at least 15 each & they don't certify a win as you have no way to make unbounded mana.
You could run, but choose not to use
Scroll Rack
, one of your best options for card advantage.
Your tutor suite seems to aim to find more pieces to your stax-engine. Have you considered running more tutors? Using Imperial Seal , Grim Tutor ,
Leyline of the Void is unavoidable in this build, as your win con is not coming out until late game, and any hulk deck will win first.
It's admirable that you've found so many creatures that synergise with shirei to hurt your opponents turn by turn. But here, a lot of these are redundant. In a stax deck you need many more ways to hurt your opponent decks. Including Trinisphere , Sphere of Resistance , Winter Orb , would all help your gameplan.
You could use Praetor's Grasp - as it's likely to find a card that will actually win you the game & it's a stax piece.
There are a lot of issues with your list - those t3 decks are usually decks that are unproven (imo). Your shirei deck still needs a lot of refinement for tier 3 to Deem Worthy .
I could go on about many of the other options in your Shirei build, but maybe you should re-read the comments section. I made sure to put a healthy set of options in there for you to consider several days ago.
I'd recommend doing some solid research into the cEDH meta and how cutthroat every design decision needs to be. I think there's a discord called playEDH, or look for some cEDH decks to test against. You'll find out very fast that your shirei build may be good in some metas, but in cEDH it is not enough.
3 days ago
Fraying Sanity will double your mill triggers.
Mindcrank will ensure your opponents are contributing to your strategy. Bloodchief Ascension and Duskmantle Guildmage go infinite with Mindcrank .
Phenax, God of Deception will allow you to use all your creatures for milling.
Visions of Beyond is a great draw spell in mill decks.
Leyline of the Void ensures opponents can't take advantage of the cards you're placing in their graveyard, as well as deals with cards that would shuffle the graveyard into the library (such as the original Eldrazi Titans).
Thousand-Year Elixir is not great here, since you need to untap 4 of your creatures to make the most of this mill strategy. Also, you are not currently running any creatures that need the mini-Haste Elixir provides--you're almost never going to want to activate the first ability of Persistent Petitioners , and they do not need haste to utilize the second as it lacks a symbol in the activation cost.
4 days ago
This looks loads of fun, but you might be playing it at the wrong time. It's almost guaranteed that your opponent has graveyard hate, given decks which use; Stinkweed Imp , Bloodghast , Living End , Vengevine , Hooting Mandrills , Arclight Phoenix , Flamewake Phoenix , Bedlam Reveler , Striped Riverwinder and more all exist.
Rest in Peace and Leyline of the Void are the big hate cards, but Nihil Spellbomb , Relic of Progenitus , Tormod's Crypt or Ravenous Trap are all options people use too. Basically the graveyard is being hated on...
You might be better playing like the spirits aggro list with; Supreme Phantom Selfless Spirit and Spell Queller and switch to the Mortal Combat / Iname, Death Aspect plan from the sideboard, if you did that I'd also stick Nether Traitor in for either, free hits or removal bait. On its own Nether Traitor won't warrant the grave hate so hopefully your opponent sides it out. Hope this helps, good luck brewing your deck.
5 days ago
MightyDarknut The deck you describe would never need Shirei and would be better as a Sidisi shell. Trying to involve Shirei means that one of 3 main stategies come into play:
1 - Go for a reanimator style list, with minor control elements. Abuse Apprentice Necromancer to the maximum, and have Shirei as a minor value pieces with some combo lines with Razaketh, the Foulblooded sacrificing creatures that trigger Shirei, so if the combo is disrupted, you have some board state to go off on your next turn. It could be a good mono-black combo list, as good as mono-black combo lists are in general, and can even have some very limited use for Shirei.
2 - Go for a stax list, abusing Shirei about as much as competitively viable as possible, trying to get good cards (think Bone Shredder ) that have innate value without Shirei and also a lot with, maybe 10-15 of these good useful creatures exist that work with Shirei and also aren't dead without like Heap Doll . Then run cards like Contamination , Smokestack , etc. and maybe even some hate pieces like Lethal Vapors if you are feeling... 'Out there.' Finish the deck off with a various amount of non-shirei based stax pieces like Sphere of Resistance , Thorn of Amethyst , Damping Matrix , Oppression , Bottomless Pit , Leyline of the Void , Chalice of the Void etc. and a large amount of instant speed interaction to hopefully survive the early game like Fatal Push , Dismember , Warping Wail , etc.
3 - Go with a Midrange combo list. Try to find some value-oriented creatures and a mix of interaction, maybe a few minor stax pieces that don't affect you, and then a bunch of tutors to find some hyper-card-efficient combo that may or may not interact with Shirei. Try some Ad Nauseam storm maybe, maybe a Buried Alive combo, who knows. Make it survive the early game a get their turns 4-5 for the midgame win, with a decent controlling backbone to lie on when you can't combo out as early as you would want, due to a stax piece you need removed or whatever.
1 week ago
On Tuesday lost to Hardened Scales and Dredge. Beat Black Devotion and drew to Jeskai. The move to Leyline of the Void was the right call but I never drew it even on a mulligan to 5. Bummer.
1 week ago
Hi MediSyntax, you make some great points - and some less great points. Though I think that Plaguecrafter is a strict upgrade from Fleshbag Marauder in 99% of cases, I'm lead to believe that in this one instance - it's less effective. Solely due to the fact that one can still cast Gravecrawler while it's in play. I'd probably include it, but there aren't many flex-slots - not even a Merciless Executioner or Innocent Blood that fill the same role.
Running Liliana, Untouched By Death is strong - especially with the rest of the build. Being able to sacrifice and recast other 1-drops as alternative combo pieces is awesome - 10/10 suggestion.
I also want to mention Pitiless Plunderer as it's a mana more than Pawn of Ulamog - but makes coloured mana when any of your creatures die - which means that it's a recurrable creature version of Phyrexian Altar as long as you have carrion feeder or something out (also it blocks Tymna).
Doom Whisperer is cool - but given you need to sit at a cozy 20 life for Razaketh, the Foulblooded it's a tough squeeze - though I might place it over Void Winnower since digging through the top 20 is much more pro-active than locking out some cards (worth testing - maybe board for sure).
Mausoleum Secrets could be cool with some testing - I'm building a version similar to this atm. My best question is what would you cut in order to include this (sometimes functioning) tutor? The main gripe is that with Rest in Peace or Leyline of the Void in play - the card is turned off.
Recently spoiled is Priest of Forgotten Gods who combos in this build well - the card functions like a bad Soldevi Adnate - but it draws cards.
Furthermore, an interesting include that came to me is Thornbite Staff - with Soldevi Adnate (and with Priest of Forgotten Gods) and Gravecrawler - you have another copy of Phyrexian Altar. Granted it requires more mana and setup than Phyrexian Altar, but if you don't want to use paradox engine to achieve the same effect with sacrificing and replaying Gravecrawler, then this is the next best thing.
Load more