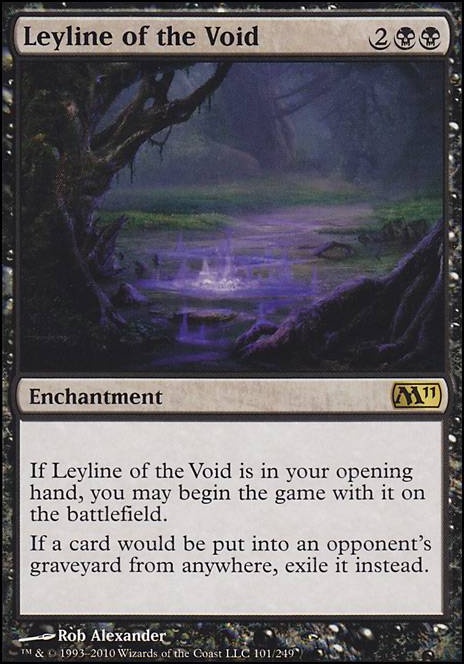 Legality
| | |
| --- | --- |
| Format | Legality |
| Modern | Legal |
| Legacy | Legal |
| Vintage | Legal |
| Commander / EDH | Legal |
| Duel Commander | Legal |
Leyline of the Void
Enchantment
If Leyline of the Void is in your opening hand, you may begin the game with it in play.
If a card would be put into an opponent's graveyard, remove it from the game instead.
Leyline of the Void Discussion
5 days ago
I've been playing Mardu in modern since before it was a thing which it apparently is now. My deck takes on a substantially different strategy than yours, but we Mardu guys need to stick together, and with that in mind I have some suggestions.
First up, lands. 6 man lands is excessive. You're going to have lands enter tapped far too often. I recommend dropping Needle Spires and one or two Shambling Vent for some more fetch lands. Modern Masters 17 just reprinted Arid Mesa and Marsh Flats, so their prices aren't as ridiculous as when I had to get them.
Like my deck, you use your life total as a resource to generate advantage through Bob and Thoughtseize and recuperate with lifegain, so I vibe with that. Sorin, Solemn Visitor seems like a great fit for your strategy, so I'd consider bumping him up to 2. Liliana of the Veil continues to be the ultimate control planeswalker in Modern and should definitely be a 4-of.
Veteran Motorist seems really lackluster. Pumping your looter scooters is great, but he's completely useless otherwise. The best part about Copter is its undercosted crew ability, and Motorist is overqualified. The earlier mention of Bitterblossom may be worth considering.
Fatal Push needs to be in your deck in some capacity. I've been running 2 main 1 sideboard. You could drop a Path to Exile for one. The card is way too good to not use.
Lastly, the sideboard. Ajani Vengeant was my first "core" planeswalker in my deck and I became wholesomely dissatisfied with him. I can't imagine a matchup in which you board him in. Sorin gains you more life and Lily controls better. Crumble to Dust is good, but slow. Consider Fulminator Mage, as he can also crew copters. Hide/Seek is weird, just use Wear / Tear. Liliana, the Last Hope seems okay, but not great. I think Soulfire Grand Master is a mainboard card or not at all present. Tormod's Crypt should be either Leyline of the Void, Rest in Peace or Nihil Spellbomb. RiP is risky with Lingering Souls, but it gets the job done, and against decks like Dredge, the disruption is strong enough to slow your own development down and still win handily. I also absolutely recommend two copies of Slaughter Games to help deal with combo decks. Dreadbore and Falkenrath Aristocrat can probably go.
6 days ago
Yeah you need some effective enchantment removal, as a resolved Rest in Peace or Leyline of the Void is basically gg. Seeing as you are not running green or white... General bounce spells are all you can effectively do
6 days ago
I havent been playing rack for long but I'm running a nearly monoblack deck and decided to splash white for sideboarding (i have no maindeck white cards) with things like Concealed Courtyard and Godless Shrine. Might be a bit harder to do in a budget version but the reason i chose to do it, is it gives me more flexibility and as was previously stated, gives an out to Leyline of Sanctity. Anyways, this is what my rack sideboard looks like.
3x Death's Shadow (for decks where discard isn't useful or i think my life will go down fast. You might not be able to use this as well as you don't run fetches or thoughtseize)
2x Disenchant (deals with pesky cards i couldn't otherwise deal with like leyline)
1x Flaying Tendrils (for decks that have a lot of little creatures)
1x Fragmentize (deals with pesky cards i couldn't otherwise deal with like leyline)
2x Fulminator Mage (for tron)
1x Leyline of the Void (for graveyard based decks)
2x Lingering Souls (efficient chump blockers that can also attack if needed. also i can easily discard them to my own smallpox or liliana)
1x Night of Souls' Betrayal (for decks that have a lot of little creatures)
2x Relic of Progenitus (for graveyard based decks)
I know it's not entirely budget, but it might help you think of what kinds of cards to consider and what decks you might need an answer to.
1 week ago
Okay, let's do this! cracks knuckles I love the snarky tone of the description, btw :)
The stax elements of this deck seem strong, mostly. You're missing Winter Orb though. I would normally suggest Crackdown and Meekstone and Moat, but they interfere with Alesha :( Perhaps Smoke or Mudslide? I don't personally like Chalice of the Void in EDH, though, there's just too much variance in the mana cost of powerful cards. And since you're reanimating things anyway, might as well play Big Daddy Smokestack!
However, the land base seems...a little off. 29 mana-producing lands is REALLY really low, doubly so since you will have to pay some of your own "taxes". I know that the Karoo lands help a bit, but I still wouldn't trust this mana base without SIGNIFICANT testing. You might also find the Filterlands useful to mana fix (Rugged Prairie, Fetid Heath, Graven Cairns). I also never leave home without Reflecting Pool, City of Brass, Mana Confluence, etc. Basically, look at Lilbrudder's Leovold mana base and color-shift it XD
I'd frequently choose to run Rest in Peace over (or in addition to) Leyline of the Void. Always good to run another combo piece!
Phyrexian Arena over Underworld Connections, 1000%. The former doesn't lock down a land, which is even more important in this deck.
I'm actually not really a fan of Nahiri, the Harbinger in EDH. Is she just there for utility, or are you planning to use her ult? If the former is true, there are better ways to get card filtering. If the latter is true, what's your finisher?
That being said, planeswalkers can generally be really good in stax decks. You might get away with including some other walkers that play more into your gameplan, possibly Sorin Markov to reset lifetotals? :)
Night's Whisper over Wild Guess: less color commitment, more card advantage.
No Necropotence? :( I guess maybe the card is too much color commitment in tri-color.
If you're going to run Mox Opal with only 18 artifacts, I'd try and include the three on-color artifact lands as well.
False Prophet seems odd here, since you have the ability to reanimate creatures with relative ease.
Personally, I'd substitute Austere Command over Merciless Eviction, though it does depend on how you plan to use the board wipe.
Land Tax does wonders to fix your mana, and recover after an Armageddon...
If you have oodles of money, Imperial Recruiter pairs well with Recruiter of the Guard.
Yes or no on Mox Diamond? Your land count is already low, but it's so good...
Swords to Plowshares over Path to Exile: you don't want to give your opponents land ramp in a stax deck, lol.
I hope that helps a bit! :) I'll leave more comments if I think of them, and happy deckbuilding!
Load more