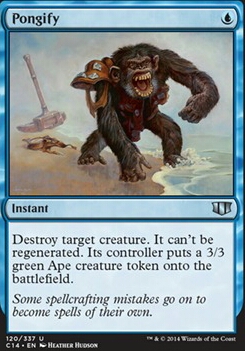 Legality
| | |
| --- | --- |
| Format | Legality |
| Tiny Leaders | Legal |
| Noble | Legal |
| Leviathan | Legal |
| Magic Duels | Legal |
| Canadian Highlander | Legal |
| Vintage | Legal |
| Modern | Legal |
| Custom | Legal |
| Vanguard | Legal |
| Legacy | Legal |
| Archenemy | Legal |
| Planechase | Legal |
| 1v1 Commander | Legal |
| Duel Commander | Legal |
| Oathbreaker | Legal |
| Unformat | Legal |
| Casual | Legal |
| Commander / EDH | Legal |
Tokens
Pongify
Instant
Destroy target creature. It can't be regenerated. That creature's controller puts a 3/3 green Ape creature token into play.
Pongify Discussion
3 days ago
There are a couple cards I would suggest. Some of them are a bit more pricey tho.

Creatures

Sorceries

Instants

Enchantments

Atrifacts

---
I hope these suggestions are of some help to you. Many of the cards are simply upgrades of the weaker removal/ramp/draw cards contained in the precon.
If you want to make the deck more competitive, cards like
The Chain Veil
or
Felidar Guardian
can outright win the game in combination with
Altar of the Brood
or
Vela the Night-Clad
.
5 days ago
You asked for help, so here I am:


---
Paradox Engine
is banned.
Cut
Manalith
and
Chromatic Lantern
. They are fine cards but there are more efficient ramp options at only 2 mana:
Talisman of Indulgence
,
Talisman of Dominance
,
Talisman of Creativity
,
Fellwar Stone
,
Mind Stone
,
Thought Vessel
and
Wayfarer's Bauble
.
Some of your sorceries seem a bit clunky, like
Cruel Ultimatum
or
Life's Finale
.
Evacuation
and
Devastation Tide
are great boardwipes,
Crux of Fate
is a solid budget option and
Toxic Deluge
is amazing but a bit pricy.
Wurmcoil Engine
,
Noxious Gearhulk
,
Neheb, the Eternal
and
Massacre Wurm
are all quite highly costed and don't synergize well with the rest of the deck.
If you want to be mean, you could replace them with extra turn spells:
Time Warp
,
Part the Waterveil
and
Karn's Temporal Sundering
are reasonably priced, both in money and mana.
I personally would throw out all Guild Gates and raplace them with literally anything that does not enter tapped. A good budget replacement would be the pain lands:
Underground River
,
Shivan Reef
,
Sulfurous Springs
.
Lastly, cheap and efficient removal pieces I would consider are:
Doomblade
,
Go for the Throat
,
Reality Shift
,
Rapid Hybridization
and
Pongify
.
1 week ago
Bitte ändere den Decktyp mal von Standard zu Commander. Ansonsten bekomme ich immer eine Warnung für jede Karte, die ich empfehlen will, die aber in dem Format nicht legal ist
Hier noch einmal ein paar Kreaturen, die ich eigentlich sehr geil und günstig finde - besonders, wenn dein Commander sie noch mit Trample ausstattet: Altered Ego , , Zameck Guildmage Gruul Ragebeast (nette Kombo mit Foe-Razer Regent ) , Ravager Wurm , Stonebrow, Krosan Hero (die Kombo ist wohl offensichtlich)
Progenitor Mimic , Simic Sky Swallower sind sehr solide. Gerade Hexproof/Shroud finde ich unglaublich wichtig.
Vessel of Endless Rest warum willst du das spielen? Wenn du Mana-Ramp willst, gehe am besten gleich zu den Signets: Gruul Signet Simic Signet Izzet Signet . Dann gibt es auch noch die Cluestones: Gruul Cluestone Simic Cluestone Izzet Cluestone
Deine Kreaturen sind teilweise recht teuer. Du musst natürlich austesten, wie das Deck läuft, aber ich würde zumindest zu Anfang die Daumenregel nutzen, dass man 38 Länder und 6 - 8 Mana-Artefakte spielt. Ich würde bei den teuren Kreaturen lieber mehr Mana als weniger spielen und dann vielleicht noch Karten spielen, in die du überschüssiges Mana pumpen kannst, wie River Hoopoe (nur als Beispiel, dass mir gerade einfällt). Ansonsten finde ich Hydras recht cool. Die kann man mit viel oder weniger Mana spielen und viele freuen sich sehr über das Trample, dass Surrak ihnen gibt. Außerdem kann man in viele Hydras auch später noch Mana pumpen. Schau mal hier: https://scryfall.com/search?as=grid&order=name&q=type%3Ahydra+commander%3AURG
Wenn du mit Paleoloth ein wenig in die "Power Matters" Schiene möchtest, wären vielleicht folgende Karten eine Sichtung wert: Drumhunter , Exuberant Firestoker , Mossbridge Troll (Wenn du Kreaturen mit Wachsamkeit nutzt, wird der völlig absurd), Mouth , Shamanic Revelation , Spearbreaker Behemoth , Where Ancients Tread .
Was mir auch aufgefallen ist: Du hast kein Removal. Ja, im Mehrspieler ist es immer besser, wenn man die anderen Spieler dazu überredet, ihr Removal zu nutzen, aber du wirst selber was brauchen um Bedrohungen die nur dich angehen zu beseitigen - oder einfach, um etwas zu tun wenn keiner der anderen Removal auf der Hand hat: Klassische Karten: Acidic Slime , Artifact Mutation , Beast Within , Blue Elemental Blast , Decimate , Krosan Grip , Manglehorn , Meteor Golem , Natural State , Nature's Claim , Pongify , Thrashing Brontodon Meine Geheimtipps: Bramblecrush , Broken Bond , Cindervines , Hull Breach , Hoard-Smelter Dragon , Descent of the Dragons (Damit kannst du auch deine eigenen kleinen Kreaturen zu Drachen machen), Unstable Obelisk (völlig unterbewertet), Storm the Citadel (deine Kreaturen haben Trampel, was ziemlich vernichtend sein kann)
1 week ago
More protection for Animar from the likes of Pongify , Lightning Bolt , and Beast Within . Can make Animar take no damage from any manner of creature swinging into it. Also makes Animar unblockable to an opponent's board made up of anything. Even an Icy Manipulator couldn't target Animar to tap him down with a Painter's Servant on the field!
An excellent surprise for Animar.
2 weeks ago
It was in the list as a bit of a carryover when I mixed Tasigur cards into the deck for control. I wasn't sure if I was going to build Taty with win combos, so I've left it in for value purposes until I decide if it's necessary. Until then, whether it's Counterspell , Pongify , or Brainstorm , there's ways to make value. It's on the chopping block for the right card.
3 weeks ago
As has been mentioned by a few people here - your main focus on cEDH removal is its inexpensiveness to play. The drawback of giving an opponent a land (or some kind of value) is irrelevnat compared to impeding their strategy.
With regards to good removal, here are a few (some have already been listed however I am listing them again here for a consolidatedish list), however this is by no means complete:
Single target creature:
Swords to Plowshares , Path to Exile (if you already run swords), Pongify , Rapid Hybridization , Fatal Push (this is meta dependent), Reality Shift (can form a win condition)
Single target multiple options:
Assassin's Trophy , Abrupt Decay , Chain of Vapor , Red Elemental Blast , Pyroblast , Beast Within (good for mono-green), Cyclonic Rift
Single target artifact/enchantment:
Nature's Claim , Natural State , Fragmentize , Abrade
Multi-target creature:
Toxic Deluge , Rolling Earthquake , Fire Covenant
Multi-target artifact/enchantment:
Load more
Pongify occurrence in decks from the last year
Commander / EDH:
All decks: 0.04%
Blue: 0.57%
GU (Simic): 0.53%