KrazyCaley
Nullwalker
Got an idea for content or some other comment? Post it on my wall!
I stream Magic: the Gathering and other games nightly from 7pm-Midnight Pacific at http://www.twitch.tv/krazycaley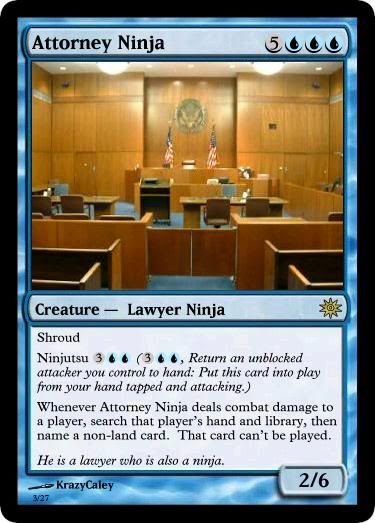 I create written and other content for Tappedout and I like to coordinate and help others to do the same. I am a fairly old-school Magic veteran who's been playing since Revised hit the scene, with a few breaks now and then (Basically I missed anything involving the Weatherlight). I love janky decks with bizarre and unusual win conditions, and I love playing control; I am blue through and through. My long history in the game has left me with a huge duffel bag full of four or five dozen decks. I don't play competitively very often, but when I do, it's standard and limited.
I'm on Magic Online as IdealistCynic, which is also my Xbox Live gamertag, and I do have Duels of the Planeswalkers, all versions, and would be happy to hit you up on Live or on Steam. (I even have Duels of the Planeswalkers, the old PC game that no one remembers).
Also, the top 10 best counterspell flavor texts:
10- "With one commanding word, the spell was put down and a fine collected for its casting."-Overrule, Dissension
9- "My ruling is final. Order is upheld. Justice is done."-Fall of the Gavel, Return to Ravnica
8- "Your attack has been rendered harmless. It is, however, quite pretty."-Counterspell, Mercadian Masques
7- "Someday, someone will best me. But it won't be today, and it won't be you."-Last Word, Darksteel
6- "Well, at least all of that arm-waving and arcane babbling you did was impressive."-Remand, Ravnica
5- "The first time was amusing, but now you're getting tiresome."-Laquatus' Disdain, Judgment
4- "The pyromancer summoned up her mightiest onslaught of fire and rage. Jace feigned interest." -Counterspell, Jace v. Chandra
3- "Pathetic. Let me show you how it's done." -Counterlash, Dark Ascension
2- "Amateurish. Nearsighted. A waste of my time and everyone else's."-Punish Ignorance, Shards of Alara
1- None. It just says "Counter target spell." It's beautiful. -Counterspell, 4th Edition
The inherent conflict of this deck is
a - It is a creature-heavy deck with low casting costs, which usually indicates an aggro deck, but
b - A huge portion of the creatures are outlast cards, which want to live into the late game, and also there are a bunch of walls?
The deck doesn't really have any serious late game, although it does have one extremely dangerous creature in the form of Torrent Elemental.
Options for things you could have done to improve the efficiency of this deck:
1 - 20 lands is far, far too many for basically any draft deck. Counting the cluestone, over half of this deck is mana sources. Too much! I would certainly consider this deck a 16-land deck with the cluestone, and probably a 16-land deck without, though possibly a 17. In limited 40-card formats, 16 or 17 is about the right number for an average deck; 16 is doable if your mana costs are light. 18 is sometimes necessary for decks with lots of expensive cards or a very variant mana base of more than three colors.
2 - The walls have no place in this deck. This is an aggro deck. If you are in a situation where the walls are more beneficial to you than another aggressive creature, chances are excellent that you are losing, because you have no serious late game. Delays favor your opponent. I would cut the walls and replace them with other cards. You have a pretty good number of creatures, so you could introduce disruption/removal cards to push home your attacks, or just flood 'em with more creatures, preferably fliers and/or evasive cards since you are in white and blue.
3 - I'm not sure about Hero's Blade. Thing's EXPENSIVE to equip. Fleetfeather Sandals I like for sure, but Hero's Blade costs 4 to equip and that's pretty painful to your tempo, especially with all your outlast.
4 - Speaking of outlast, decks like this don't really like outlast cards. A deck that makes extensive use of Outlast wants the cards that provide benefits to stuff with +1/+1 counters on it, preferably more control tools, and a bigger late game. Right now you will almost always have to make choices between outlasting something and casting your next aggro creature; it would be better to have a smoother tempo to your curve by just using a better aggro creature than an Outlast one; i.e., one with evasion, or more inherent P/T.
June 14, 2015 2:41 p.m.
MTG Decks
| | |
| --- | --- |
| Finished Decks | 80 |
| Prototype Decks | 25 |
| Drafts | 4 |
| Playing since | Limited Edition Beta |
| Points | 40 |
| Avg. deck rating | 12.28 |
| T/O Rank | 7577 |
| Favorite formats | Standard, MTGO, Commander / EDH, Modern, Casual |
| Good Card Suggestions | 5 |
| Venues | Pasadena Game Empire, San Diego Games and Comics (Formerly Artifex) |
| Last activity | 2 weeks |
| Joined | 6 years |
| MTGO Username | IdealistCynic |