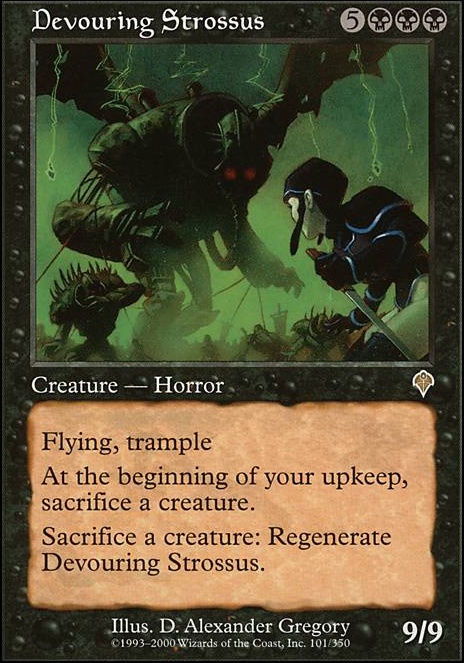 Devouring Strossus
Creature — Horror
Flying, trample
At the beginning of your upkeep, sacrifice a creature.
Sacrifice a creature: Regenerate Devouring Strossus.
Latest Decks as Commander
Devouring Strossus Discussion
3 years ago
I've recently completed building a deck based around Whisper, Blood Liturgist where the main idea is to get big creatures into the graveyard and then recur them. Originally I wanted to try a dimir version of Mayael the Anima, but there just aren't enough cards to do so effectively. This left a reanimator strategy.
Most mono-black reanimator decks seem to be built on one or more of three creature types: Zombies, Demons, and/or Vampires. In the spirit of the original concept, I want to avoid something you'd typically see in mono black and just play some fun non-zombie, non-vampire, and non-demon creatures.
I'd like to get suggestions for some fun to play fatties for a casual or mid-level commander setting.
I know there will be suggestions of the beloved Grave Titan or the new Torgaar, Famine Incarnate, so I'll just throw out there that I'd really prefer to stay away from super obvious suggestions. Perhaps suggest a card like Devouring Strossus, or Distended Mindbearer, or some other unusual card.
Thanks in advance!
The current version of the deck is here:
---

---
4 years ago
Too bad Void Maw doesn't quite synergise with our commander. It was one of the first favorite cards I played with.
But! Devouring Strossus is another card I loved and should work here.
4 years ago
Hi Caeruleus; thanks for your suggestions. No +1 though? Such a shame ;) I had Reclamation Sage and Sylvok Replica in here before, along with the other enchantment/artifact removal stuff and decided to remove them. Reason: the deck already had plenty of other ways to deal with artifacts/enchantments.
I agree that Vulturous Zombie is just a big, fat flier and that Rune-Scarred Demon or Devouring Strossus could at least be just as effective. I'm going to give that one some thought.
I'm not sure what to think about the Dilligent Farmhand suggestion. What the hell is 'Muscle Burst'?
4 years ago
Hi :)
I appreciate this deck: the list looks pretty enjoyable. I just have a few of cards I think should be cut in favour of more interesting cards. If you want to keep the effect I've made some suggestions for alternatives in the slots; but really you could take those slots and put anything in there.
Happy Brewing & dream big! :)