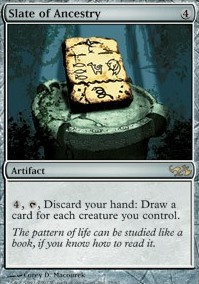 Slate of Ancestry
Artifact

,

, Discard your hand: Draw a card for each creature you control.
Have (10)
cclyburn7556 ,

T

h

e

H

o

r

s

e

,

D

r

a

g

o

L

i

o

n

, angrychains , Brasshatchet , TrystonSpencer , DarkPhoenixMishima , k4rm4k4z3 , fr49200 ,

g

u

e

r

i

l

l

a

r

a

g

e

Want (3)

P

T

s

m

i

t

t

y

, SinisterGinger ,

N

e

r

a

h

K

e

r

o
Slate of Ancestry Discussion
4 days ago
I agree, Akroma's Memorial is a wall-buster, but it's just not quite the theme for this particular deck. I had to make an entirely different deck for Avacyn with an opposite mindset of this one. That one is Avacyn and The Shattering Heavens. That deck's focus is aggression, but this one is pacifistic and hangs back; it reacts and waits until one final moment. I have to respectfully disagree regarding the Pearl Medallion. If you ever cast more than one spell in any turn, it automatically starts to reduce costs for more than Marble Diamond can produce, and it does so without tapping. If I was in need of an additional artifact mana source I might add that, but at this point my most frequent issue is card draw and hand size, hence the recent addition of Slate of Ancestry. Thank you for your input though, I appreciate the thoughts and suggestions!
1 week ago
Of the ones that make you discard your hand, Reforge the Soul, Knollspine Dragon, Slate of Ancestry, and Wheel of Fate are good enough to run, and with enough repeatable lifegain, Well of Lost Dreams is good. Farsight Mask, Candles of Leng, and Mind's Eye have no strings attached. If you run Sun Titan, you can repeatedly recur and sac Commander's Sphere (which you already run), and Mind Stone (which you don't).
2 weeks ago
wisegreenbean Thanks for all this help. 2 last questions just came to mind, 1- you suggested Skyshroud Ranger based on the number of lands I run. Do I have too much? 2- I feel I've got a fairly good pool of creatures (48, yikes) but surely I am missing a few budget non creature spells. Anymore coming to mind? And not just green, but perhaps useful artifacts like Slate of Ancestry?
1 month ago
Ashling's Prerogative i didnt want to give my oponenets haste as they tend to havesome big monsters that are even and it takes awhile for this deck to go off so gotta play cautiously
Heat Stroke would have to test might get me focused early but its worth a shot
Slate of Ancestry would be amazing if i could get it off might be a maybe card though it would just be used if you didnt draw abundance imho
1 month ago
Ashling's Prerogative is screaming for inclusion.
Heat Stroke might be worth considering, as your creatures are probably going to die in combat anyway.
Slate of Ancestry could be great, as I imagine you dump your hand pretty quickly.
It's a cool deck you have; nice to see something different than the same old cookie-cutter lists!
| | |
| --- | --- |
| Cost | 4 |
| Converted cost | 4 |
| Avg. draft pick | 1.3 |
| Avg. cube pick | 7.31 |
Legality
| | |
| --- | --- |
| Format | Legality |
| Heirloom | Legal |
| Legacy | Legal |
| Vintage | Legal |
| Commander / EDH | Legal |
| Modern | Legal |
| Duel Commander | Legal |