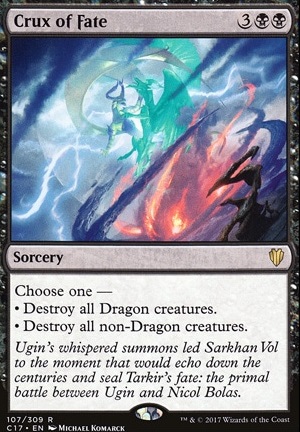 Legality
| | |
| --- | --- |
| Format | Legality |
| Tiny Leaders | Legal |
| 1v1 Commander | Legal |
| Magic Duels | Legal |
| Canadian Highlander | Legal |
| Vintage | Legal |
| Modern | Legal |
| Custom | Legal |
| Leviathan | Legal |
| Legacy | Legal |
| Frontier | Legal |
| Duel Commander | Legal |
| Oathbreaker | Legal |
| Unformat | Legal |
| Casual | Legal |
| Commander / EDH | Legal |
Crux of Fate
Sorcery
Choose one —
Destroy all Dragon creatures
Destroy all non-Dragon creatures.
---
Have (3)

o

r

z

h

o

v

_

i

s

_

r

e

l

a

t

i

v

e

l

y

_

o

k

a

y

8

1

9

, Bluboltar , shinbatsu
Want (9)
Sarion56 , zachfillmore07 , rotusq , Dan4052 , Elynia , Arronator , Jbarino , Brutus1 , Benkov
Crux of Fate Discussion
3 days ago
You asked for help, so here I am:


---
Paradox Engine
is banned.
Cut
Manalith
and
Chromatic Lantern
. They are fine cards but there are more efficient ramp options at only 2 mana:
Talisman of Indulgence
,
Talisman of Dominance
,
Talisman of Creativity
,
Fellwar Stone
,
Mind Stone
,
Thought Vessel
and
Wayfarer's Bauble
.
Some of your sorceries seem a bit clunky, like
Cruel Ultimatum
or
Life's Finale
.
Evacuation
and
Devastation Tide
are great boardwipes,
Crux of Fate
is a solid budget option and
Toxic Deluge
is amazing but a bit pricy.
Wurmcoil Engine
,
Noxious Gearhulk
,
Neheb, the Eternal
and
Massacre Wurm
are all quite highly costed and don't synergize well with the rest of the deck.
If you want to be mean, you could replace them with extra turn spells:
Time Warp
,
Part the Waterveil
and
Karn's Temporal Sundering
are reasonably priced, both in money and mana.
I personally would throw out all Guild Gates and raplace them with literally anything that does not enter tapped. A good budget replacement would be the pain lands:
Underground River
,
Shivan Reef
,
Sulfurous Springs
.
Lastly, cheap and efficient removal pieces I would consider are:
Doomblade
,
Go for the Throat
,
Reality Shift
,
Rapid Hybridization
and
Pongify
.
1 month ago
Fist of Suns doesn't cheat out creatures for 0. Fist of Suns replaces what you can pay, not the CMC. Morophos effects the CMC.
28 land is way too little. Bane of Progress , Planar Cleansing and cards that remove artifacts destroy your game. Reliquary Tower , Ash Barrens , Unclaimed Territory , Haven of the Spirit Dragon , Path of Ancestry are all land that should be in the deck.
Goreclaw, Terror of Qal Sisma fits the theme, and gives all the dragons that don't have it trample
Sarkhan Unbroken , Sarkhan, Dragonsoul , Sarkhan, Fireblood , and Sarkhan the Masterless to protect them are some planeswalkers who help dragons.
Hypersonic Dragon ... if you had any sorceries like Wrath of God , and Crux of Fate instants and adds a haste creature
You need removal. Vindicate removes the Propaganda that destroys your swinging. Crackling Doom removes the opponents biggest creature. Assassin's Trophy and/or Putrefy removes a endless-combo piece. Swords to Plowshares removes indestructible. Removal is crucial to advancing your own game.
Crosis, the Purger , and Ramos, Dragon Engine are 2 dragons I play
Temur Ascendancy is a card that helps you draw more, and the haste on dragons is amazing
Taigam, Ojutai Master is my last consideration. Makes sure your dragons hit the battlefield.
2 months ago
Are all other players just playing aggro with creatures that do nothing? Although stax is a form of control, having some cards with controlling aspects is the way to stop it. Some example cards that stop a lot of staxy things:
Harmonic Sliver and Reclamation Sage kill so many individual stax permanents and still give you a permanent. Any spell that destroys artifact and/or enchantments is awesome to have.
Board wipes like Crux of Fate or Blasphemous Act are also great for getting a stax player down. There are plenty of creature wipes as well as wipes that get other permanent types. Austere Command , Bane of Progress , and Cyclonic Rift come to mind.
Counter magic is the best way to stop literally anything. A well timed Counterspell can potentially ruin a player's next 3 turns.
Banning stax is one way to make it stop, but if someone is playing an opressive deck any other players can and should gang up on them so they have a better chance
2 months ago
Removed Crux of Fate as it was too much of a liability. Had it taken and used against me twice now. Same reason I removed Carthas as the commander.
There's other Jund wipes that I'm going to look into.
2 months ago
Well, I think what we're probably hitting now is the wall where the core of the deck (36 lands, around 19-22 dragons, 5-6 high-impact dorks, 3-4 green land ramp spells, and a support suite split between artifacts/enchantments) is feeling more or less settled, and tweaks can and should be made depending on the kind of table we're expecting or seated at. I've started bringing my binder of extra cards for this deck to make a few swaps for games 2-3, when/if I can get them.
In longer games, for instance, it may be that I've pushed the curve so low that there aren't enough haymakers/higher impact+higher cost spells left in order to turn the corner. In which case Crux of Fate , Wild Pair , and/or Rishkar's Expertise , just to name a few, could be slotted in as 1:1 swaps for lower CMC and lower impact wipes, enchantments, or draw.
A few other thoughts:
-I'm going to try Sensei's Divining Top over Expedition Map this week and see how that feels. For me, Homeward Path may become a flex/sideboard card, in which case the emergency draw/draw filtered with Top might be preferable.
-Agree that Dragonlord Kolaghan has been a bit low impact. I also haven't been thrilled with the interaction between Dragonlord Dromoka and the dork suite, as often I'm just forced now to put the counters on a dork. But that at least can help get them out of a healthy Toxic Deluge range later in the game? I'd look at slotting back in Glorybringer for Noble Hierarch in slower matches, though, as the fixing she provides is mostly in our splash colors.
- Fire Covenant seems like a good card to test in the Toxic Deluge spot, as we don't want to lose our dork package to our own cards, and as we really only usually want to be wiping out some of the biggest threats. If indestructible/hexproof/shroud is an issue, though, then Toxic Deluge will probably stay in.
-For now, I'd rather have the lower CMC and flexibility of Assassin's Trophy over Abrupt Decay , as the latter can often be a dead draw in mid to late game for slower matches and the former is always relevant, but really that entire interaction package can be swapped around depending on the meta. I don't think 3CMC is too much for interaction, but given the clump of 3CMC cards and our need often to tap out through turns 4-5, sometimes even turn 6 if our sequencing is slower, 1-2 CMC interaction spells have felt a lot more useful/easier to hold up while developing our board.
-I'll also look at slotting Sarkhan the Mad into the sideboard for matches with board stalls/pillowfort/anti-creature tech. I guess my hesitation with planeswalkers still remains that we don't generally want to be blocking/defending them and that people may start running anti-planeswalker tech in main decks now that War of the Spark is here, but I can see corner cases where this one would be useful, vs Sarkhan, Fireblood , where I feel like most games will play out as you suggest: You tap out to cast him on curve and maybe get to rummage once, ramp once, then he dies.
-Looking at your current list, and not including the commander, I see 9 overall draw effects, and that's about 1 short of where I like to be personally. The one weakness I've felt so far is that out of those 9-10 slots in both of our lists, none of it is unconditional draw but delayed/triggered draw. If anything Night's Whisper may not be enough on its own, so I'd look again at Read the Bones , Painful Truths , and/or Phyrexian Arena , the latter for slower matches only?
2 months ago
Hmm, so in my build it might be better to swap Crux of Fate for Toxic Deluge to lower the avg. CMC a little more? I guess you're happy with it in your deck.
2 months ago
These are just cuts/swaps I'm looking at but haven't made of tested yet.
In the last week of goldfishing/playtesting, flood was a bit of an issue; with the lower overall curve, and added mana dork suite, I want to try to bring down the green land ramp package a bit and beef up the draw suite by one.
For the time being, that ties into my looking again at reverting that to the mass reanimation plan with Greater Good and Living Death or Patriarch's Bidding . I don't feel like there's room for one more 5CMC board wipe, so Living Death is going in to serve that function in a fix instead of Crux of Fate but also be a Greater Good payoff.
Load more
Crux of Fate occurrence in decks from the last year
Commander / EDH:
All decks: 0.04%
Black: 0.21%