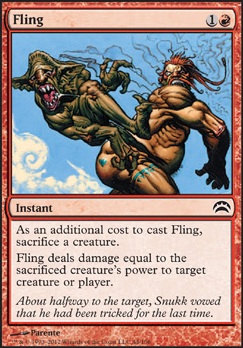 Fling
Instant
As an additional cost to play Fling, sacrifice a creature.
Fling deals damage equal to the sacrificed creature's power to target creature or player.
Fling Discussion
1 day ago
Fling is really funny card to throw in there.
1 day ago
Looks really solid! Have you thought about adding some way to send creatures to your graveyard? Maybe a card like Fling or Faithless Looting? It's probably better to leave it like this anyway, as a matter of consistency.
1 day ago
With the creatures you are running, it seems you should use 4x Fling
4 days ago
I love this deck. Maybe Fling?
5 days ago
Hey guys, I recently had a fun, new deck idea. The idea is going to be +1/+1 counters and kresh. Instead of building a voltron or attrition style kresh deck, the theme will be heavily revolved around +1/+1 counters.
+1/+1 counters will give creatures raw power while simultaneously providing bigger fodder for kresh when they come crashing down or sac'ed (via Fling or similar effects). So Tappedout community, I need your help!
Hey check out my deck Kresh +1/+1 counter theme
Some cards I am considering adding to fit the theme:
Falkenrath Exterminator, Realm Seekers, Sporeback Troll, Hateflayer, Retribution of the Ancients, Tuskguard Captain, Hunter of Eyeblights, Spikeshot Elder, Mindwarper, Deathbringer Thoctar, Needle Specter, Molten Hydra, Varolz, the Scar-Striped, Curse of Stalked Prey, Etched Oracle, Mindless Automaton, Kulrath Knight
To make sure we are on the same page, i am NOT interested in making this into an abzan or simic deck, even though I know they are better for the theme, so please don't suggest that!
I'm REALLY interested in finding more cards that will heavily benefit from +1/+1 counters and struggle to get them on their own, such as Spikeshot Elder, Spikeshot Goblin, and Needle Specter.
all help is greatly appreciated!!
1 week ago
Fling. Lets you turn a that huge Chasm Skulker into a bunch of 1/1s and a big damage.
| | |
| --- | --- |
| Color(s) | Red |
| Cost | 1R |
| Converted cost | 2 |
| Avg. draft pick | 8.16 |
| Avg. cube pick | 12.93 |
Legality
| | |
| --- | --- |
| Format | Legality |
| Heirloom | Legal |
| Legacy | Legal |
| Vintage | Legal |
| Commander / EDH | Legal |
| Modern | Legal |
| Duel Commander | Legal |
| Pauper | Legal |
Related Questions