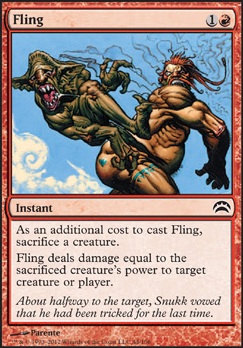 Fling
Instant
As an additional cost to play Fling, sacrifice a creature.
Fling deals damage equal to the sacrificed creature's power to target creature or player.
Fling Discussion
9 hours ago
In casual format, I have 2 favorite decks:
10 hours ago
This deck is technically in modern too. I'd playset the Terminates and run Lava Spike and/or Rift Bolt for more burn and Thoughtseize or Inquisition of Kozilek for discard. Bloodstained Mire, Blood Crypt, Blackcleave Cliffs, or Sulfurous Springs, and at least 1 Swamp if you run Bloodstained Mire. If you've got the cash (or you're proxying), I'd replace Rakdos Shred-Freak with Bob (Dark Confidant). I personally like Read the Bones, but the card isn't amazing. Another personal favorite that goes with the deck's theme is Fling, and it can push lethal, although if it doesn't push lethal it's bad. Not sure if you have enough dudes for Goblin Wardriver, Goblin Bushwhacker, or Reckless Bushwhacker, or enough spells for Young Pyromancer. Auger Spree isn't that good (although you've got some 5/5s that would live to 9 power, plus a Fling would be 18 damage.
2 days ago
It means that you can destroy an opponent's creature, attack with it, Fling it, then gain that much life. Pretty ridiculous right there.
5 days ago
I'm also in the process of making a deck for friends to borrow!
This is really awesome!
If you're willing to take suggestions, instead of the red command, maybe use 2 Primal Command, Magma Jet and Flings instead of Gut Shot. If you're willing to give them some awesome stuff, Domri Rade and Dragonlord Atarka would fit nicely.
Awesome to see friends looking out for each other by making and lending their decks.
5 days ago
I know it's reliant upon the right draws, but have you considered Putrid Imp or Tireless Tribe as low cost card discard options? And with Tribe you can work in About Face & Fling from the sideboard.
Tribe is an added color, so it may not be your speed, I suggested from an idea I have that's similar to this.
1 week ago
I'm not a big fan of Igneous Pouncer. It was never something I wanted to cast, and if I cycled it is was because I had extra mana, so I didn't need the extra land. I'd test a couple copies of Fling, because with the ETB burn you've got in here the damage could easily add up.
Load more
Legality
| | |
| --- | --- |
| Format | Legality |
| Modern | Legal |
| Legacy | Legal |
| Vintage | Legal |
| Commander / EDH | Legal |
| Duel Commander | Legal |
| Tiny Leaders | Legal |
| Pauper | Legal |