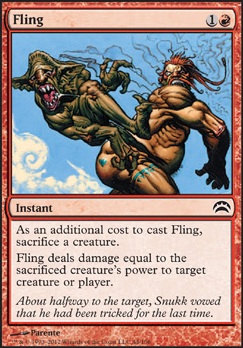 Fling
Instant
As an additional cost to play Fling, sacrifice a creature.
Fling deals damage equal to the sacrificed creature's power to target creature or player.
Fling Discussion
2 days ago
Pay 4 mana to tap The Chain Veil then if you have Ral Zarek in play you can use his +1 to untap it (for as long as there are enough untapped permanent's to tap, I suppose it's technically not infinite but close enough), as long as you control 4 creatures Xenagos, the Reveler's +1 will give you then 4 mana required to tap it for the ability again.
When using Ral Zarek's +1 for the combo I would recommend tapping any creatures that your opponent controls with abilities that could stop the combo, followed by their untapped lands to prevent any instants that could do the same.
If there are seven targets that you control that can be tapped this will also mean that you should be able to repeatedly use Ral Zarek's ultimate and barring some really bad luck with the coin flipping this would result in infinite turns too!
There is also another infinite combo with Kiora's Follower+Kiora's Follower+Wake Thrasher - use the Kiora's Follower's to untap each other, each time giving the Wake Thrasher +1/+1 until the end of turn, making him as big as you want.Once you've done this if you have a Fling in your hand you can cast it and sacrifice the Wake Thrasher to deal unlimited damage to your opponent.
2 days ago
Fling. 'Nuff said.
2 days ago
The problem is that the point of this format is to pay creatures' mana costs when they attack instead of when they are cast, but all of the t1-2 wins win without attacking. They just abuse the "free creatures" aspect of the format, and don't care about attacking because they can just Fling.
3 days ago
That wouldn't kill the opponent outright; Fling deals the damage, not Blightsteel Colossus. Since Fling doesn't have infect, the player doesn't receive poison counters, and would instead take 11. Good idea tho!
| | |
| --- | --- |
| Color(s) | Red |
| Cost | 1R |
| Converted cost | 2 |
| Avg. draft pick | 8.14 |
| Avg. cube pick | 12.89 |
Legality
| | |
| --- | --- |
| Format | Legality |
| Heirloom | Legal |
| Legacy | Legal |
| Vintage | Legal |
| Commander / EDH | Legal |
| Modern | Legal |
| Duel Commander | Legal |
| Pauper | Legal |
Related Questions