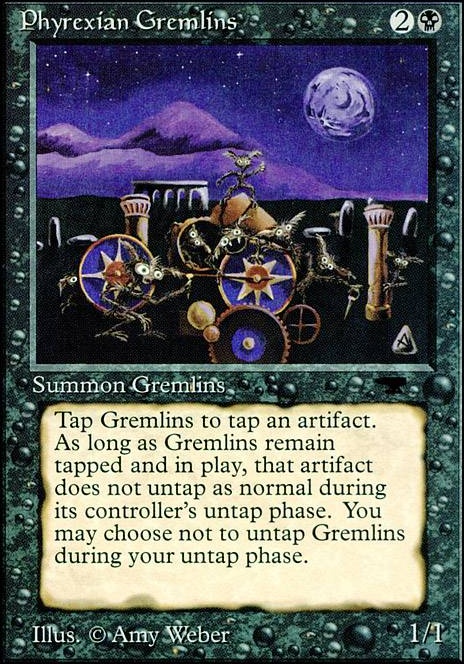 Phyrexian Gremlins
Creature — Ouphe
You may choose not to untap Phyrexian Gremlins during your untap step.
Tap: Tap target artifact. As long as Phyrexian Gremlins remains tapped, that artifact doesn't untap during its controller's untap step.
Latest Decks as Commander
Phyrexian Gremlins Discussion
1 year ago
Some of these might not actually be breaks or bends, but i'll put them here anyway, since they're worth discussing. Thanks for this list btw, i wanted to create a pentacolor break/bend edh list in forever! Ephemeron, Phyrexian Tribute, Broken Visage, Artifact Possession, Curse Artifact, Catacomb Dragon, Grave Robbers, Burden of Greed, Guardian Beast, Haunting Wind, Phyrexian Gremlins, Priest of Yawgmoth, Relic Bane, Soldevi Adnate, Spoils of Evil, Warp Artifact, Xenic Poltergeist, Presence of the Master, Mudslide, Soulflayer, Rishadan Cutpurse, Rishadan Footpad, Rishadan Brigand, Sea Drake, True-Name Nemesis, Serendib Djinn, Parallax Tide, Uktabi Drake, Propaganda, Mirri's Guile, Sylvan Library, Drop of Honey, Elvish Spirit Guide, Jabari's Influence, Barbed Foliage, Storm Front, Recycle, Storm Seeker, Null Profusion, Illusionist's Gambit, Overtaker, Reins of Power, Ray of Command, Prodigal Sorcerer, Instill Energy, Fire and Brimstone, Pallid Mycoderm, Mycologist, Orcish Spy, Killer Bees, Visions, Emerald Dragonfly, Arboria, Demonic Torment, Shade of Trokair, Vivisection, Slith Strider, Midnight Charm, Keen Sense, Simoon, Goblin Spy.