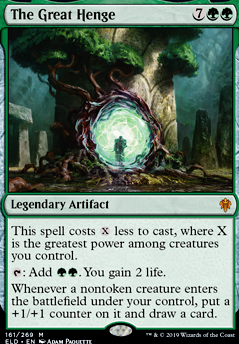 The Great Henge
Legendary Artifact
This spell costs less to cast, where X is the greatest power among creature you control.
: Gain . You gain 2 life.
Whenever a nontoken creature enters the battlefield under your control, put a +1/+1 counter on it and draw a card.
Browse Alters
View at Gatherer
Trade
Legality
| | |
| --- | --- |
| Format | Legality |
| Canadian Highlander | Legal |
| Brawl | Legal |
| Historic | Legal |
| Vintage | Legal |
| Legacy | Legal |
| Duel Commander | Legal |
| Limited | Legal |
| Arena | Legal |
| Highlander | Legal |
| Commander / EDH | Legal |
| Tiny Leaders | Legal |
| Block Constructed | Legal |
| Oathbreaker | Legal |
| Casual | Legal |
| Pioneer | Legal |
| Leviathan | Legal |
| Unformat | Legal |
| Modern | Legal |
| Standard | Legal |
| Pre-release | Legal |
| 1v1 Commander | Legal |
Latest Decks as Commander
The Great Henge Discussion
2 days ago
+1 the deck looks pretty good. Low to the ground, got some interaction and instant speed protection. I would try to add a few more pieces of draw to maintain gas.
3 days ago
So many awesome things to put into the these decks. With this iteration of the deck, have you considered trying The Great Henge? With your creatures growing fat real quick, you should be able to play it early pretty consistently. It synergizes with your +1/+1 counter theme and keeps the gas flowing.
1 week ago
Interesting deck +1
What is your meta like?
Proud Wildbonder - Seems too unimpactful for 4 mana
Essence Warden - Whats the purpose of this?
Beast Whisperer - Seems cool, I tried him in my build. Does he get a chance to stick around long enough to draw you atleast 2-3 cards?
Ravager Wurm - Is this meta against maze of ith?
Shivan Wurm - Reusing ETB effects or something I'm missing? Seems weak
Voracious Cobra - Gosh this card brings back memories from my childhood. Curious how it's been for you, seems like a card they need to burn removal on if they want a chance of attacking you unless they go wide
Windstorm - Meta?
Fog - Meta, if so, why not get the new green fog that came out recently?
Soul's Might - Return of the Wildspeaker would better serve you as you can draw cards in response to removal rather than your creature getting removed in response to might being cast.
Ancient Tomb , Castle Garenbrig are ramp
Goreclaw, Terror of Qal Sisma - Trample and ramp
Heroic Intervention - Protection
Selvala, Heart of the Wilds - Ramp and draw
The Great Henge , Somberwald Sage, Shaman of Forgotten Ways are all good ramp
Inferno Titan - Removal
Kogla, the Titan Ape - Removal
Deflecting Swat - Utility! Counter counterspells, redirect targetted removal/draw/extra turns. Very powerful
Rishkar's Expertise, Bonders' Enclave, Elder Gargaroth, Greater Good, Life's Legacy, are all amazing card draw options, especially greater good. Seriously, don't sleep on greater good
I hope the suggestions werent too overwhelming, I just didn't see that much draw and I figured that adding more never hurts.
1 week ago
Also have you considered God-Eternal Rhonas, Blanchwood Armor, Colossification, Harvest Season, or The Great Henge....as for what to replace it would possibly be some instants or sorceries enchantments or artifacts...I was thinking Since this is primarily a creature (Elf) deck they can do the heavy lifting. Elfs just often need Help to pull the trigger hence the recommendations. The strongest suggestion would be Nissa Revane Apologies for the double comment
1 week ago
Hey zuharran thanks for the suggestions! I'll go over what I think of them:
Again, thank you so much for the suggestions. If I could upvote your deck twice, I would. Happy Tapping!
1 week ago
So, finally stopping by to give some suggestions! The suggestions I'll make are based off of optimizing, so if budget is an issue, then some of my ideas may not be very helpful. I'll list out my thoughts in bullet format, so here we go!
Let me know if you want any other suggestions, these are what I can think of at the moment! Here's a link to my deck build for anyone who is interested:
---

Commander / EDH zuharran
SCORE: 12 | 5 COMMENTS | 480 VIEWS | IN 3 FOLDERS
---
!
1 week ago
What are your thoughts on
Load more