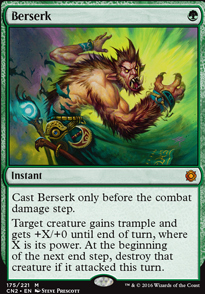 Berserk
Instant
Cast Berserk only before the combat damage step.
Target creature gains trample and gets +X/+0 until end of turn, where X is its power. At the beginning of the next end step, destroy that creature if it attacked this turn.
Browse Alters
View at Gatherer
Trade
Legality
| | |
| --- | --- |
| Format | Legality |
| 1v1 Commander | Legal |
| Canadian Highlander | Legal |
| Casual | Legal |
| Commander / EDH | Legal |
| Custom | Legal |
| Duel Commander | Legal |
| Highlander | Legal |
| Legacy | Legal |
| Leviathan | Legal |
| Limited | Legal |
| Oathbreaker | Legal |
| Oldschool 93/94 | Legal |
| Tiny Leaders | Legal |
| Unformat | Legal |
| Vintage | Legal |
Berserk occurrence in decks from the last year
Latest Decks as Commander
Berserk Discussion
1 month ago
I have not updated my Xenagos since exactly a year ago, so some of these suggestions do not take into account cards that have been released since then such as Jeska(i?)s will and battle mammoth which should find their way into this deck. Now onto my specific suggestions....
I couldn't suggest more than what's allowed by tappedout, but let me know what you think of each suggestion. If you want ideas for cuts, lmk
2 months ago
Profet93 thanks for the suggestions much appreciated.
Out of those I will consider to add the following:
Raging Ravine - in case of no creature on the board and only with Xenagos this is 7/7 for 4mana.
Greater Good - for some reason I always thought it to be a sorcery. That for sure can be a great draw engine.
Berserk - can be a good finisher, if I find it for lower price.
Deflecting Swat - seems sweet but quite situational. Same as above might include if I find it for lower price.
Return of the Wildspeaker - I have it in the deck already, was one of the latest changes I've made to the deck.
The Great Henge - Got one copy of it in a different deck, sadly (thought expectable.) it spiked it price, I won't be getting another one for that price.. but it sure is a great card.

I would gladly hear any of your creature suggestions. Thank you.
2 months ago
Without discussing creatures...
Ancient Tomb > Temple of false. Out of budget, not needed, but nice to have
Yavimaya Hollow - See above
Castle Garenbrig - Ramp
Dread Statuary - Manland used for drawspells
Raging Ravine - See above
Reliquary Tower - Utility
Skyshroud Claim - Ramp that provides tempo needed in Xenagos
Harmonize - Draw, not the best, not the worst. I like it personally
Green Sun's Zenith - Since many of your dragons are green, not needed but nice
If you listen to any suggestion of mine, this is it, hands down, most important card in a Xenagos deck.... Greater Good - It provides you with draw and a reward for when your big creatures inevitably get removed
Rancor - Nice but not needed, think with Selvala to add lots of mana, with a dork to get 6 power trample. Can even give to an opponent's creature for politics.
Beast Within - Removal
Berserk - Finisher with a huge beater, nice to use on opponent's creature/commanders as well. Never underestimate instant speed interaction (see above)
Deflecting Swat - Counter counterspells, redirect targetted removal, draw, extra turns, etc.... for free. Not needed but VERY nice to have. Bluffing interaction while tapped out!
Momentous Fall - Might not be the best, but has saved my ass countless times. You need a way to maintain card draw in Xenagos
Return of the Wildspeaker - See above
The Great Henge - Draw, ramp, lifegain for cheap
3 months ago
Thanks for commenting DemMeowsephs!
I did go for a budget manabase because my priority is on the big spells rather than the lands and such. But I will definitely keep this in mind! I need to add Noble Hierarch for sure.
Unfortunately I cannot add Hunter's Insight and Berserk and the like because Progenitus has protection from EVERYTHING! So I cannot target them or equip them with Civic Saber or enchant them unfortunately!
I will keep working on this deck and keep coming back to your comment, however. Thanks again, as I really do appreciate the feedback!
3 months ago
Hey there, pretty cool deck! With Progentius being a lot of mana, you may want to include some more/upgraded ramp cards- which are exactly the things I can recommend! Let's start off with the lands. Note that I may recommend things you purposely left out or can not afford, so if that is the case please feel free to ignore those! In 4+ color decks, there are usually 3 types of lands I recommend running. The first type is the shock lands. These are must-haves, for more reasons than you may originally think. Shock lands are cards like Breeding Pool, and there are ten shock lands in every two-color combination. These guys give you the option for two different colors and the option to be untapped! But a huge reason they are so powerful, is because they can be used effectively with cards like Nature's Lore and Three Visits. While nature's lore and such only say forest, if you wanted red mana, you could search for Stomping Ground, giving you both the red and the green! Thus, I would consider adding these shocks and replacing some of the less good effects you have that do something similar, like Sakura tribe elder, etc. The second type of land I would recommend adding are fetches- however, these can be super expensive, so I will explain other options after. Nonetheless, fetches are great because you can use them, to get shock lands similarly to what we did with natures lore! Fetch lands are cards like Windswept Heath and Scalding Tarn, allowing you to search for any land with those subtypes. They also work SUPER well with cards like Ramunap Excavator and Crucible of Worlds, because now you can play these fetches again and again and again every turn, meaning you'll never miss a land drop and can pick any colors you could possibly want if you have the shock lands. However, these are pretty expensive, and so I would recommend the pain lands or filter lands. Pain lands are cards like Battlefield Forge, giving you guaranteed colored mana. Filter lands allow you to put in one color, and get any combination of a different color and that color! For example, Mystic Gate. This can be especially great with Progentius's casting cost. The last and possibly the best type, are multicolor lands, that give you any color. Mana Confluence, City of Brass, Forbidden Orchard, Command Tower, and Tarnished Citadel are all great examples of this. A lot of these lands are super expensive, and yet lands are a super important part for getting progenitus out, so if you ever are looking to upgrade progentius, consider the ten shocks, ten fetches, ten filters, and ten pain lands, as well as a few multicolor lands.
I slightly mentioned some ramp cards before that work well with shocks, though there are quite a few other ones that could work super well in the deck. First one is Chromatic Lantern. This guy can help you EASILY not worry about which lands give you what colors, and allows you to just try your best to get 10 mana, as well as producing any color mana himself. Bloom Tender could be GREAT in this 5 color deck, meaning that before progentius it could tap a lot of mana but then even with him out, could add FIVE mana which sounds pretty great to me. Selvala, Heart of the Wilds could work wonderfully once Prog is out, tapping for 10+ mana all at the expense of a single mana. Even before that, it can be a very helpful mana dork. Speaking of dorks though, I would seriously recommend some smaller ramp dorks like Birds of Paradise, Sylvan Caryatid, Ilysian Caryatid, Noble Hierarch (which can also buff progentius) and a lot more. Last but not least, some extra ramp cards that I would recommend including are Arcane Signet, Commander's Sphere, Exploration, and Burgeoning!
But OMG there are so many amazing synergies here I would recommend too! Hunter's Insight and Hunter's Prowess could draw you SO many cards with Progenitus, especially if you give him double strike! Berserk could immediately double his power, and you don't have to worry about him dying because he has inestructible! Basically one mana double strike for progentius. Blessing of the Nephilim, Civic Saber, and Might of the Nephilim would be GODLY with progentius, the last one giving him +10/+10 already!!! You also may want to consider unblockable spells that can make Progentius unblockable for cheap mana, giving you an auto-kill.
Anyways though, that was a lot to think about, please ignore any spelling errors I was kind of rushing, and I hope this helps! Be sure to check out some of my decks like Double Trouble EDH ⫸PRIMER⫷ (where you can also find some of the best unblockable spells)!! Hope this helps, good luck on this great deck, an have a wonderful day! Cheers
4 months ago
Very nice deck, gave me a few ideas for my own Marwyn deck!
I do like the idea of Berserk, it's a very flexible card, and even more so in this deck. I would like to suggest Seeker of Skybreak. It's not flashy but it triggers Marwyn for a counter and can help her ramp extra or ramp and attack with her the same turn.
4 months ago
Nice deck! I play Marwyn myself and really like Berserk in my deck. Since you are not gonna attack with Marwyn you dont have to sac her, making it a 1 mana spell to double her power. Its also nice to use on your opponents creature when they attack someone other than you, they have to sac the creature and the opponent being attacked takes more damage. Also, im trying out Malachite Talisman as a replacement for Paradox Engine. Its really not as good, but if Marwyn taps for alot you should have mana left to untap her every time you cast a green spell :). Overwhelming Stampede is also nice since Marwyn tends to get pretty big.
Load more