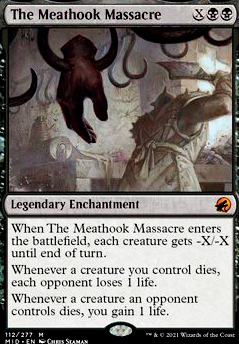 The Meathook Massacre
Legendary Enchantment
When this enters the battlefield, each creature gets -X/-X until end of turn.
Whenever a creature you control dies (is put into the graveyard from the battlefield, tokens are put into the graveyard before they cease to exist), each opponent loses 1 life.
Whenever a creature an opponent controls dies, you gain 1 life.
Latest Decks as Commander
The Meathook Massacre Discussion