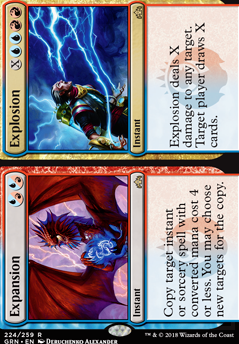 Expansion / Explosion
Instant
Expansion
Copy target instant or sorcery spell with converted mana cost 4 or less. You may choose new targets for the copy.
---
Explosion
Explosion deals X damage to target creature, player or planeswalker. Target player draws X cards.
Browse Alters
View at Gatherer
Trade
Legality
| | |
| --- | --- |
| Format | Legality |
| Canadian Highlander | Legal |
| Pioneer | Legal |
| Modern | Legal |
| Historic | Legal |
| Vintage | Legal |
| Casual | Legal |
| Highlander | Legal |
| Pre-release | Legal |
| Legacy | Legal |
| Standard | Legal |
| Brawl | Legal |
| Magic Duels | Legal |
| Commander / EDH | Legal |
| Tiny Leaders | Legal |
| Block Constructed | Legal |
| Leviathan | Legal |
| Oathbreaker | Legal |
| Arena | Legal |
| Duel Commander | Legal |
| 1v1 Commander | Legal |
| Unformat | Legal |
Expansion / Explosion occurrence in decks from the last year
Latest Decks as Commander
Expansion / Explosion Discussion
1 day ago
Hey, nice budget version of Kalamax. Several good upgrades you've made to the precon.
Chord of Calling with Kalamax to tutor for Pili + Architect for infinite mana is interesting. Consider more ways to draw into a win condition when you have infinite mana? Without the draw making infinite mana with Pili + Architect or with Scepter + Reversal doesn't do enough. Expansion / Explosion is another instant Fork or Explosion with infinite mana can draw a lot of cards. Pull from Tomorrow and Blue Sun's Zenith are other instants that draw X cards.
Nivix Guildmage with infinite mana can draw into your deck until you find a win condition as well as counters to protect the combo. Guildmage with infinite mana can also infinite copy an instant/sorcery you cast which can make Banefire a win condition since you can copy it for each opponent and target a different opponent with each copy. If you can some how get a third copy of Chord when you cast it then you can also tutor for Guildmage.
Some lands in the manabase could be upgraded. Life lands from the precon and Scry temple lands are not worth ETB tapped. Survivors' Encampment and Holdout Settlement are unique lands with Kalamax because they're repeatable ways to tap him. These lands are like Springleaf Drum, they make mana when you use them to tap Kalamax or another creature. But unlike Drum you can tutor for and put onto the battlefield with Crop Rotation. Having more ways to tap Kalamax without attacking while also making mana is beneficial.
Some other good lands that are reasonable price to consider adding are: Rootbound Crag and Shivan Reef. The Filter lands: Cascade Bluffs, Flooded Grove and Fire-Lit Thicket are at lowest price due to just being reprinted in Double Masters. Can get these lands for as low as $5 each. Bluffs is helpful since it can make or , important color combinations to want to consistently make to cast instants for Kalamax.
---
Cards to consider cutting:
Good luck with your deck.
3 weeks ago
The Spellchaser format, first created by GoblinElectromancer, has become one of my favorite formats.
For those unfamiliar with the format, here's how it works.
The deck is 75 cards. You can have up to 4 of a single card, and you start at 30 life. The catch is you can only include land, instants, and sorceries (technically interrupts too). The banlist is here: Spellchaser Banlist.
The format seems pretty clear cut. You either run burn, mill, or tokens, right (The exact words of shadow63)? Well, in a way. There have been many unique strategies in Spellchaser that have been invented. The First is Loam, built by SynergyBuild. The deck uses Life from the Loam to mill and get lands continously. The main win con is Field of the Dead. Field is a versatile card. It can go into any deck and generate a large number of tokens. This and Loam are the first two breakthroughs of the format.
The next deck was just me playing around.
SynergyBuild explained the format pretty well on his next post. He made the combo Thespian's Stage plus Dark Depths. I would later reach a similar combo with AEther Snap.
The format, while it may be "solved", is still interesting. Here is a list of power cards for each color:
White
Blue
Black
Red
Green
Multicolored
Land
Also, I'm going to make a YouTube video on it this weekend. Is that okay?
3 weeks ago
Hey, on a budget something that the precon lacks are ways to tap Kalamax. Attacking is the best way to tap Kalamax, but if you can't attack then you want to be able to tap Kalamax other ways.
These cards can make mana that gives them other uses then just tapping Kalamax. Settlement/Encampment are nice because they're lands, they don't use valuable spots in the deck and Crop Rotation can search for one of them.
You've already added Reverberate for a Fork effect which is great, but the other piece of the combo is Ral, Storm Conduit which is the win condition when you make the copy Reverberate loop with Kalamax. Even without the Fork combo, Ral is a good card because he too can be a repeatable source to copy an instant or even a sorcery you cast. Expansion / Explosion, Increasing Vengeance and Insidious Will are other budget instant Forks.
Your own sorceries are very good with Fork effects and tapped Kalamax. This combination lets you resolve three copies of a sorcery (original and two copies of it). If you have three opponents then Gravitic Punch can be a win condition with a Fork and an infinite power Kalamax. The jumpstart lets you cast it again if that is needed. Reclaim and Regrowth are helpful to recur cards especially a Fork or draw spell, but they can also recur a creature.
Return of the Wildspeaker modes are good with Kalamax. The first one can draw a lot of cards with a high power Kalamax and the second can give all nonHuman creatures +6/+6. This second mode can be a potential win condition with cards that can create tokens such as Talrand, Murmuring, Xyris, Young Pyromancer and Saheeli, Sublime Artificer.
Capsize can be powerful with Kalamax. For five mana cast it with buyback, bounce any two permanents and then return it to your hand.
Good luck with your deck.
Load more