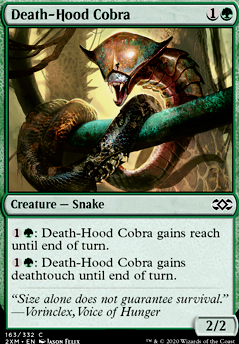 Legality
6 years ago
Since you mentioned getting some more expensive cards I feel Asceticism could be beneficial. Since none of the equipment you are running adds any toughness and could leave creatures open to removal.
Some downsides are that it's mana cost is a bit high and you do already have a lot of creatures so losing some shouldn't hurt to bad.
Also how often do you think Heir of the Wilds ability will trigger? maybe find another creature with death touch? Ambush Viper Death-Hood Cobra just off the top of my head. At a quick look, it looks like you would need to equip multiple things to one creature adding a few redundancies and losing a little value from each card in doing so.
6 years ago
A lot of your cards seem really low-impact for EDH games:
A lot of the other cards are pretty solid, but sort of over-the-top in quantity. You have a lot of targeted removal. Try to pick your 8 favorites, and cut the rest.
I think in a deck like this you want to be running about 45 lands + ramp, 30-ish creatures, 13-15-ish removal (Targetted + Boardwipes), and 10-12-ish support cards (e.g., True Conviction or Nissa's Revelation).
Also it looks like some of your cards were originally designed for a Tokens deck, but you don't seem to have enough token generation to justify them:
Good luck!
7 years ago
---

Commander / EDH lonker
72 VIEWS
---
22 lands is NOT a good thing for edh. You'd want to cut the crap cards such as
Death-Hood Cobra
(art is cool, card is absolute crap.) for more lands. Also, 38 creatures is way too much. Here's my take on Kaseto. It actually plays very well. If you need more help with this deck, just comment back.