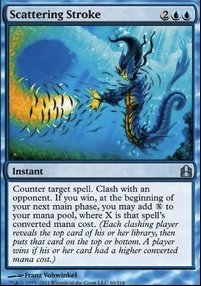 Legality
| | |
| --- | --- |
| Format | Legality |
| Vintage | Legal |
| Duel Commander | Legal |
| Commander / EDH | Legal |
| Legacy | Legal |
| Modern | Legal |
| Tiny Leaders | Legal |
Scattering Stroke
Instant
Counter target spell. Clash with an opponent. If you win, at the beginning of your next main phase, you may add (X) to your mana pool, where X is that spell's converted mana cost. (Each clashing player reveals the top card of his or her library, then puts that card on the top or bottom. A player wins if his or her card had a higher converted mana cost.)
Scattering Stroke Discussion
5 months ago
I'd get rid of Daxos of Meletis, Scattering Stroke, and Perilous Vault.
Daxos gives you value, sure, but he's definitely better in a voltron deck or a deck designed to make specific use of his exile effect.
Scattering Stroke isn't that great of a counterspell, it's a 4-mana Cancel with no upside a lot of the time, and occasionally adding mana to your mana pool isn't worth leaving up 4 mana for a not-so-good counterspell.
Perilous Vault is a board wipe, sure, but both and have much better board wipes that you can use. 9 mana is a lot.
Hope this helps!
1 year ago
If you want to try throwing in some clashes, then maybe add a Scattering Stroke or two. Maybe a Deep-Sea Kraken to make them pay for being fast. This is still an awesome deck!