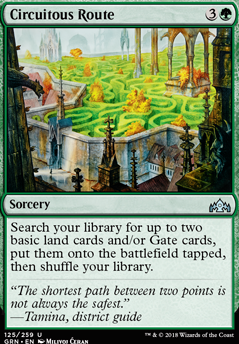 Circuitous Route
Sorcery
Search your library for up to two basic land cards and/or Gate cards, put them onto the battlefield tapped, then shuffle your library.
Browse Alters
Trade
Legality
| | |
| --- | --- |
| Format | Legality |
| Pre-release | Legal |
| Tiny Leaders | Legal |
| Vintage | Legal |
| Penny Dreadful | Legal |
| Pioneer | Legal |
| Commander / EDH | Legal |
| 1v1 Commander | Legal |
| Magic Duels | Legal |
| Brawl | Legal |
| Block Constructed | Legal |
| Standard | Legal |
| Historic | Legal |
| Arena | Legal |
| Canadian Highlander | Legal |
| Leviathan | Legal |
| Duel Commander | Legal |
| Unformat | Legal |
| Modern | Legal |
| Highlander | Legal |
| Legacy | Legal |
| Casual | Legal |
| Oathbreaker | Legal |
Circuitous Route occurrence in decks from the last year
Standard:
All decks: 0.35%
Commander / EDH:
All decks: 0.04%
Circuitous Route Discussion
1 week ago
Dear Kronhamilton
Golos, Tireless Pilgrim is my favorite commander, and I've been brewing around him ever since he was teased. Let me just say you've chosen an excellent commander.
(I've written quite a lot in an attempt to make a sort of guide for you, so if you want the short version, check out the Suggestions panel)
Golos can be tricky to build around since he can do literally anything pretty well. The easiest way to make an effective Golos deck is to lean into Golos's 7 Mana Rainbow Wheel Of Death. Before getting into that though, we need to cover some EDH deckbuilding basics.
I think the most useful advice I can give someone who is just beginning to explore the deck-building territory of EDH is to structure your deck and mind your Ratios. By this I mean it is useful to categorize the cards in your deck according to the role they fulfill.
We'll begin by looking at some core categories that you'll want to make your deck function effectively. Then I'll present the Ratios (how many of each category of card) you will want to make a generic Golos deck function effectively. Next, I'll include a detailed (but not totally complete, because I'd be here all day) catalogue of cards within some of those categories. I'll also offer up some suggestions and input about some of your specific card choices. Lastly, since I'm about to unpack a lot of information, I will include a brief list of suggestions (see the bottom) for a generically good Golos 'Shell' that should be able to support most Golos strategies.
Categories
Draw

Ramp

Removal

Sweepers

Threats

Support

Land
The art of Ratios is all about determining what combination of cards from each category makes your deck run the most smoothly.
Please note that these Ratios will not total to 99 cards. This is because you will invariably have extra flexibility to choose how your deck behaves even after establishing functional Ratios. Also keep in mind that although these Ratios do recommend you adhere to the minimum number of cards in each category, you still can choose which cards will fill those slots. The point is not to restrict your options, but instead to create a 'Shell' that is reliable enough to power your Threats cards, Support cards, and other cards. Whatever you do, make sure you have at least the minimum number of Draw and Ramp cards. THE MOST IMPORTANT CARDS IN THE DECK ARE DRAW AND RAMP!!!
While I ultimately suggest Ratios resembling the Basic Golos Shell, I will lay out the Ratios for several different Shells;
Template: a sort of baseline beginner's guide which is commonly promoted as a place to start.

Basic Golos: a modified version of the Template that suites most Golos decks.

Control: a version tailored for a slower game with many Sweepers.

Aggro: a version designed to act quickly and deploy Threats before the opponents are prepared.

Big Mana: a version invested heavily into Ramp with the goal of deploying many end-game Threats.

Mega Mana: an even more extreme version of Big Mana with extremely expensive Threats.
Please remember that any suggestions I make are because I am trying to help. Ultimately, the choices you make with your deck are up to you, and I can only provide constructive criticism based on my own experience and opinions.
Good luck :)
Ratio Fixing
The most effective change to your deck would probably be adjusting the Ratios, especially with regard to your Draw cards. Applying the most basic Template Shell, you want to have at least these three quantities nailed down for a smoother and reasonably powerful deck;
Lands – 36 --> You have 40 Lands (Cut 4 Lands)

Ramp – 10 --> You have 5 true Ramp cards (Add 5 to 8 Ramp cards)

Draw – 10 --> You have 3 true Draw cards (Add 7 to 10 Draw cards)
Ramp & Draw Additions Show
What I counted in your deck Show
Mutate
Depending on how strong your Mutate subtheme is, some of your Mutate inclusions may act as engines. However, I must state that Mutate is a VERY risky and even fragile strategy since your Mutate 'Pile' of creatures will all be destroyed at once if your opponent uses a Removal spell or a Sweeper. For that reason, I recommend leaning out of the Mutate theme (unless the Mutate card is just straight-up insane, as in the example of Nethroi, Apex of Death).
With that said, playing a Mutate theme is your decision and I totally respect that and if you want to stick to a Mutate theme then by all means do so. I just want to be sure you know that Mutate is a risky strategy that you cannot depend on to fulfill your Ramp and Draw slots (so you'll just need to supplement it with other cards).
Cut or Include?
At a glance your deck seems like something you have created using just your collection – and that's great! However, if you want to incrementally upgrade your deck, then I recommend replacing most of the cards in your deck with more powerful options over time.
Here is a list of cards you should probably keep playing: - Barrier Breach (Removal, because exiling 3 enchantments is helpful in some situations)
In my opinion, there are other, better options for all of the other nonland cards in the deck, however it is up to you to decide on how you would like to proceed so I won't intrude.
I strongly recommend cutting the Planeswalkers though – Calix, Destiny's Hand doesn't seem to synergize much with the deck and I feel that Lukka, Coppercoat Outcast is not very potent.
Lands
Just as a recommendation, I would suggest the following spread of Basic Lands;
8 Basic Forests

3 of each other Basic Land
The remainder of your lands could be either more basics (which is really, really, risky if you don't have tons of Ramp – think like 15 Ramp cards and about 12 Basic Forests) or Color Fixing Lands (see the Catalogue for more options). It is rough to have your lands enter the battlefield tapped, but unless you want to either lean into Green or spend a lot of money on lands, you will just have to live with it (I play around 5-10 tapped lands in a normal Golos deck and it isn't really that bad).
In this section, I will list out an example of the Basic Golos Shell complete with the necessary Ratios and some examples of good/fun cards in each category. I'll try to keep it relatively Budget sensitive and most of these cards will be relatively random – this won't be based on any particular theme so don't expect it to be optimal.
As a reminder:
The Shell
Ramp – 12
Draw – 13
Removal – 7
Sweepers – 2
Threats – 12
Support – 7
Land – 36
Good Luck :)
-Slashdotdash
2 weeks ago
Before I make card suggestions, bounce lands require 2 lands return to hand with Yarok. They don't belong in this deck. Get them out!
1 month ago
Hey, nice budget version of Ghired.
Dolmen Gate and Mother of Runes were just reprinted in the Mystery Card Booster set. Gate is good with Ghired letting you safely attack with him to populate. As long as Ghired is attacking in combat any creature that blocks him will not do damage to him. Reconnaissance is the more expensive price card that also does this and it has the bonus of being able to untap your creatures to use them as blockers.
Mother of Runes can be repeatable protection for Ghired from targeted removal or in combat or make him unblockable. Gate and Mother could replace Colossal Majesty and Parhelion II.
Breath of Fury is a budget card that's deceptively powerful with tokens especially with Ghired. Fury is a infinite attack combo with Ghired and one Rhino token as long as Ghired is safe to attack and the Rhino token will do combat damage to a player. Enchant the Rhino token with Fury, attack with Ghired and Rhino. Enchanted Rhino does combat damage to a player, sac it and then enchant the newly created Rhino token. Untap your creatures and attack again. This is infinite attacks as long as Ghired can popluate the Rhino each attack. Fury could replace Soul Foundry.
When playing heavy green then take more advantage of green mana dorks. Mana dorks are some of the strongest cards in green. They're better in green for ramp than mana rocks and land ramp spells.
These mana dorks could replace Circuitous Route, Explosive Vegetation, Selesnya Guildgate, Gruul Guildgate. Eladamri's Call, Idyllic Tutor and Open the Armory are three budget tutors to consider adding. Each one gets a different card, but it's still helpful to have tutors. These tutors could replace Commander's Sphere, Selesnya Signet and Desolation Twin.
Exotic Orchard, Battlefield Forge, Fortified Village and Ash Barrens are budget lands to consider adding. They could replace Kazandu Refuge, Rugged Highlands, Blossoming Sands, Graypelt Refuge.
Good luck with your deck.
1 month ago
Uh... Im not sure you know what your commander does based on your creature pool. On a scale of 1-10, i would rate this a 1.5, but i'll help you with that. You might as well be running Golos, Tireless Pilgrim. You have a small number of Dragons in the deck, and I noticed a bunch of useless non-dragon creatures in the deck.
32 lands is wayyyy to few, and you have an awful mana base, even on a budget, having only 1 tri-land and a random af arrangement of shock and gain lands.
You have little ramp, if any, which will slow you down greatly in a format such as commander Another concern is your lack of mana rocks. Why only one signet?
Your removal is pathetic, to be honest, with only one murder. Removal is IMPORTANT in commander, being used at both utility and a rich bargaining tool in the political side of the format.
But enough with flaming the deck, here is what I would put it.
First off, let's talk about your commander. It supports a heavy dragon tribal theme, and you want nearly all of your creatures creatures that either add to this theme or ramp you to get him out earlier. If you are to be running a non dragon creature, make sure it is a utility creature such as Reclamation Sage that can either ramp you or get rid of problems on the board.
Here is what I would cut if i was building him:
Creatures:
Ajani's Pridemate - No lifegain synergy and bad creature in EDH
Brineborn Cutthroat - A 2/2 with flash wont cut it in Ur
Corpse Knight - No sacrifice theme
Dreadmalkin - cmon, really?
Empyrean Eagle - Other cards do this a lot more efficiently
Exava, Rakdos Blood Witch - No madness or counter theme
Faerie Vandal - just no
Garenbrig Carver - bad in general
Gravedigger - not a dragon
Grumgully, the Generous - not efficent
Venerable Knight - no synergy in deck
Instant:
Artifact:
Manalith - You can keep it in, but it isn't very good
Sorcery:
Compelling Argument - 0 MILL THEME!!!
Enchantment:
Here is what I would add:
Creature:
Dryad of the Ilysian Grove - Can ramp you AND fix your mana
Dragonspeaker Shaman - cuts down mana cost drastically
Dragonlord Kolaghan - Haste enabler and good beater
Dragonlord Dromoka - game winning lockdown effect
Ramos, Dragon Engine

Karrthus, Tyrant of Jund - haste enabler
Kokusho, the Evening Star - good beater with amazing ability
Birds of Paradise - great mana dork
Removal
Ramp:
Mana Rocks
ALL the signets (Emphasis on ALL)
Lands:
All tri-lands from Tarkir and Alara
Try to get all 10 fetch and shock lands if at all possible
Utility lands:
Planeswalkers:
Anthems:
This is just a few thing I think the deck could need, obviously it needs ore board wipes and wincons, however this is a good place to start. I want to be clear, I dont hate the deck, but I Think it needs improvements to become and 8. For your first commander deck, it's just fine. Thanks for reading. Cheers
3 months ago
Update 4:
Enemy shocklands plus Hallowed Fountain, ally checklands minus Rootbound Crag replaces Guildgate package - I really liked those lands there as a flavor win, even if they are simply awful in actual game, but I fear that my playgroup has been scarred for life by all these Golos, Tireless Pilgrim Maze's End decks and begins to target me if I somehow have more than 5 of these. So in order to make my deck less intimidating I have to make it more powerful and consistent :) I also wanted to take the opportunity to fix the colors slightly - green and red seemed a bit over-represented, while white, blue and green are often important early game here so it needed better fixing.
City of Brass replaces Maze's End - With guildgates removed maze is completely useless. I wish other cuts were that easy!
Dryad of the Ilysian Grove replaces Circuitous Route - With guildgates removed Route is just an Explosive Vegetation which is a fine card, but we could have something better. Fortunately Dryad seems like a perfect fit for 5-color decks, comes a turn earlier, instantly fixes all your lands, synergizes with newly added checklands, triggers both Daxos and Ezuri and is a fine blocker for some extra early attacks.
Load more