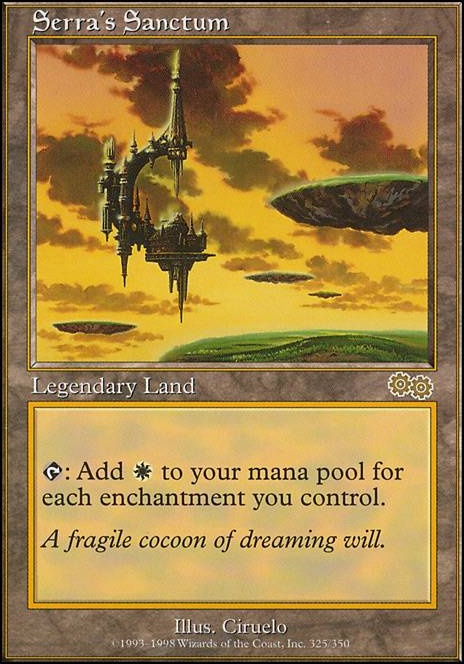 Serra's Sanctum
Legendary Land
: Add to your mana pool for each enchantment you control.
Browse Alters
View at Gatherer
Trade
Legality
| | |
| --- | --- |
| Format | Legality |
| Tiny Leaders | Legal |
| Noble | Legal |
| Leviathan | Legal |
| Magic Duels | Legal |
| Canadian Highlander | Legal |
| Vintage | Legal |
| 2019-10-04 | Legal |
| Vanguard | Legal |
| Legacy | Legal |
| Archenemy | Legal |
| Planechase | Legal |
| 1v1 Commander | Legal |
| Duel Commander | Legal |
| Oathbreaker | Legal |
| Unformat | Legal |
| Casual | Legal |
| Commander / EDH | Legal |
Serra's Sanctum occurrence in decks from the last year
Commander / EDH:
All decks: 0.02%
Serra's Sanctum Discussion
15 hours ago
I noticed that there are two lands that add mana equal to the number of creatures you control, and two that add mana equal to the number of artifacts you control. Two of these lands are normal lands, and two are enchantments from Ixalan that transform into lands. However, there is only one land in the entire game that adds mana equal to the number of enchantments that you control.
These lands in question are:
Creatures:
Artifacts:
Enchantments:
So, since there is a void with an opportunity available, I wanted to take a jab at it. I'm setting it on Theros rather than Ixalan, for flavor reasons.
Enchanting Starfield
Legendary Enchantment
Constellation - When Enchanting Starfield or another enchantment enters the battlefield under your control, you may gain 1 life and scry 1.
At the beginning of your upkeep, if you control five other enchantments, transform Enchanting Starfield.
Mentrotha looked upon the stars, each one joyously dancing in the sky, completely oblivious to the toils below them. With a silent prayer, an answer was heard by all.
---
Starfield of the Pantheon
Legendary Land
(Transforms from Enchanting Starfield.)
: Your devotion to each color and each combination of colors is increased by one.
: Add equal to the number of enchantments you control.
Mentrotha learned a powerful lesson that day; A prayer to the wind can be answered by anyone willing to listen.
4 days ago
I didn't want to post on a thread that's been inactive for a while, but I did want to point out Serra's Sanctum is legal in Commander. Tolarian Academy is the only one of that cycle banned. This is because decks are already going to run mana rocks, so every single deck with Blue would run Academy—enchantment-heavy decks are rare, and wide creature decks are harder to field early than a host potentially explosive first turn of mana rocks.
Gaea's Cradle also serves an important, non-ramp function in the game - it allows creature-heavy decks to deal with The Tabernacle at Pendrell Vale.
5 days ago
Don't try to split it into 2 formats, that's not a viable solution.
Wrong or no communication is the problem, because of that some people think cEDH-players are just rich assholes who are liking to stomp other players.
But I think that Demonic Consultation & Flash are to really difficult cards atm. especially since Oracle is a thing.
For me it would be no problem to unban cards like Biorhythm, Iona, Shield of Emeria, Emrakul, the Aeons Torn & Paradox Engine. Commander-Ninjutsu/Derevi kinda effects, Eminence- and Partner-commanders are a bigger problem in my opinion.
Because of the high CMC those card are a lot easier to encouter in comparison to cards like Doomsday, Labman/Oracle/LabJace, Demonic Consultation, Tainted Pact, Flash & stuff.
AAAAND just for consistency and logic reasons: ban Gaea's Cradle because Tolarian Academy and Serra's Sanctum are banned, too.
2 weeks ago
Serra's Sanctum is awesome in enchantment decks! Have it in my tuvasa deck and it really does alot doe the deck.. Do get ready for stripmines tho!
2 weeks ago
So I like your deck as it is very similar to an enchantment deck I run Enchantress Harvest. However, here are a few suggestions you might want to consider.
A few cards I would consider adding:
Overall I think you have a really strong deck and are off to a fantastic start. Some of the suggestions I suggested are based on things I have seen playing my own enchantress deck. Also, throwing in those alternate wincons makes the deck more enjoyable to pay because I am not winning in the same fashion every single game. On top of that it also helps to make the deck a lot more resistant. Lastly, because there is no true go to Selesnya enchantment commander don't be afraid to switch up who you use as your commander. In fact, I will commonly switch out my decks commander from Shalai to one of my other legendary creatures before matches based on what I am facing. If I find someone in the pod has a stax based deck then I am throwing in Sigarda as the commander. I find myself up against a lot of decks with blue in them then using Dromoka as the commander can be a fantastic choice.
3 weeks ago
@ Skullclamped ,
This will be done in the very near future as I'm working on a huge update for the primer :) Wild Research is a good target, Mystic Remora or Smothering Tithe should also be very helpfull to get you through the early game.
It's very true that it's hard to pull of the combo with the Illusions of Grandeur . This deck isn't designed to win a lot of games after all though. While the value-engine and overall performance of this deck is working perfectly fine, I softened up the wincons by a fair bit over the cause of time. With all the tutors, card-draw and mana-accelerants it's pretty easy to pull of a win in my experience. At least for casual games within my playgroup the Zedruu-Deck has been way to powerfull and won most of the games. Even with this Jank-wincon I win my fair share of games. As you say it's easy to get to 1vs1 in the late game. Most opponents tend to have blown of nearly all of their ammunition at this point, while we can recur most of our stuff to pull of a win, even if it takes us 2-3 turns to pull it off. However this applies to my own playgroup, while you might have made slightly different experiences. So I'll list a few of my former win-conditions below:
Approach of the Second Sun ... only one card, boring but easy.
Wild Research , Nexus of Fate and Library of Leng ... take infinite turns and let Zedruu kill them all with commanderdamage while cyclonic rift clears the path.... way more flashy and surprisingly consistent.
Swapping out a bordwipe for Austere Command and including Enchanted Evening doesn't only generate a ton of mana with Serra's Sanctum but also allows to blow up everyone's board while using Teferi's Protection to phase out laughing. Boros Charm might also be usefull in this scenario...
@ THCue , yeah you're absolutely right about the deck not being very budget-friendly... I'm thinking about building a budget version of this deck in the near future to make it more affordable for everyone. Adding some land-alternatives to the maybe-board might do it for now though :)
4 weeks ago
You would run both if you had land-based combos like Dark Depths or a Valakut, the Molten Pinnacle strategy. More competitive decks normally don't run either, but in a more casual scene I would rather run Thespian's Stage over Vesuva because (1.) It comes into play untapped which won't disrupt your tempo if you just need a land drop and (2.) it allows you to be more reactive and copy powerful lands as they come out (Gaea's Cradle, Serra's Sanctum, Ancient Tomb, etc.), and (3.) you can change Thespian's target again if an even better target appears. It can also dodge Wasteland by copying a basic land, which is spicy.
1 month ago
I would say a lot of reserved cards are on a down-swing with the current market, but things that are commonly used in EDH are safe bets. Wheel of Fortune, Gaea's Cradle, Serra's Sanctum, Tithe, Replenish, Time Spiral, Survival of the Fittest, Treachery, Academy Rector, Metalworker, Grim Monolith, and other money lands are what come to mind.
Load more