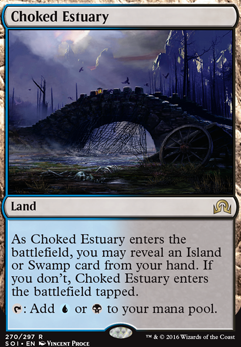 Legality
| | |
| --- | --- |
| Format | Legality |
| Magic Duels | Legal |
| Heirloom | Legal |
| Canadian Highlander | Legal |
| Vintage | Legal |
| Modern | Legal |
| Block Constructed | Legal |
| Leviathan | Legal |
| Legacy | Legal |
| Frontier | Legal |
| Duel Commander | Legal |
| Unformat | Legal |
| Casual | Legal |
| Commander / EDH | Legal |
Choked Estuary
Land
As Choked Estuary enters the battlefield, you may reveal an Island or Swamp card from your hand. If you don't Choked Estuary enters the battlefield tapped.
: Add or to your mana pool.
Have (38)
Caldazar , RPG_FOX , bakunet , Doc508 , the.beanpole ,

D

o

o

m

_

o

f

_

V

a

l

y

r

i

a

, Zhorus_The_Bauqret , Mousemke , AlucardZain ,

s

a

j

0

2

1

9

,

S

p

i

n

a

l

r

i

p

p

e

r

, jstn.mrrtt , rikertchu , twistedmage , Swamy , Royal_Windsor , admizell ,

T

h

e

A

n

n

i

h

i

l

a

t

o

r

, Pumpkinking913 , philktoken8998 ,

f

i

r

e

m

i

n

d

1

2

, lorddarkstar ,

p

e

r

r

i

n

5

1

5

,

S

o

g

g

y

G

e

c

k

o

, tragic_slip , LaKU , Lindough , xXThormentXx , TrackerD , KipIsKosher , Dr_Doomtrain , MrCrazzyc , TehDelta , Snydog17 , joshw335 , ecurps , Mortiferus_Rosa ,

K

I

N

G

o

f

O

R

E

S

K

O

S

Want (5)
Clawsun73 ,

r

a

k

d

o

s

2

4

,

g

o

l

g

a

r

i

g

i

r

l

, xpsychovampx ,

R

e

d

M

u

l

l

i

g

a

n
Choked Estuary Discussion
1 month ago
Dimir Guildgate
/
Dismal Backwater
/
Foul Orchard
- Lands that always come in tapped need a big upside to justify themselves.
Golgari Rot Farm/Simic Growth Chamber - These are not that bad budget lands since they give you virtual card advantage at the cost of speed, but having three of them in a three-color can sometimes be too slow and awkward. If you want to keep them, then buy Dimir Aqueduct.
Halimar Depths - I would not use this over a basic land in your deck because you don't have lots of lands to find with your ramp, and the upside is not big enough for a tapped land that only produces one color.
Evolving Wilds/Terramorphic Expanse - These are a bit slow but they're good for colorfixing and they're great for Ramunap Excavator and Splendid Reclamation, as long as you have enough basics in your library.
Lumbering Falls - Manlands are not really worth it in commander unless you're have a lot of equipment, combat damage triggers or creature sacrifice.
Reliquary Tower - This is not a definite cut, but you don't want too many colorless lands in a three-color deck. Reliquary Tower is only necessary if you have lots of card draw and very little graveyard interaction, but since you have plenty of graveyard recursion, you should be fine without it.
Tectonic Edge

- It's a good card, but I prefer using Ghost Quarter because you don't need to have any mana ready to be able to use it. Wasteland and Strip Mine

are both strictly better, but expensive.
Temple of the False God - Not that great in three-color decks.
Jace, Memory Adept - Milling opponents with this guy is stupid, milling yourself is kind of decent but at 5 mana it's bad.
Kiora, the Crashing Wave - If you want it for the -1 (which is pretty good), just run Explore instead. Using it for the ultimate is stupid since your opponents have 3 turns to handle it and you're not getting any value from the +1.
Tamiyo, the Moon Sage - The -2 is not the worst, but at 5 mana and when you're blue it's not really worth it. Same as with Kiora, the Crashing Wave, you will never reach the ultimate against competent players and the +1 doesn't really give you any value. This one's worth some money, so sell it and buy better cards.
Archfiend of Depravity - The effect is not terrible but in practice it's less impactful than it seems. You can usually play around the ability or remove the creature if it's a huge problem.
Beastcaller Savant/Deathcap Cultivator/Elves of Deep Shadow - This deck has no reason running mana dorks other than Birds of Paradise and Deathrite Shaman, at most. Elves of Deep Shadow is not awful since it's 1 mana and colorfixes, but still not worth it.
Dimir Doppelganger - The main advantage to clones is that you can abuse strong ETBs, which this clone can't. Decent if you're two colors, not really if you're three.
Edric, Spymaster of Trest - This guy will more often enable your opponents than it will help you. Terrible card unless you're spamming tokens.
Forgotten Creation - Dumping cards into the graveyard is not bad, but CMC4, only in upkeep and discarding before drawing is awful.
Kruphix, God of Horizons - You need a lot of big mana dumps or a draw/go playstyle to justify using Kruphix, God of Horizons. Your commander is a mana dump but your limiting factor is going to be colored mana.
Solemn Simulacrum - Not awful, but there are better alternatives for ramp when you're in green. Could be worth keeping if you run a lot of clones for slightly better value compared to something like Wood Elves or Cultivate.
Torrent Elemental - Can blow out an opponent when you have a big board, but is very telegraphed and isn't very impactful on its own. Use Pathbreaker Ibex if you want better blowouts. The exile ability isn't great even if you delve him away, since you're still casting a mediocre creature for 5 mana.
Yahenni, Undying Partisan - Good when your deck is based around sacrifice and reanimation, but very out of place here.
Bounty of the Luxa - Slow ramp or slow card draw, but you can't choose which one you need right now. Better to use proper ramp and proper draw spells instead.
Deadbridge Chant - You can keep this if you like it because it's pretty fun. However, the random aspect and lack of impact until your upkeep is a bit too unreliable for 6 mana.
Cancel - There are plenty of strictly better counterspells such as Disallow and Void Shatter.
Domineering Will - Just a shitty Reins of Power. You can use Reins of Power if you want, but it has a tendency to cause some very unsatisfactory game ending plays.
Perplex - Cards that give the opponent the final choice are generally bad, and this one isn't even good for its mana cost.
Spell Pierce - Good in faster combo-heavy metas, but not quite reliable enough in slower metas.
Unravel the Aether - This card is actually very good since it ignore indestructible, but it's worth considering if you'd rather have Nature's Claim for the mana cost or Krosan Grip for the utility, since I don't think you have room for all three in the deck.
In Garruk's Wake - Good card when you have the mana to use it, but 9 mana is a lot.
Increasing Ambition - I generally recommend against using tutors since games become very samey with them, but even then there are a lot of better tutors out there than this one.
Praetor's Grasp - Not as fun as Gonti, Lord of Luxury since looking at top 4 is more exciting than picking the best card for the situation, not as flexible either since you need the correct colors to cast things.
Serum Visions - Strictly worse than Ponder/Preordain, but it's not awful if you already run both of those.
Tempt with Discovery - Works against bad players, but against competent players you'll just have your Urborg, Tomb of Yawgmoth get removed by a Ghost Quarter. Use Hour of Promise instead.
Dimir Signet/Golgari Signet/Simic Signet - Signets are good since they're cheap, can be used immediately and colorfix you, but in a slower meta they're prone to get board wiped away compared to land ramp, so they're not that great when you're green.
Gilded Lotus

- People generally don't use spot removal on mana rocks, but the big and efficent ones like Gilded Lotus

and Thran Dynamo sometimes do. You can use the mana immediately, but otherwise it's not much better than an Explosive Vegetation.
1 month ago
Hello,
I have an Inalla deck myself that exploits creatures that tap for effects. A very different build than yours, but strong and fun nonetheless. Take a look if you'd like an unconventional take on this commander.
With that said, I see a couple of issues with how your deck is built and what your overall gameplan is. I do not know your budget so some suggestions may not be things you'd buy, but they would certainly greatly improve the deck's functionality, and, I promise to keep these to a minimum as well as avoid any Black Lotus kind of stupidity.
First and foremost, although your land count is perfect your mana base is slow. And I mean SUPER slow! Almost 40% of your lands enter the battlefield tapped and this is the last thing a control deck wants. You aim to be reactive and keeping as many resources up at all times is very important. Try to replace most of those taplands with others that enter untapped. A relatively budget-friendly option is the pain lands (i.e. Underground River, Sulfurous Springs, and Shivan Reef). Add more basics to enable more of your check-lands to come untapped. Choked Estuary and Foreboding Ruins both are good, relatively cheap alternatives, so are Tainted Isle, Tainted Peak, Smoldering Marsh, and Sunken Hollow. Unclaimed Territory and Ancient Ziggurat are good considerations, while Riptide Laboratory can give a lot of extra utility. Focus on lands that produce blue mana, as that is the central color of your deck.
After lands, comes ramping into more resources. Again focusing on Blue the most can be important. You have some decent pieces here but I would consider a few more. Thaumatic Compass Flip and Journeyer's Kite are underplayed cards that can streamline a deck's mana by allowing consistent land drops. If you can, investing in a Chromatic Lantern will solve a lot of problems a lot of the time.
What a control deck wants to be is reactive. As such these suggestions are very strong for this kind of decks and if you can I would invest in getting them first: Vedalken Orrery and Leyline of Anticipation are some of the strongest cards in M:TG. These suggestions will help streamline the deck.
The last thing I've noticed is that your deck lacks focus and a clear path to victory. Look for more cheap wizards that have disruptive etb abilities like AEther Adept and Sedraxis Alchemist, or, card filtering ones like Omenspeaker and Augur of Bolas. Pit Keeper is another nice addition to any wizard deck.
As for cuts, I would go for Control Magic, Clone Legion, Magus of the Abyss, Vela the Night-Clad, and Yahenni, Undying Partisan as they don't particullarly advance the decks goal in any significant manner.
I hope you find this (incredibly long post) useful.
Cheers!
1 month ago
You should run some lands which produce blue mana. It's always best to have multiple ways to cast your finisher. If you are concerned about the budget, Choked Estuary, Drowned Catacomb, and Underground River are all fairly inexpensive.
Thrumming Stone is a powerful card to top off your curve. You are probably not running enough copies of Rat Colony to make it effective, but you could safely run fewer graveyard recursion spells, and more copies of Rat Colony.
4 months ago
Nin, the Pain Artist is a fave creature of mine because you get to dump extra mana into it! Ancient Excavation is useful for yourself if you need some card advantage, too.
If you can spring for it, replacing tri slow lands for the lands that etb and you pay 2 life like Sacred Foundry will work better for your check lands like Dragonskull Summit and really great for Choked Estuary. Cycle lands are just okay. Try to get the ones that cycle for 1 colored mana.
Load more