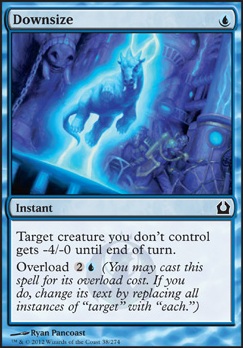 Downsize
Instant
Target creature you don't control gets -4/-0 until end of turn. Overload 2U
Browse Alters
View at Gatherer
Trade
Legality
| | |
| --- | --- |
| Format | Legality |
| Pioneer | Legal |
| Modern | Legal |
| Duel Commander | Legal |
| Canadian Highlander | Legal |
| Oathbreaker | Legal |
| Block Constructed | Legal |
| Tiny Leaders | Legal |
| Commander / EDH | Legal |
| Magic Duels | Legal |
| Pauper EDH | Legal |
| Unformat | Legal |
| 2019-10-04 | Legal |
| Penny Dreadful | Legal |
| Pauper | Legal |
| 1v1 Commander | Legal |
| Leviathan | Legal |
| Legacy | Legal |
| Casual | Legal |
| Vintage | Legal |
| Highlander | Legal |
Rules Q&A
Downsize Discussion
6 months ago
Hey multimedia

Thanks for your opinion & honest Work on this Deck

Lands & Manabase

I think the Manabase should be not the Problem here
I dont play any of these expensive Lands in any of my Commander Decks and i didn't see any disadvantage in my Playgroups
The Lands i use here are all in stock and so i don't have to buy them
So if i will get my Hands on a better Land, i can exchange them with one in any of my Decks.

Anyway i see the Advantage on your choice of Lands and i will put them on the Upgrade List for this Deck with one exception

Mystic Sanctuary
This one is on his way into the Deck
I will cut
Cavern of Souls
because this is a relic of thinking about a Ninja Tribal CMDR
Never mind
Cavern of Souls
will be on the Upgrade list too but i have other Decks where i have to put this 60 Bucks in first ;-)
Baleful Strix + Arcane Adaptation + Wingcrafter
I didn't think about any other Creature's because i wanted to make it a Tribal Ninja CMDR
The only one i had in mind was
Changeling Outcast
But these three are a must have for this Deck
So for
Arcane Adaptation
,
Baleful Strix
&
Wingcrafter
i will cut
Price of Knowledge
,
Downsize
&
Drowned Secrets
Delve
I dont consider anymore :-)
Temporal Trespass
,
Dig Through Time
&
Treasure Cruise
are in of course
Now i have to learn to fuck up my grave but i think i can handle this :-D
So
Folio of Fancies
,
Spellbook
are out and now i'm in struggle
I think that
The Magic Mirror
+
Venser's Journal
is a
"too nice"
Combo to Cut and on the other hand they have high CMC
Cutting
Spellbook
was also hard because
Yuriko, the Tiger's Shadow
and all the others Ninja's "hopfully" gives you so much Cards
So i don't want to cut more
"No Maximum Handsize"
Cards because i think they're essential
The last card to cut you're offering is
Erratic Portal
so this one is Out
But this one was in for Protecting some of the
"Nasty Ninja's"
against hitting the grave from Battletricks
Hopefully the
Entomb
+
Filth
or
Entomb
+
Wonder
combo and / or
Crystal Shard
,
Walker of Secret Ways
will do their job

So Vampiric Tutor is a well known Card but i think I've got enough Top Deck Manipulation and the "Cards to cut" are Rare. Same is true for Insidious Dreams wich i didn't know before
I had Lim-Dul's Vault on mind when i builded this Deck and maybe this is a game changing "Top Deck Manipulation" because of the mass of Cards u can look at

So i will clear the Maybeboard and all three are in there and i f i find a card to cut Lim-Dul's Vault will be the one who gets in 1st

Chain of Vapor


So here i need a quick 101 on this Card

"At this Moment i'm too stupid to understand how this card work and why it is so good in a Yuriko Deck" So i'm not too stupid to understand how this card works @all-> i'm too stupid why this one should be good and don't any have clue on this combo
So please give me the "Breakthrough"

Shitty English & Bad Grammar

Sorry for my very Basic English Grammar and this shitty English
I think in my Mothers Language much of this Desaster would sound very differnt :-D
And here are some dots and commas if u need them -> ........,,,,,,,, :-D

THX Bro
Update of the Deck will be done soon
3 years ago
I think One with Nature, Whirler Rogue, Awakening Zone, Behold the Beyond, Shamanic Revelation, Bow of Nylea and Bident of Thassa would all fit your deck very well.
Sundering Vitae is similar to Naturalize, but looks a lot better in the context of your deck.
I am not sure if Downsize, Reclaim, Primal Growth and the 1/1 fliers with no other abilities are quite good enough. Also, in your low curve 2 color deck, Chromatic Lantern seems unnecessary, Simic Signet is probably better if you need the ramp at all. Dissipate is expensive at 3 mana, i would play Unified Will or Arcane Denial instead.
You might want a couple of ways to answer an opponent's creature in case it becomes too threatening. Consider Pongify, Rapid Hybridization, Reality Shift, Lignify, Control Magic or Ulvenwald Tracker.
3 years ago
2 to 2.0
Out: Blustersquall, Downsize, Gigadrowse, Goblin Test Pilot, Petrahydrox, Shattering Spree, Vandalblast, Mizzium Transreliquat, Dynacharge, Siege of Towers, Pursuit of Flight, Hypervolt Grasp.
In: AEtherize, Flow of Ideas, Pyroconvergence, Jace, Architect of Thought, Ral Zarek, AEtherling, Diluvian Primordial, Hunted Dragon, Hunted Phantasm, Molten Primordial, Spawnbroker, Tidespout Tyrant.
3 years ago
Sweet deck! I didn't realize how interesting Yasova was to me until I started thinking of ways to use her ability better.
I see you have Willbreaker, letting you keep the creatures you temporarily steal. Some other options for keeping these creatures past the end of the turn could be Conjurer's Closet, Deadeye Navigator, Synod Sanctum, Cold Storage, Nephalia Smuggler, and Ghostly Flicker, which all return creatures back under your control without you having to return them to their owners.
You could also use Hellkite Charger, Breath of Fury, or World at War to trigger Yasova's ability multiple times per turn.
With Glaring Spotlight, you can steal your opponents' creatures that have hexproof. To steal your opponents' noncreature artifacts, try turning them into creatures with options like Toymaker and Titania's Song, and to steal your opponents' noncreature lands, try turning them into creatures with Lifespark Spellbomb or Quirion Druid.
Land suggestions include Command Tower, Frontier Bivouac, Rootbound Crag, Opal Palace, Lumbering Falls, Temple of Abandon, Temple of Mystery, Vivid Crag, Vivid Creek, and Vivid Grove.
If you don't want to give the creatures back after you've stolen them, you can use sacrifice effect cards to get rid of them for profit. Some powerful sacrifice engines include Ashnod's Altar, Culling Dais, Barrin, Master Wizard, Bloodshot Cyclops, Jalira, Master Polymorphist, Profaner of the Dead, Scourge of Skola Vale, Evolutionary Leap, Goblin Bombardment, Perilous Forays, Shivan Harvest, Momentous Fall, High Market, Life's Legacy, and Primal Growth.
To make your opponents' creatures easier to steal, you can use power-reduction cards such as Cumber Stone, Schismotivate, Downsize, Dampening Pulse, or Agoraphobia.
You can also make opponents' creatures easier to steal by increasing Yasova's power, with any of these or other boosting cards: Kessig Wolf Run, Ceta Disciple, Llanowar Augur, Moonveil Dragon, Ursapine, Wolfir Silverheart, Bonesplitter, Hero's Blade, O-Naginata, Ring of Kalonia, Sai of the Shinobi, Shuko, Sigil of Distinction, Silver-Inlaid Dagger, Sword of the Chosen, Boar Umbra, Briar Shield, Elephant Guide, Exoskeletal Armor, Forced Adaptation, Giant Spectacle, Goblin War Paint, Inferno Fist, Madcap Skills, Moldervine Cloak, Mythic Proportions, Quest for the Gemblades, Rancor, Seal of Strength, Shape of the Wiitigo, Spectral Flight, Spider Umbra, Taste for Mayhem, Volcanic Strength, Wurmweaver Coil, Blossoming Defense, Brute Force, Giant Growth, Groundswell, Invigorate, Might of Oaks, Mutagenic Growth, Prey's Vengeance, Strength of the Tajuru, Wax/Wane, Blessings of Nature, Elven Rite, Give / Take, Increasing Savagery, Phytoburst, Reckless Charge, and Soul's Might
4 years ago
I don't think Lone Revenant or Neurok Commando is a good fit because it is hard for them to get in without you locking down or wiping out your opponent's entire board. In the case of Lone Revenant it doesn't even matter if it hits your opponent since you can't have any other creatures for it's ability to activate. I would suggest focusing on making your creatures get through more and get more card advantage.
Suggestions
Hope this helps.