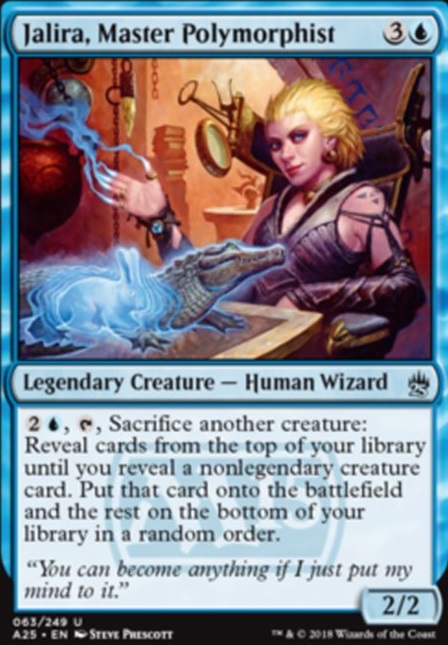 Legality
| | |
| --- | --- |
| Format | Legality |
| Tiny Leaders | Legal |
| 1v1 Commander | Legal |
| Magic Duels | Legal |
| Canadian Highlander | Legal |
| Vintage | Legal |
| Modern | Legal |
| Penny Dreadful | Legal |
| Leviathan | Legal |
| Legacy | Legal |
| Frontier | Legal |
| Duel Commander | Legal |
| Unformat | Legal |
| Casual | Legal |
| Commander / EDH | Legal |
Jalira, Master Polymorphist
Legendary Creature — Human Wizard
, , Sacrifice another creature: Reveal cards from the top of your library until you reveal a nonlegendary creature card. Put that card onto the battlefield and the rest on the bottom of your library in a random order.
Latest as Commander
Jalira, Master Polymorphist Discussion
1 month ago
I'll preface this post by saying I love commander. I love the complexity and interactions of the decks, I love the long social and political games, I love it all. That being said, my problem comes from obsessive deck-dreaming, and I'm wondering what everyone's opinion on the matter is.
What I mean by obsessive deck-dreaming is I never feel satisfied with the decks I have. Currently I have 11 commander decks, 4 of which are somewhat modified precons, 1 of which is playgroup jank meme, and the other 6 are of my design.
Edited Precons
Ezuri, Renegade Leader
Ob Nixilis of the Black Oath
Estrid, the Masked
Breya, Etherium Shaper
Personal Design

Ulamog, the Ceaseless Hunger (this is the meme one)
Daxos of Meletis
Ezuri, Claw of Progress
Melek, Izzet Paragon
Krenko, Mob Boss
Jalira, Master Polymorphist
Zndrsplt, Eye of Wisdom + Okaun, Eye of Chaos

The decks I have are, from at least what I can tell, not terrible decks. They all have their interactions, complexities, and enjoyment factors to them. Yet, everytime I'm bored I end up on EDHREC or TappedOut, looking at commanders and thinking "Man, wouldnt they be fun to play?". I have a mental list of at least 6 different commanders I would like to attempt to build, and a couple I've already designed that I havent the will or wallet to purchase yet. (Neheb, the Worthy I'll buy you one day, pal!)
Not to mention I'm still a lowly high-school peasant, with a near-minimum wage job and college fees to start paying. This means the money I have to spend on MtG is severely limited.
Another issue is I always feel like my decks are lesser than everyone around me. I don't know for certain if this is grounded in fact or if it's just a mindset of anxiety, but that also leaves me split between deciding if I want to upgrade my decks or just try to build brand new ones that may be better, in an effort to impress others and, ya know, claim a few wins.
So therein lies my question. Do I work on these sudden whims of commander brainstorming and continue to create and acquire new decks, or should I try and focus on what I have and improving those so they can be the best they possibly can? Do you prefer to have one or two decks that are your poster children, your heart and soul and major investment, or do you like to spread your money out and invest in a myriad of ideas? I'd love to know your thoughts!
2 months ago
---

---
is a sub $50 budget primer I just posted, first in a series. Tons of fun and utilizes
Jalira, Master Polymorphist
to turn your 1/1s into massive hitters.
I don't have much experience with the commanders you're considering so I won't comment on them.
2 months ago
I have to mention it because it is one of the best ways to play Magic - Bulk Rare Draft. You get 45 janky rares and anybody else you convince to do it does the same. Separate them in 3 random packs of 15 cards and draft the cards. You make a 40 card deck with what you drafted and play games with each other.
After the games, you keep what you drafted and can repeat it next time, except your pool of cards is now what you drafted the previous time.
It is a ton of fun. Last time we played this, I got to cast a Dubious Challenge revealing a Boldwyr Heavyweights and Jalira, Master Polymorphist. I got to find a Windreader Sphinx off the giants and could pawn off my Keeper of Keys for a better card.
3 months ago
I had an idea which I wanted to share for a while. Let's face it; Pauper EDH isn't very popular. If anything, people avoid it due to the overwhelming amount of non-legendary Commons they can pick from to be their General. While it could be argued it breaches the spirit of Pauper, I think Uncommon Legendaries (Of the myriad of options we have, largely thanks to Dominaria and Masters sets) should be legal as Commanders for Pauper EDH. There's so much untapped potential in these creatures! Adeliz, the Cinder Wind could be incredibly good in Wizzet Tribal, Baird, Steward of Argive gives you what's essentially a white Propaganda, Bladewing the Risen could make Dragons interesting in Pauper again, Zada, Hedron Grinder is so much bigger than Valuetown she's practically the Value Capital of Value Country, Danitha Capashen, Paragon shows potential for mono-white Voltron, Grunn, the Lonely King has just as much if not more, Hallar, the Firefletcher could have interesting Synergy with Kicked spells, Ihsan's Shade which is an Uncommon thanks to Masters 25 might have potential, Iwamori of the Open Fist could do Legendary tribal better than Arvad the Cursed despite the Color identity, Jalira, Master Polymorphist could make for a great mono-blue Cascade deck, Kongming, "Sleeping Dragon" miiiight do something interesting, and Kwende, Pride of Femeref is another solid addition to the overwhelming amount of White commanders and acts like a slightly Nerfed Odric, Lunarch Marshal. And these are just the ones I thought were worth mentioning. I really want this idea to catch on, because Pauper EDH is struggling, and it saddens me.
Edit: I've been told that you can use any uncommon in Pauper Dragon Highlander. My input isn't nearly as useful anymore, but I would like to say that a lot of these have great potential for Pauper EDH nonetheless.
3 months ago
Hi. Looks like I posted after you on Commander Deck Help. The thought police will get me if I don't post card recommendations on your deck.
...that would be your endgame. For the early and midgame:
So, your gameplan would be to play Aminatou on T3, play creatures that kill things/draw cards when they enter, blink them with Aminatou repeatedly to kill opponent's things, draw into counterspells, and generally destroy their will to live. Once you have a comfortable lock, +1 Aminatou and put an eldrazi titan on top, polymorph a draw creature into it.
4 months ago
I actually did address it, you only have 9 spells (only 6 of which will always counter) in your 99 that will actually trigger the draw effect from Baral. Not worth. So I think without increasing your number of counters it's not really worth it.
If you want to play a mono blue deck Azami, Lady of Scrolls wizards, Memnarch artifacts, Baral, Chief of Compliance/Talrand, Sky Summoner spells, Jalira, Master Polymorphist good stuff creatures, Mono Blue Merfolk, or Jace, Vryn's Prodigy

Flip Jace Tribal/Good stuff are all phenomenally fun decks that I think might be a bit more cohesive and you can play Kira in most of them. Just something to think about.
Load more