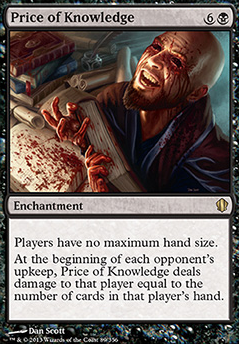 Price of Knowledge
Enchantment
Players have no maximum hand size.
At the beginning of each opponent's upkeep, Price of Knowledge deals damage to that player equal to the number of cards in that player's hand.
Browse Alters
View at Gatherer
Legality
| | |
| --- | --- |
| Format | Legality |
| Tiny Leaders | Legal |
| 1v1 Commander | Legal |
| Magic Duels | Legal |
| Canadian Highlander | Legal |
| Vintage | Legal |
| Leviathan | Legal |
| Legacy | Legal |
| Duel Commander | Legal |
| Oathbreaker | Legal |
| Casual | Legal |
| Commander / EDH | Legal |
Price of Knowledge occurrence in decks from the last year
Commander / EDH:
All decks: 0.01%
Price of Knowledge Discussion
5 days ago
Hey multimedia

Thanks for your opinion & honest Work on this Deck

Lands & Manabase

I think the Manabase should be not the Problem here
I dont play any of these expensive Lands in any of my Commander Decks and i didn't see any disadvantage in my Playgroups
The Lands i use here are all in stock and so i don't have to buy them
So if i will get my Hands on a better Land, i can exchange them with one in any of my Decks.

Anyway i see the Advantage on your choice of Lands and i will put them on the Upgrade List for this Deck with one exception

Mystic Sanctuary
This one is on his way into the Deck
I will cut
Cavern of Souls
because this is a relic of thinking about a Ninja Tribal CMDR
Never mind
Cavern of Souls
will be on the Upgrade list too but i have other Decks where i have to put this 60 Bucks in first ;-)
Baleful Strix + Arcane Adaptation + Wingcrafter
I didn't think about any other Creature's because i wanted to make it a Tribal Ninja CMDR
The only one i had in mind was
Changeling Outcast
But these three are a must have for this Deck
So for
Arcane Adaptation
,
Baleful Strix
&
Wingcrafter
i will cut
Price of Knowledge
,
Downsize
&
Drowned Secrets
Delve
I dont consider anymore :-)
Temporal Trespass
,
Dig Through Time
&
Treasure Cruise
are in of course
Now i have to learn to fuck up my grave but i think i can handle this :-D
So
Folio of Fancies
,
Spellbook
are out and now i'm in struggle
I think that
The Magic Mirror
+
Venser's Journal
is a
"too nice"
Combo to Cut and on the other hand they have high CMC
Cutting
Spellbook
was also hard because
Yuriko, the Tiger's Shadow
and all the others Ninja's "hopfully" gives you so much Cards
So i don't want to cut more
"No Maximum Handsize"
Cards because i think they're essential
The last card to cut you're offering is
Erratic Portal
so this one is Out
But this one was in for Protecting some of the
"Nasty Ninja's"
against hitting the grave from Battletricks
Hopefully the
Entomb
+
Filth
or
Entomb
+
Wonder
combo and / or
Crystal Shard
,
Walker of Secret Ways
will do their job

So Vampiric Tutor is a well known Card but i think I've got enough Top Deck Manipulation and the "Cards to cut" are Rare. Same is true for Insidious Dreams wich i didn't know before
I had Lim-Dul's Vault on mind when i builded this Deck and maybe this is a game changing "Top Deck Manipulation" because of the mass of Cards u can look at

So i will clear the Maybeboard and all three are in there and i f i find a card to cut Lim-Dul's Vault will be the one who gets in 1st

Chain of Vapor


So here i need a quick 101 on this Card

"At this Moment i'm too stupid to understand how this card work and why it is so good in a Yuriko Deck" So i'm not too stupid to understand how this card works @all-> i'm too stupid why this one should be good and don't any have clue on this combo
So please give me the "Breakthrough"

Shitty English & Bad Grammar

Sorry for my very Basic English Grammar and this shitty English
I think in my Mothers Language much of this Desaster would sound very differnt :-D
And here are some dots and commas if u need them -> ........,,,,,,,, :-D

THX Bro
Update of the Deck will be done soon
6 days ago
Nice!! Nekusar was my first serious commander and I really enjoyed playing him. I have taken apart the deck for pieces to add to my other decks. I'll offer some of my ideas. I used to run Teferi's Puzzle Box and Phyrexian Tyranny as my major damage dealers. I think you could add a few more budget pseudo-wheel effects and here some of the cards I used to run because I never pulled the trigger on buying the OG Wheel: Khorvath's Fury , Magus of the Wheel , Commit / Memory , Whispering Madness and Echo of Eons . Unless your meta plays a lot of graveyard decks I would get rid of Leyline of the Void and Nihil Spellbomb . There are a few other cards that have Nekusar's ability stapled to them so they might be worth adding: Fate Unraveler , Underworld Dreams and Spiteful Visions . Price of Knowledge is a pretty vicious card if the game goes late and you can get a lot of cards in your opponents' hands. I'm not so sure you need Mindcrank , Jace, Wielder of Mysteries or Psychic Corrosion either. Unless you are going for a mill strategy you might be able to pull most of the mill cards and put things that work more with Nekusar.
But you can do whatever you like. I know that my friends called my deck "salty" and I would get targeted early because of how aggro my deck was. Nekusar paints a target on your back because he hits everyone for one of the most essential parts of playing Magic and it's very hard to get around his damage. Good luck with the deck!!
3 months ago
My first thought was Magmatic Force and Havoc Festival to draw a card every turn. but neither work because your commander identifies as blue and black.
I did a gatherer search for black and blue cards that deal damage during each upkeep, and the results are interesting: Most of them dealt with hand size.
There are only 2 unconditional damage artifacts:
And there were two other outliers:
5 months ago
Immortalatom, thanks for the suggestions and compliment! Echo of Eons is definitely going to have to find a spot in the deck. While I like the ability of Sphinx's Tutelage I'm trying to aim the deck more towards damage from card draw, so the milling doesn't necessarily fit the theme. The same goes for Ashiok, Dream Render , since the ability only mills a few cards and exiles a graveyard. Price of Knowledge used to be in the deck, but the CMC is too high and it makes a huge target out of itself. Crawlspace is a good card, but I'm not sure if I can slot it into the deck without losing something more valuable. I try to use the few counterspells in the deck to make sure there isn't anything too threatening on the field.
Thanks again for the compliment and the suggestions! I'll be sure to check out your Nekusar, the Mindrazer deck!
1 year ago
I actually made a deck pretty similar to this one. Her it is if you want to check it out: Mogis the hate god
what I found out through play testing is that creatures more or less suck for group slug strategies. There are plenty of really good creatures that fit this deck such as Zo-Zu the Punisher however I've found that if you relly too much on your creatures for incremental damage they are too susceptible to removal and board wipes.
In your case I believe you can safely get rid of any creature that produces mana. In most edh deck you only need about 10ish mana rocks and right now you have 11 as regular artifacts so I think your ramp will be fine.
Besides ramping creatures I believe that cutting these cards would also be advantageous:
With all those cards cut I'd then start putting in more group slug type enchantments. The reason I like these enchantments more is because unlike creatures, most board wipes dont hit them and most people dont have a ton of enchantment removal. There are tons of these group slug type cards so I'm not going to say which ones would be best for your deck because most of them would work. But I like these ones:
I would also just reconsider these cards, I haven't personally played them so I can't be certain of how strong they are, but they dont seem to quite fit the deck.
And of course I would strongly recommend running some dual lands to help smooth out your mana consistency. Here are some of the really budget ones:
You have a strong core here once again but I just feel that some of your card slots could be better spent. Hope all this helps
1 year ago
Sort your stuff using "#" + "
Load more