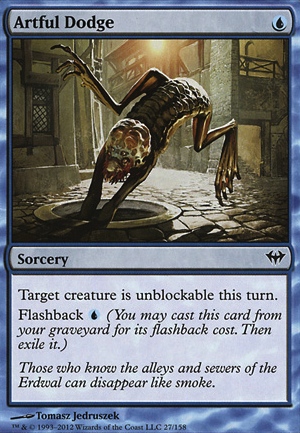 Artful Dodge
Sorcery
Target creature is unblockable this turn.
Flashback U (You may cast this card from your graveyard for its flashback cost. Then exile it.)
Artful Dodge Discussion
1 day ago
So I was working on an edh deck and I came across some other cards that might be useful to you.
Artful Dodge : Given the low mana cost and flashback, it might be better than Taigam's Strike. I'd run 2 if you could.
Increasing Savagery : I'm not a big fan of Give / Take. Again, given the flashback this might be a bit better.
As far as some other suggested changes:
Bident of Thassa -> Teferi's Puzzle Box : Will draw you more cards in the end, and outside of AEtherspouts and Polymorphist's Jest the bident doesn't really do much for you.
Polymorphist's Jest -> Propaganda : This saves you from weenie swarm tactics. Not to mention that as soon as it drops, your opponent's have the option of attacking with 1-2 creatures or casting spells that turn. Granted, not as good if your playgroup runs a lot of utility creatures.
Profaner of the Dead -> Psychosis Crawler : The only downside of this is that the crawler combined with the puzzle box will kill a lot faster than the squids. :( The Crawler will not die when Puzzle Box puts your current hand on the bottom of your library, before you draw. In the middle of an ability there is no time for state based effects to check the P/T of the Crawler so it never realizes that it was technically a 0/0 for a brief instant. 99% confident about this.
And as a parting word, remember Psychic Possession only affects 1 opponent, not all opponents. Good luck brewing, and enjoy giving your playgroup some friendly misery. :)
| | |
| --- | --- |
| Color(s) | Blue |
| Cost | U |
| Converted cost | 1 |
| Avg. draft pick | 11.45 |
| Avg. cube pick | 13.35 |
Legality
| | |
| --- | --- |
| Format | Legality |
| Legacy | Legal |
| Vintage | Legal |
| Commander / EDH | Legal |
| Modern | Legal |
| Duel Commander | Legal |
| Pauper | Legal |