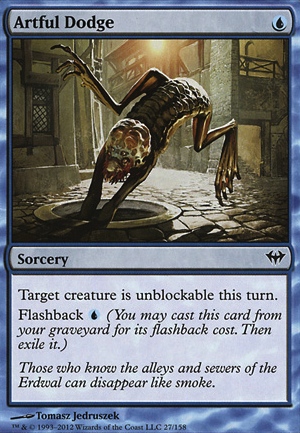 Artful Dodge
Sorcery
Target creature is unblockable this turn.
Flashback U (You may cast this card from your graveyard for its flashback cost. Then exile it.)
Have (14)

C

o

m

i

c

a

l

f

l

o

p

, Icarus79 ,

X

x

C

a

t

a

c

l

y

s

m

i

C

x

X

, Mr.Hobo ,

K

a

m

o

t

z

, volrathxp ,

J

I

V

_

I

V

, Nines19 , lucyfarrell , bloodrayne03 , tj_escape ,

P

T

s

m

i

t

t

y

, SmarmyDog , ZooGambler
Want (0)
Artful Dodge Discussion
1 day ago
Monastery Mentor is a bit steep price wise atm, he's definitely a perfect fit here but until the price drops I'll just have to go with what I have.
Artful Dodge is an interesting card, I find that sometimes evasion is a problem with Shu Yun so maybe a couple more effects like this would be welcomed.
4 days ago
I'd change Thornwood Falls for any dual land thta enters untapped, you can't afford to lose 1 turn using Infect, or just more basic lands i play almost the same deck, but i use Distortion Strike instead of Artful Dodge since you have the rebound efect where you use no mana to re-cast it, and Blight Mamba instead of Necropede same mana cost, same P/T but it has the extra regen, and i play Vines of Vastwood instead of Phytoburst where you have the extra Hexproof you need against MonoR Burn
5 days ago
hey, glad you enjoyed it. Not sure what im going to do now the Treasure Cruise got the ban hammer. Serum Visions certainly makes sense but i have also been tempted to take the deck in another direction completely.
As for my plan being obvious, i have no intention of being sneaky on game two. game one, i should win before they know whats going on, but game two i can side in all my counter magic and play a little slower.
So if i keep Artful Dodge, then Serum Visions and another can trip might be the way to go. But i can always drop blue (minus Gitaxian Probe because its not really blue) and go a little more burny or someone even suggested Tainted Strike.
| | |
| --- | --- |
| Color(s) | Blue |
| Cost | U |
| Converted cost | 1 |
| Avg. draft pick | 11.51 |
| Avg. cube pick | 13.35 |
Legality
| | |
| --- | --- |
| Format | Legality |
| Legacy | Legal |
| Vintage | Legal |
| Commander / EDH | Legal |
| Modern | Legal |
| Duel Commander | Legal |
| Pauper | Legal |