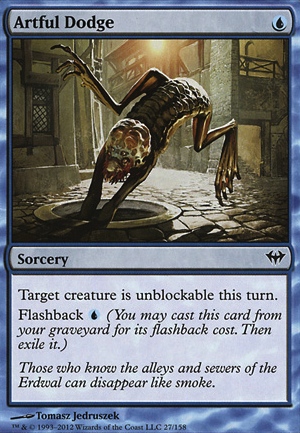 Artful Dodge
Sorcery
Target creature is unblockable this turn.
Flashback U (You may cast this card from your graveyard for its flashback cost. Then exile it.)
Artful Dodge Discussion
1 day ago
But, but. I run Apostle's Blessing and Vines of Vastwood damn. What about pumping on the stack to make Lightning Bolt dud. What about my Spell Pierce?! I thought I had an unbeatable deck... Well back to the drawing board throws infect deck in bin. Also what's Artful Dodge if not the worst of the unblockable spells. Distortion Strike and Aqueous Form are way better than Artful Dodge
But what happens to your bogles when a turn 2 Pyroclasm or any other spell that indirectly targets your hex proof? Are you done as well. Cause you'll be sitting on enchants with no creatures.
TL:DR - Every deck has its weakness.
2 days ago
Actually I was thinking of putting in Aqueous Form or Artful Dodge but I have been pretty successful with this. Ill try some on a sideboard soon and see how that works out. Thanks for the reccomendation!
1 week ago
Distortion Strike also hits twice because it has rebound.the only advantage Artful Dodge gives me is the fact when it gets countered I can just cast it again for the flashback cost.but I still prefer the Distortion Strike over the Artful Dodge but that's just preference :)
and actually this deck is based on the ninja bear delver deck from travis woo (the guy who made the living end deck).I only adjusted it to fit my personal budget and preferences.
1 week ago
I'd prefer Artful Dodge to Distortion Strike. You get to use it twice, which to me seems like card advantage, which is always good. You'll get the same damage buff (at least) as distortion strike, because it will be 2 hits instead of 1.
Also, Ninjitsu is one of my favorite mechanics. Nice original idea. +1
| | |
| --- | --- |
| Color(s) | Blue |
| Cost | U |
| Converted cost | 1 |
| Avg. draft pick | 11.43 |
| Avg. cube pick | 13.33 |
Legality
| | |
| --- | --- |
| Format | Legality |
| Legacy | Legal |
| Vintage | Legal |
| Commander / EDH | Legal |
| Modern | Legal |
| Duel Commander | Legal |
| Pauper | Legal |