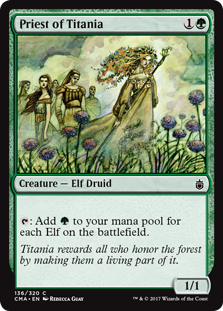 Legality
| | |
| --- | --- |
| Format | Legality |
| Tiny Leaders | Legal |
| Noble | Legal |
| Leviathan | Legal |
| Custom | Legal |
| Magic Duels | Legal |
| Canadian Highlander | Legal |
| Vintage | Legal |
| Penny Dreadful | Legal |
| Casual | Legal |
| Pauper EDH | Legal |
| Vanguard | Legal |
| Legacy | Legal |
| Archenemy | Legal |
| Planechase | Legal |
| 1v1 Commander | Legal |
| Duel Commander | Legal |
| Oathbreaker | Legal |
| Unformat | Legal |
| Pauper | Legal |
| Commander / EDH | Legal |
Related Questions
Priest of Titania
Creature — Elf Druid
: Add to your mana pool for each Elf in play.
Priest of Titania Discussion
2 days ago
All around, you have a pretty solid deck that's very resilient, but in your post, you wanted to regard it as a cEDH deck. Unfortunately, to qualify it as a cEDH deck perse, you'd have to go more along this route:
Nath of the STAX-Leaf | cEDH | Primer
.
Now, this isn't my attempt to be harsh, just to inform. I had a harsh reality when I, in my head thought that my Teysa deck was cEDH when I was horribly wrong and all I had was a modular/cluttered combo deck.
Your deck is in no way bad, I just believe some people have misconceptions over what cEDH is. What I can do for you without radically changing the deck is give you a better card suggestion for some slots and what that slot is trying to do.
Eyeblight's Ending -> Snuff Out : Free is always better. Also a prevalent motif in cEDH

Blightsoil Druid -> Heart Warden : Same cost this one can draw in a pinch

Phyrexian Arena -> Necropotence : See more of your deck
There's a bunch of other cards I think you should include, but I don't want you to have to revamp your whole deck, so here are my suggestions:
1 week ago
Is there a reason not to play Hall of the Bandit Lord ? Seems like another really good Crop Rotation target especially with things like Priest of Titania and makes a turn three yisan the same as a turn two summoning sick yisan. Rereading the card it could be the "comes in tapped" clause but is that a strong enough tempo loss that the card isnt worth it anymore?
1 month ago
I skimmed the primer, you might have already answered these questions. Sorry if that's the case. But what are the purposes of Lotleth Troll and Farseek ? It feels like those cards don't offer much. Also, I feel like zoning in more on the elf package could be interesting. Priest of Titania and Elvish Archdruid are good with outlets like Umbral Mantle and Staff of Domination .
And, welcome to the format! You can leave your soul by the door.
1 month ago
Hey, you're welcome. Fauna was just reprinted in Ultimate Masters, she's now a $5 card :)
I think Wave is worth playing because it's a damn powerful card, but I would cut most instants and sorceries for more permanents to make Wave better. This does make Young Pyromancer worse therefore I would cut him. Cards like Dragon Fodder and Krenko's Command are fine, but they're one shot spells that only give you two tokens. You can replace these with other creatures or permanents that give you repeatable tokens even if those cards are more mana. Nest Invader and Mogg War Marshal are other examples of permanents that could replace Fodder and Command.
Cultivate and Ranger's Path are fine cards, but I think they can be cut for creatures who land ramp because then you get two things, a land and a creature to devour. For instance Farhaven Elf can replace Cultivate. Solemn Simulacrum at $5 might be too expensive price, but he's an example that could replace Ranger's Path or Explosive Vegetation . Skyshroud Claim is a much better card than both Path and Vegetation. Another example is Garruk, Primal Hunter could replace Rishkar's Expertise because Garruk's -3 can be a repeatable first part of Expertise. Garruk however might also be out of your price range.
Gilded Lotus , Gruul Signet , Mind Stone can be cut for one drop mana dorks. Altar of the Brood and Hardened Scales can be cut for more dorks. Scales only interacts with three cards in your deck: Thromok, Mycoloth and Avenger. These are however two of the best cards here, but Scales doesn't do anything else for any other creatures for that reason I would cut it.
High CMC creatures who make tokens when they ETB can also be good cards, but only if you have easy ways to recur them or blink/bounce them. Of course there are exceptions such as Avenger. Cards that can be repeatable sources of tokens even if they cost more mana to play are more desirable. Pia and Kiran Nalaar is kind of lackluster here because not playing artifact strategies and the card only gives you two tokens. As a one time four mana play it's not good. Temur Sabertooth is a way to bounce a creature and play it again, it's excellent with the many green creatures who have strong ETB abilities such as Fierce Empath , Reclamation Sage , Eternal Witness , Wood Elves , etc.
Duskwatch Recruiter Flip and Fauna Shaman should make creatures the priority because these cards only interact with creatures and the interaction is very good since they're engines to get creatures. Priest of Titania is one of the best mana dorks in Commander, if you have her add her especially if adding other mana Elves.
---
Another strategy to experiment with Thromok is making your lands creatures since then they can be devoured. Living Lands , Life and Limb , Nissa, Vital Force , Sylvan Awakening . When devouring your lands you also wants ways to reanimate them: World Shaper , Ramunap Excavator , Splendid Reclamation .
Shaper has synergy with devour since he has to die to reanimate your lands. Living Lands curves into Thromok giving you devour fodder. The nice thing about Living Lands is your Forests are still lands, they can tap for mana, but they're also creatures who can be devoured.
Land reanimation is good with landfall and landfall is a part of the strategy of repeatable token creation. If you're choosing to add one drop mana dorks then Forests become more important than Mountains thus a higher number of Forests than Mountains.
Load more
Priest of Titania occurrence in decks from the last year
Commander / EDH:
All decks: 0.05%
Green: 0.77%
Golgari: 0.25%