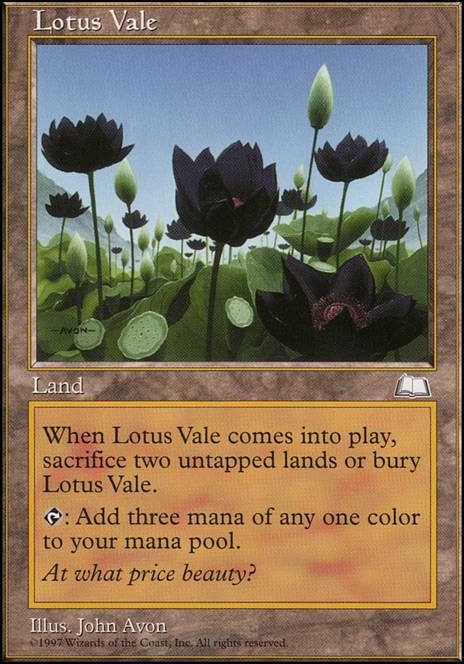 Legality
| | |
| --- | --- |
| Format | Legality |
| Pre-release | Legal |
| Noble | Legal |
| Leviathan | Legal |
| Magic Duels | Legal |
| Vintage | Legal |
| Vanguard | Legal |
| Legacy | Legal |
| Archenemy | Legal |
| Planechase | Legal |
| 1v1 Commander | Legal |
| Duel Commander | Legal |
| Unformat | Legal |
| Casual | Legal |
| Commander / EDH | Legal |
Related Questions
Lotus Vale
Land
If Lotus Vale would come into play, sacrifice two untapped lands instead. If you do, put Lotus Vale into play. If you don't, put it into its owner's graveyard.
Tap: Add three mana of any one color to your mana pool.
Lotus Vale Discussion
4 days ago
Here's the problem: since lands can be played every turn, especially lands from the Command Zone, as far as I can tell, I might have missed one, but your design must adhere to one of these criteria to be balanced:
So, how about these ideas:
Thoboes, the Mana Flow
Legendary Land Creature - Elemental
Thoboes, the Mana Flow is all colors.
: Add one mana of any color to your mana pool.
0/3
---
This is the offspring of a Transguild Courier, a Command Tower, being raised by a Wall of Wood. It's a more fair version of what you originally posted.
Thoboes, the Mana Flow
Legendary Land
Thoboes, the Mana Flow enters the battlefield tapped.
, Pay 1 Life: Add one mana of any color to your mana pool.
: Thoboes becomes an 8/8 Elemental until end of turn.
This is basically a Mana Confluence that animates as a Fusion Elemental.
Thoboes, the Mana Flow
Legendary Land
If Thoboes, the Mana Flows would enter the battlefield, sacrifice an untapped Plains, Island, Swamp, Mountain, and Forest instead. If you do, put Thoboes onto the battlefield. If you don't, put it into its owner's graveyard.
: You may cast a spell from your hand without paying its mana cost.
---
I'd like to point out that just because an effect is symmetric, doesn't mean that it can be undercosted. Giving everyone the ability to play every spell that costs more than 5, for exactly 5, effectively just makes it a slow motion game of Eureka. If it were a personal effect, we'd compare it to a bad Omniscience, and cost it that way.
That said, I figure this ability is about the power level of having a Fist of Suns on the battlefield along with a land of each basic land type.
But, this land isn't a creature, so I don't know how much you'd like it. Making it a creature would open it up to all sorts of removal, especially with such a high cost.
Anyway, that was 3 ideas for your consideration. Let's keep the brainstorming going, shall we?
1 week ago
Thanks for the extensive reply! I'm glad there was something there that matches your vision for the deck! I do would like to say a few more things about your mana base:
Your mana base makes a lot more sense knowing the people in your playgroup agreed not to run any land destruction.
You explain that cards like Lotus Vale provide a psychological effect in your opponents that leads them to underestimate your board state. I see how this will be a benefit without drawback in your playgroup and how that ties in with appearing weak when you are strong. However, for other meta's I wonder if that effect is worth running with the strip mine risk. Perhaps I would stick to just the Karoos in my playgroup.
I think you are overestimating the amount of support Land Tax type of effects need. It's only a potential issue if A) you go first (if you go second you can play Tithe eot, or play Gift of Estates before your land drop), B) if the other people in the game don't play green (only one player needs to ramp and you're fine) or C) everyone runs a very low land count (this is edh, there always will be a player who runs at least as many lands as you do). If you ever find yourself in that situation, which will be quite rare from my experience, a karoo land is often all you need.
More importantly, It just seems ironic to me that a deck that is all about subtlety and punishing people for being greedy, your deck has such a greedy mana base by playing no basics. If you would ever play in another playgroup I think it would fit the philosophy better to run at least some basics to guard yourself against being beaten at your own game. Even in casual groups these type of punish-nonbasic-land-effects are around. Take Wave of Vitriol for example. That's primarily a 7cmc artifact and enchantment board wipe that a lot of landfall decks play to get more triggers and dealing with OP nonbasics in a somewhat friendly way, while incidentally also punishing people who play greedy mana bases (but that's not the reason why that cards is played). So if you ever go to your LGS, consider adding a few basics ;).
Keep up the great work with this deck. I surely took inspiration from it!
GL & HF
1 week ago
Beebles, thanks for taking a serious look at the deck. I appreciate the feedback, since this is a work in progress, as evidenced by the huge comment thread and the various updates.
Sphere of Safety - Enchantments are one of the things that just seem to stick around more than other permanents. There are only 8, but I end up collecting them, and three of my most tutored for cards are enchantments, so they often come out. There once was a few more enchantments, and I am not sure of my threshold below which I would get rid of it, but you are right, I haven't really considered removing it. I was just recently thinking that I would put more Ghostly Prison type cards in if I could, and Sphere of Safety is just an overcosted and typically weak version of Ghostly Prison. Academy Rector would potentially fit the bill, in that I would be able to search for that Ghostly Prison, but Aurification may be counter to my strategy. Unlike No Mercy, Aurification leaves them with defense, and I dont want other players to have defense, if possible. I have considered Lightmine Field, but that is only worthwhile against swarm attacks. I will keep in mind that replacing Sphere of Safety with Academy Rector may actually work out nicely, and would lower my curve ever so slightly, and would even be another creature for my recently added Worship. I appreciate the suggestion.
Boros Fury-Shield - This was a card that I did consider early, and have not returned to it since, for no really great reason. I excluded it early for a few simple reasons. It is a fog that only affects the damage done by a single attacking or blocking creature. This seriously limits its ability as a fog. Every other fog I added could stop all damage aside from Deflecting Palm, and the ability to redirect any damage source makes it far superior. The ability to redirect damage is essentially shared by every other fog in my list aside from Dawn Charm, and the other modes of Dawn Charm make up for this. It sort of behaves like a highly conditional Backlash or Delirium, and maybe I should think of it that way. In that case, it actually could fill a role in the deck. Thank you for the reminder. I may consider trialling it as another conditional copy of Backlash or Delirium.
Lotus Vale and Scorched Ruins - These cards are there for much more than as a way to mitigate the damage from Price of Progress. They work somewhat subtly in the deck, and the real reason has to do with another synergy that you did not mention as well as a psychological reason. The risk has been mitigated in my meta by an overaggressive (others said abuse) of targeted land destruction by myself. After a fun bout with a Life from the Loam deck that abused Strip Mine and its various friends, when I tried playing Strip Mine in a few other decks, including this one, and there were enough complaints that we agreed that land destruction is not fun, and we basically all agreed to take it out of our decks. No one enjoys non-basic hate or color specific hate, either, so no one plays them. I understand that this is a very specific meta that I play in, but this mitigates the risk, and there is little risk in playing these lands at this point. The value of these cards has to do with keeping my land count low. This helps with Acidic Soil and Price of Progress, but also makes Tithe, Gift of Estates, and Weathered Wayfarer stay active. These three cards draw me a ton of cards, which I can pitch to Key to the City or Solitary Confinement. These three cards are a decent amount of my non-Monarch card draw. Solitary Confinement is my most tutored card, and extra cards in hand are really valuable. Trimming my lands with Lotus Vale and Scorched Ruins, as well as the Ravnica Karoos and Gemstone Mine all lead to lower land counts, and ensures these synergies with both my offense and my card draw, while leaving me with the same potential mana as everyone else at the table. This is where it gets subtle and tricky. When people look around the table for threats, number of permanents plays into threat assessment. Appearing to have fewer lands makes me appear as less of a threat. It is super easy to overlook the fact that I can often get 7+ mana from 4 lands. Scorched Ruins is actually Ramp, and is a little like a Sol Ring in disguise. When people actually count, they are not fooled, but it is surprising how often people just glance at your lands, unless they are looking for responses to their plays. Not playing Blue means I get less scrutiny than some, and this lowers my threat level. Altogether, the cards in the deck have many synergies as well as subtle psychological effects that the whole package together is much more powerful than the basics that could replace them.
As far as reactivity goes, I would break it down into two categories: Instants, and interactive permanents. While instants make up the bulk of the deck, interactive permanents are super interesting. I have 22 instants, 17 of which are tutorable with Sunforger. You dont need that many, even as a Sunforger package. As a toolbox, Sunforger packages are usually 10+ cards. Less than that is probably underpowering it. Aside from that, I have never had a goal in mind for reactivity. I thought about how I could lose, and set about trying to overcome those conditions, hopefully in a way that wins me the game. I also thought about what sorts of game states are common, and went about trying to punish those game states. Finally, I thought about how to create exciting game state swings in ways that would not make me a global target. Some of this lead to some Mardu goodstuff, but many of these cards are somewhat uncommon. What evolved from this thought process is the deck you see. It now has 22 instants, 18 of which are truly interactive and reactive, as well as a couple of interactive lands, a couple of interactive artifacts, a couple of interactive creatures, and an interesting interactive enchantment. In essence, I have no threshold, and would not consider the underlying philosophy of deck construction used for this deck to be particularly interested in thresholds.
I like the idea of Electropotence, and agree that the synergy with Lifelink and Deathtouch would be great, especially for Assassin and Snake tokens. I think that Warstorm Surge, Baneslayer Angel, and Exalted Angel are too mana intensive for my tastes. Thanks for the suggestion of Electropotence, I may trial it, and it may prompt me to add more Deathtouch creatures again. Ogre Slumlord with Electropotence is a wrath and token bomb all at once. Interesting.
Thank you for the suggestions, and the discussion. It always helps. You have given me a few cards to consider, or even just reconsider, as the case many be. These kinds of discussions have been what has lead to this decks long evolution to what it is now, and will continue to evolve it. Thanks.
2 weeks ago
Hello,
I'm still intrigued by the deck and have come back to it a few times this week to ponder on it. After doing so I have a few questions and thoughts:
Sphere of Safety seems quite weak/expensive if you run only 8 enchantments. I wonder if you ever considered switching that out. Aurification or Academy Rector come to mind as a viable alternatives.
Boros Fury-Shield seems to fit the brief. Did you exclude that one? If so, what made you not include it?
Could you explain the reasons why you are running Lotus Vale, Scorched Ruins and no basics in this deck? The only benefit apart from mana fixing I see is that it helps to mitigate damage from Acidic Soil (not so much Price of Progress as basics would also do that), but that seems like a small gain to me against the risk of losing 3-4 lands to a Strip Mine or perhaps even auto-conceding in the event of a Wave of Vitriol, From the Ashes, Ruination, Blood Moon or Back to Basics. It seems like an unnecessary built-in achilles heel of the deck. Could you share if there is more to that than I can see atm?
It seems like the reactive strategy you are going for requires a certain ratio of instants/flash cards to work well. Has this been factor in your tweaking and if so, what would be your advised minimum or sweet spot %?
If you like the broken blade, you might like Baneslayer Angel and/or Exalted Angel for the same reasons. But maybe their too high cmc for your taste.
Have you ever considered Electropotence or Warstorm Surge as a means to discourage people from steeling monarch? Else you can let your deathtouch token destroy another creature as it enters the battlefield. Probably not good enough to make the cut, but still a fun interaction with deathtouch I wanted to mention.
Cheers
2 weeks ago
I just included another Sac-outlet, description above (Spawning Pit).
Bonehoard won me 3 games. Although he doesn't look like much, he is incredible to a point I'd have never imagined. This was never a dead card and can function on its own.
Homura has me on the fence - as you ut it with something else. It is possible he will go for Memnarch or something else. I don't know yet, but I'd love a good buff on a stick here that will stick.
Eternal scourge is something I want to try. Never got to play with this in, but if it doesn't work this will be easy to cut. Even as a blocker, with Mimic Vat and exiling it I can play him again and just grab the next thing in the vat that dies.
Demonmail Hauberk is way better than Grafted Wargear simply how it is worded. I can sac other things to equip the same creature (Yasova) again and again. This isn't possible with the other one since it would die. It doubles as a buff, too. And +4/+2 pushing Yasova to 8 power is very noteworthy.
Berserk will stay. I had a Blood Frenzy in before and knew I wanted a Berserk at some point. It not only works on each creature but my Yasova only dies if it attacks. So it can give +4/+0 and won't kill the creature if it doesn't attack. Also, it is destruction and not sacrifice, which can be important sometimes. Eldritch Evolution is nice, but no match for Birthing Pod here.
Last of all I'm completely with you on the fun part. This isn't meant to be competitive, but fun in multiplayer games. It heavily depends on the board state and proved to be very adaptive to problems.
Next few things most likely to change are Dack's Duplicate that will likely be replaced by Altered Ego / Aura Thief and Hero's Blade that will definately make room for another equipment in the Maybeboard. Either Fabricate or Whir of Invention will see places in the deck at some point, too. Academy Ruins will be in there, too; but there have to be more 'any color' lands to fix stuff (they will likely replace Lotus Vale).
Suggestions? =)
1 month ago
I think you can safely cut your lands down to 37 or even 36 for your cmc. I would also recommend adding Lotus Vale and cutting Terminal Moraine for it. If you don't mind infinites, Titania + Food Chain + Command Beacon will net you infinite mana and tokens. For simplicity let's assume Titania, Command Beacon, and Food Chain are in play.
Activate Command Beacon second ability saccing itself
Titania triggers, getting a 5/3 token
In response to Command Beacon ability on the stack, exile Titania, getting 6 green Food Chain mana
Command Beacon ability resolves, returning Titania to hand
Use 5 Food Chain mana to cast Titania from hand, etb trigger targetting Command Beacon. At this point we are back to our initial position, while netting one Food Chain mana and one 5/3 token
Repeat for infinite Food Chain mana and tokens.
You can finish with Walking Ballista, or Akroma's Memorial if you have enough normal mana to cast it, or use a land sac outlet to finish with Rath's Edge or Sunscorched Desert recursion.
I don't play titania but has brewed a couple of land-matters deck...feel free to check my 4 color lands deck for more ideas!
Load more