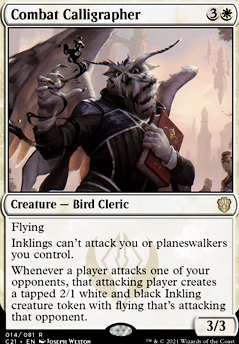 Tokens
Legality
Rules Q&A
9 months ago
Thank you for the suggestions CommanderNeyo, also cool user name. Kind of a shame we didn't see more of Commander Neyo in later seasons of Clone Wars.
You have some pretty interesting suggestions, mixed in with a couple of cards I have played before. I'll do my best to address my thoughts on each. Of your suggested cards, I do have Breena, the Demagogue & Mardu Ascendancy in my obnoxiously convoluted Maybe List. A long response for a long post:
9 months ago
I have a deck with a similar playstyle, but I went with Rograkh, Son of Rohgahh and Tymna the Weaver as the commanders.
I think you should seriously look at Mardu Ascendancy, since it has the potential to generate you a ton of tokens (on top of having some built-in protection).
Another card I would recommend taking out of the Maybeboard is Breena, the Demagogue. She has worked extremely well for me, and she will easily draw you four cards in one turn all the while buffing your creatures into large threats.
I also think that Fiery Emancipation is a great card, and worth a consideration. The triple-damage easily ends games on the spot, and is a huge swing not many people are prepared for.
How is Dismantling Wave working for you? I like that it hits all opponents, but seems a bit pricey for artifact/enchantment removal. I run Wear / Tear instead, but might give Wave more of a look.
Death Tyrant seems fairly mana-intensive for its effect, does your meta run a lot of token decks?
Surprised not to see Boros Charm here. I would definitely give it a look, it has personally saved me more than once!
For ramp, I see you don't have any of the traditional signets (Boros Signet, Rakdos Signet, Orzhov Signet). Do you feel as though you have enough ramp already? Also, how has Liquimetal Torque worked out for you? I have considered it in the past, but never knew how often its ability would be useful.
Because your creatures are low to the ground, have you considered Austere Command?
Have you considered some of the backgrounds, namely Guild Artisan and Veteran Soldier? Artisan will generate you four treasures, and Veteran will generate 6 tokens.
Have you also considered Combat Calligrapher? Every swing will generate you a good amount of tokens, and it lures your enemies into attacking each other.
My apologies for the long post, but I hope it is helpful!
1 year ago
id probably start with cutting Glorious Anthem, Duelist's Heritage, Strionic Resonator, Sunforger, Navigation Orb, Defiant Strike, Deflecting Palm, Night's Whisper, Rakshasa Debaser, Shakedown Heavy, Hoarding Ogre, Imperial Recruiter, Inferno Titan, Wingmate Roc,
Combat Calligrapher will get you killed ,
Tori D'Avenant, Fury Rider is fair if you go the exalted route, idk about tokens,
maybe Tuktuk Rubblefort, you could always useUrabrask the Hidden instead
Throw in a random Tainted Strike. It probably wont be too hard to kill hit for 9 with a single creature.
1 year ago
Removed Combat Calligrapher and replaced with Winota, Joiner of Forces.
The power of Winota is obvious, and when doubled is even better!
We didn't like Combat Calligrapher as much because the tokens it creates for our opponents, while not being able to attack us, can still block us. We prefer to give no advantage to opponents where possible.
1 year ago
In 2-color - Breena, the Demagogue is pretty ideal for this strategy.
Combat Calligrapher is pretty great for what you are asking Agitator Ant is good in
For 3-color gifting strategy Jund, Naya, & Mardu all have some strong points
Thantis, the Warweaver has access to solid finishers when you populate the board Vicious Shadows. Green has some really fun options: Grismold, the Dreadsower, Oath of Druids
Marisi, breaker of coils is pretty good with the large suite of Naya token gifting cards out there
Queen Marchesa isn't specifically built for it, but she works well with it. Mardu may be one of the best/strongest with a good combination of token gifters, strength enhancers, pillow, & aristocrats.
Load more