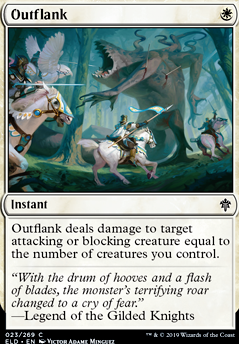 Legality
5 months ago
Well hello there! I had way too much time on my hands, so here's this. By the way, it's all ordered best to worst. (:
11 months ago
Hi there! This is a fun little white weenie deck. My first deck pauper deck was very similar to this. The Gempalm Avenger is actually a really good synergy with your deck and could prove to be a great surprise combat trick to take out your opponent's attackers/blockers. You could drop the Outflank to make room for four Journey to Nowhere, for a little efficient removal, because your opponent could easily take out one of your soldiers to save their creature from being killed. Straight up replace the Steeling Stance, with Guardians' Pledge, same cost but better effect. If you want some good early came tempo plays, try Icatian Javelineers. They might prove a little more efficient when dealing with small creatures than your Gideon's Lawkeeper, because I always say "Why tap it down, when I could just kill it?". This deck could use a little draw power too, so consider changing up the mana base just a tad with some Secluded Steppe. Weenie decks are really fun to play, and this could rack up some wins with just a little upgrading and tweaking.
11 months ago
Hope this wall of text doesn't bore you to death!
3 years ago
If you end up going the Token-generation route with Worthy Knight like I suggested, you might also look at Outflank and similar creature-count options or things that hit every creature like Unbreakable Formation & keep pumping them up.
3 years ago
I've been thinking for a while that a theme that's been within reach for a while is a "make the enemy attack me when it's suboptimal, and make them pay for it" theme. Blue slots into this quite nicely. For example, look at Goblin Diplomats , Angler Turtle , Bident of Thassa , Curse of the Nightly Hunt , or even Grand Melee , coupled with any of a number of white spells like Celestial Flare , Righteousness or Outflank . With this theme idea in mind, some kind of red/white spell that forces attacks but also makes it hurt could be neato.
---
Hold the Line
Instant
Untap all creatures. Each creature attacks this turn, if able. Creatures you control gain first strike until end of turn.
"Our influence stopped the rachni, but before that, we held the line. Our influence stopped the krogan, but before that, we held the line! Our influence will stop Saren! in the battle today, we will hold the line!" -Captain Kirrahe, Last Words
---
Make more // cards that encourage enemies to attack when it's bad for them.