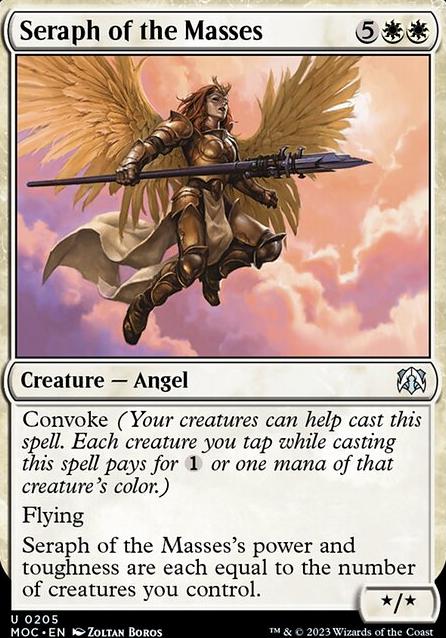 Legality
Seraph of the Masses
Creature — Angel
Convoke (Your creatures can help cast this spell. Each creature you tap while casting this spell pays for {1} or one mana of that creature's color.)
Flying
Seraph of the Masses's power and toughness are each equal to the number of creatures you control.
1 year ago
Well hello there! I had way too much time on my hands, so here's this. By the way, it's all ordered best to worst. (:
1 year ago
fszk I can definitely do that!
Step one is deciding on whether you want to make soldier tokens specifically or just any type of creature. It doesn't really matter, they're both good and fun to play, but I'll give you suggestions for both.
Anyway, uhh, I just said a lot of stuff. That's my definition of some pointers. You don't want to know what a lot of pointers looks like. Good luck and feel free to ask for more assistance. (:
5 years ago
Convoke was one of my favorite parts of M15. Seraph of the Masses was a fun card to build around.
Load more