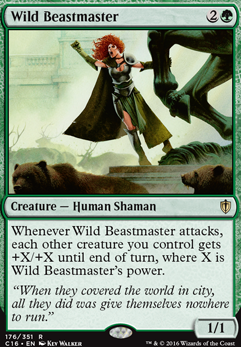 Legality
| | |
| --- | --- |
| Format | Legality |
| Vintage | Legal |
| Duel Commander | Legal |
| Commander / EDH | Legal |
| Legacy | Legal |
| Modern | Legal |
| Tiny Leaders | Legal |
Wild Beastmaster
Creature — Human Shaman
Whenever Wild Beastmaster attacks, each other creature you control gets +X/+X until end of turn, where X is Wild Beastmaster's power
Have (19)
bradyofportdetroit , redlegs_17 ,

S

p

l

a

s

h

y

,

p

s

k

i

n

n

0

1

, maR2307 , Lindough ,

W

o

l

f

n

i

n

j

a

,

L

o

n

e

C

r

u

s

a

d

e

r

3

9

9

,

s

a

j

0

2

1

9

,

S

h

i

s

h

k

y

B

o

b

, thetechzombie ,

C

a

m

p

b

e

l

l

S

t

e

v

, philktoken8998 ,

r

a

k

d

o

s

2

4

, golgarigirl , TheAlmostHero , ironax , Wolfebladeelite ,

o

r

z

h

o

v

_

i

s

_

r

e

l

a

t

i

v

e

l

y

_

o

k

a

y

8

1

9

Want (0)
Wild Beastmaster Discussion
4 weeks ago
So I have an Ezuri, Claw of Progress build, myself. You should check it out! I'm gonna give you some ideas, as I may have a few more experience counters than you xD
The suggestions I make are from my list, but I won't mention any cards outside of your budget. Let's get started!
This is alphabetical, not in order of relevance:
This is kinda alphabetical... but not really. _()_/
Whew! Well I gave you a lot to think about, there. feel free to ask questions about anything I've suggested; I'd be happy to give you examples from games I've played, etc. Good luck, and happy deck-teching!
1 month ago
9 to 2.0
Out: Skinbrand Goblin, Bloodscale Prowler, Burning-Tree Shaman, Gristleback, Ghor-Clan Bloodscale, Scab-Clan Charger, Scorchwalker, Gruul Scrapper, Ghor-Clan Savage, Streetbreaker Wurm, Disciple of the Old Ways, Forest.
In: Hellraiser Goblin, Indrik Stomphowler, Lobber Crew, Maze Rusher, Molten Primordial, Silhana Starfletcher, Sylvan Primordial, Wild Beastmaster, Wurmweaver Coil, Five-Alarm Fire, Breath of Fury, Aerial Predation.
3 months ago
Phantom Nantuko, Managorger Hydra, Cultivator of Blades, Wild Beastmaster, Khalni Garden, Asceticism, Rishkar's Expertise, Tempt with Discovery, Inspiring Call, Hooded Hydra, Kalonian Hydra, Eldritch Evolution, Spawnwrithe, Overwhelming Stampede, and Mwonvuli Beast Tracker are my suggestions.
3 months ago
@HaunterHunter - Let's talk.
Thanks for your thoughts!
3 months ago
@xmistfitxzviprx - Avatar of the Resolute is decent. However, he is only as good as the number of creatures i have with counters on them. Usually, that number is relatively low. I tend to focus on specific creatures rather than giving everyone counters. Wild Beastmaster would be good, though... gotta think of what to cut.
@JulesVernes - Borrow to your heart's content! I'm glad you enjoy the build. After having some time away from it, myself, I have noticed a few things that could be improved. Your suggestion to replace Phyrexian Swarmlord with Mycoloth is a sound one. While infecters are good, Swarmlord's token production is wholly dependent on me hitting the opponent with a poison counter. Mycoloth will produce tokens regardless. Good call!
@HaunterHunter - Nice list of suggestions! Lets go through them.- Phantom Nantuko is almost strictly better than Undergrowth Champion. It's also a card i'd not seen before. You've convinced me on this one.
Load more