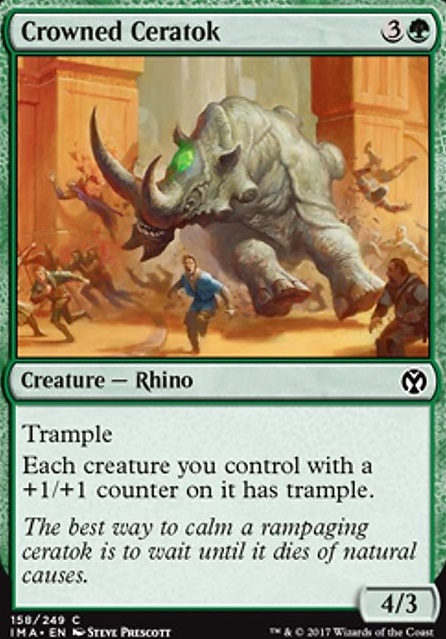 Crowned Ceratok
Creature — Rhino
Trample
Each creature you control with a +1/+1 counter on it has trample.
Latest Decks as Commander
Crowned Ceratok Discussion
8 months ago
+1 my dude! @your reddit post,
More lands imo. Also more big ramp... seems like Vorinclex is a big target for removal, so ramping up to 15+ mana a turn seems like the way to go.
I think the biggest problem is that you're splitting themes and trying to jam infect. A lot of seemingly powerful cards don't have synergy with the rest of the deck. Only ~12 cards directly create +1/+1 counters. So (eg.) Hardened Scales really does nothing.
...Cut incidental Infect:
-1Viridian Corrupter, -1Spinebiter
-1Phyrexian Swarmlord... I love this card but, even when you're all in on infect it isn't that good...
(I think the other infect cards with 5+ power as soft, 2-card combos with your commmander are viable).
...Cut fatties with no evasion:
-1Renata, Called to the Hunt... if you're interested in playing "go-wide + pump" this could be good, but not better than Bloodspore Thrinax
-1Rampaging Baloths... incidental 4/4s aren't worthwhile
-1Crowned Ceratok... +1Champion of Lambholt
-1Ulvenwald Hydra... no synergy
-1Primordial Hydra... +1Managorger Hydra
When choosing cards ask yourself: (1) Does it work with my commander? (2) Does it work with my theme? (3) Is it strong enough with no synergy to play 1v3? (eg. Rampant Growth, Sylvan Library, etc.)
Happy brewing!
1 year ago
Hey, you're welcome.
Cards to consider cutting to add Tome of Legends and others later on.
I don't think any of these cards are needed/make your deck better or are worth the amount of mana they cost to cast. Moonsilver has a good repeatable attack trigger, but the problem with it is it's eight mana (four to cast and four to equip). It's lackluster compared to the Swords. If you didn't have the Swords then Moonsilver could be an option.
Because you have Sword of Fire and Ice and want more draw I think Open the Armory is worth including. If it's not getting Sword FnI then it can get another equipment.
1 year ago
I know it's a human so it doesn't trigger Grumgully, but some sort of anthem effect like having a couple of Tuskguard Captain might be good. Crowned Ceratok is not a human but has the same effect for one more mana.
1 year ago
The way this deck works is pretty simple. Get out Vorel of the Hull Clade and one other creature. Put a +1/+1 counter on that creature (using one of many possible methods) and start using Vorel's ability to make it huge. You can equip Illusionist's Bracers to Vorel to quadruple the +1/+1 counters instead of doubling them. You can also use Gilder Bairn or Hydra's Growth for even more counter doubling. I considered adding a Doubling Season, but it's too expensive. You can use Seedborn Muse or Bear Umbra + Murkfiend Liege to enable you to activate Vorel's ability during your opponents' turns.
Once the creature gets huge enough to one-shot another player, you can use Crowned Ceratok or Trollbred Guardian to give it trample, or you can use Skatewing Spy, Archetype of Imagination, or Invert the Skies (which has the same effect as Archetype, but temporarily) to give the creature flying. You could also use Rogue's Passage to make the creature unblockable. I'm considering more tech (like Herald of Secret Streams) to make creatures unblockable. Use your giant creature to finish your opponents off, one-by-one, or, for a quicker finish, use Pathbreaker Ibex or Overwhelming Stampede to make all your creatures huge and kill everyone at once.
There are a couple alternate win conditions in the deck. Simic Ascendancy will get 20 growth counters on it pretty quickly, and its hexproof-ness makes it hard to remove before your next upkeep. Using Vorel's ability a few times on Darksteel Reactor is another option.
2 years ago
Hello, I also have some suggestions that you might like. I play my versions of the deck a bit more with artifacts and hydren.
2 years ago
Hey there, I have +1/+1 counters-themed Atraxa deck as well, and I don't like to expensive cards for deckbuilding, so I might have some suggestions for you.
Firstly, Stubborn Denial is excellent in EDH.
You might like one or more of the following: Ring of Kalonia, Ring of Xathrid, Ring of Evos Isle, Ring of Thune.
Currently Thrummingbird just looks like removal-bait. It's too small to last long, so nobody will ever let it hit them most of the time. You'd need to add at least 7 or so card like Rogue's Passage to make it a reliable effect. Or buff up the bird in some way. This is why I went with a voltron strategy for my version. Anyway, long story short, I'd swap it out for Chromatic Lantern.
Other counters-synergy cards: Elite Scaleguard, Hindervines, Novijen Sages, Crowned Ceratok.
I think you should swap the three-color ETB-tapped lands for either the remaining Vivid lands.
Hope that helps! Enjoy Atraxing things. =)
Load more