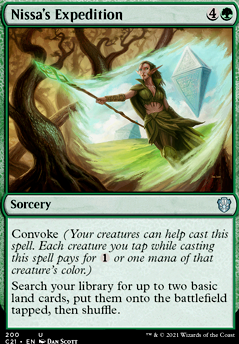 Legality
Nissa's Expedition
Sorcery
Convoke (You may tap your creatures as you cast this spell. Each creature you tap while casting this spell pays for or one mana of that creature's colour.)
Search your library for up to two basic land cards, put them onto the battlefield tapped, then shuffle your library.
11 months ago
Well hello there! I had way too much time on my hands, so here's this. By the way, it's all ordered best to worst. (:
2 years ago
Hey, you're welcome, nice changes.
Is the +1/+1 counter theme worth it here? Bane is a good card in multiplayer, but it doesn't need a +1/+1 counter theme to be good, it just happens to use +1/+1 counters. Champion of Lambholt also uses counters, but she gets counters from creating creature tokens, interaction with Twincasters. Fractals also have counters, but that's just how they're created, the additional +1/+1 counter theme isn't really helping Fractals. +1/+1 counters don't have interaction with making token copies of creatures since the token copy doesn't get the counters when it's created.
A good counter interaction here is Primal Empathy + Fathom Mage , but how consistent is it that you get both these cards without having tutors to get them? Not sure if Fathom is worth playing as a draw source when it wants a more expanded counter theme to get the most out of it. Empathy, you don't have a consistent high power creature to take advantage of the draw.
Fae Offering has a good token effect with Twincasters, but only if you can trigger it which consistently seems too difficult here. Khalni Ambush  Flip, fight is good with Hornet Nest , but I don't think I would play a card that all it does is fight just to have this interaction. You don't really have powerful enough creatures until later in the game that can fight an opponents creature, kill it while also having your creature survive.
---
Some budget changes to consider based on my last comment:
2 years ago
I would swap some of the ramp cards higher on the mana curve to more 2-mana ramp. With your commander being 4 CMC, the more 2 mana ramp you have the more likely you'll get them out one turn early. So I'm looking at things like Quandrix Cultivator (cool card regardless) and Nissa's Expedition . Maybe switch them for a Mind Stone , or Three Visits , or Farseek (this last one with an added inclusion of lands like Breeding Pool if it's within your budget, or more budget cards like Rimewood Falls or Mystic Sanctuary )
If you want to play with planeswalkers, Jace, Mirror Mage might be a cool addition.
Orvar, the All-Form is a sweet card, but I don't think this deck has enough instants and sorceries that could trigger his ability for the inclusion to be worth it. Either cut Orvar, or make sure you start adding more spells that can take advantage of it (maybe more clone token making spells).
3 years ago
It looks like you've got a lot of lands in here, I usually go for at most 40 lands in a deck, unless it's a lands matter type of deck. Also, Rampant Growth, Seek the Horizon, Terramorphic Expanse, Migration Path, Nissa's Renewal, Kodama's Reach, Grow from the Ashes, Nissa's Expedition, Explosive Vegetation, Cultivate, Traverse the Outlands, Frenzied Tilling, Boundless Realms, Evolving Wilds, Spring / Mind, Attune with Aether, Myriad Landscape and Blighted Woodland won't do anything since you don't have any basics in here. This also turns off the third mode of Verdant Confluence, though you may still want it for the other two modes.
I'm not sure what Mimeofacture is supposed to do in commander, notoriously a singleton format.
Creeping Corrosion seems like a strange choice in a deck where you're running several artifacts and artifact tutors like Fabricate.
I don't usually like running color-hosers like Anarchy, since there are games where it will be a dead card in your hand.
Overall it seems like you're running two decks: an energy deck built with mainly permanents that give you energy and use it, and a big spells deck, with a lot of powerful instants and sorceries that you can copy with your commander. There's nothing wrong with having two themes in a deck, but narrowing it down to one would probably help you get down to 100 cards. Also, some cards like Mizzix's Mastery want you to play more instants and sorceries than permanents, while cards like Primal Surge want you to be playing almost all permanents. Leaning more in one direction than the other will give your deck more focus.
3 years ago
Thank you, I will definitely consider your tips! While playing the alpha-poor version of the deck i noticed 2 things- poor drawing leading to card disadvantage, and mana flooding problem. I resolved these in this beta-version by adding Camaraderie , but also Nissa's Expedition as well as Flower / Flourish for some mana searching, so that I can actually cast it. Do you think it might work?
4 years ago
Lifespring Druid could go out for Llanowar Elves , Avacyn's Pilgrim , Elvish Mystic , Fyndhorn Elves or Wood Elves .

Some better options of ramp to replace Nissa's Expedition and Peregrination : Rampant Growth , Farseek , Nature's Lore (those two can grab nonbasic lands), Cultivate , Circuitous Route , Skyshroud Claim (can also grab nonbasic lands).

In the matter of boardwipes, you might consider Rout for instant speed or boardwipes that don't hit your stuff: Austere Command and Cleansing Nova for versatility, Single Combat , Divine Reckoning , Tragic Arrogance , Cataclysmic Gearhulk .
4 years ago
Looks like you only need 5 more cuts, so I'd recommend cutting:
Load more