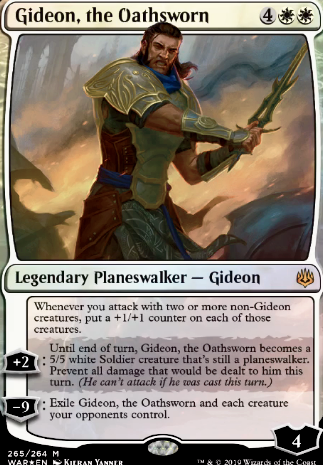 Legality
Gideon, the Oathsworn
Legendary Planeswalker — Gideon
Whenever you attack with two or more non-Gideon creatures, put a +1/+1 counter one each of those creatures.
+2: Until end of turn, Gideon, the Oathsworn becomes a 5/5 white Soldier creature that's still a planeswalker. Prevent all damage that would be dealt to him this turn.
-9: Exile Gideon, the Oathsworn and each creature your opponents control.
11 months ago
Well hello there! I had way too much time on my hands, so here's this. By the way, it's all ordered best to worst. (:
3 years ago
I have been thinking, should i replace Gideon Jura with Gideon, the Oathsworn ? I rarely tutor for Gideon Jura , his usage is quite niche in the deck apart from potentially protecting some of your other planewalkers for a bit. Gideon, the Oathsworn can help tokens a little and has an achievable ult that can be used politically as a threat so people don't attack you. What should I do?
4 years ago
Hello there!
Just a few thoughts regarding cards in your deck:
Gideon, the Oathsworn (and it's sorcery-associated card), Wanderer's Strike , is slow garbage and overcosted. Take them out.
Despark would be better as a sideboard card, as many aggro decks have most of their deck under 3 CMC.
Gideon's Triumph has the same issue as Despark. Problem against aggro decks going wide. Would take this out entirely, and not even sideboard it.
A few thoughts you should consider adding:
4 years ago
Cards to be acquired after WAR:
Finale of Glory - Another token maker; will probably replace Decree of Justice as the card is a reverse Decree
Gideon, the Oathsworn - Another anthem effect