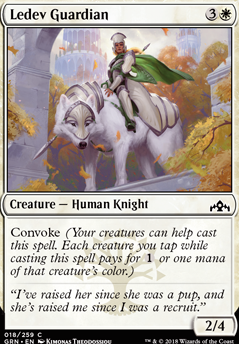 Legality
11 months ago
Well hello there! I had way too much time on my hands, so here's this. By the way, it's all ordered best to worst. (:
4 years ago
Looks pretty good to me, but I do have a few suggestions:
Pierce the Sky and Navigator's Compass aren't very good; since you have 62 cards in your deck, removing these two will help you get to your good cards faster.

Like mckinney said, having more copies of your best cards will help you draw them more often. To me, your best cards seem to be Trostani Discordant, Venerated Loxodon, Impervious Greatwurm, Conclave Tribunal, Seal Away and Conclave Cavalier.

As of what to take out for more copies, aside from the two I listed earlier, Make a Stand, Join Shields, Ledev Guardian, and Healer's Hawk are a little on the weak side.
But your deck looks promising. Very good start! :)
4 years ago
if you cut the Chupacabra's your mana base will probably even out a bit better, and is there a reason not to use Valiant Knight as the top end of the deck, it gives your best start of grace/malice into history an even more explosive impact.
You may also want to consider cutting Militia Bugler and fill up Midnight Reaper and Knight of Autumn counts as both power and really good utility (while also being knights making history better).
You may also want to consider:
Aryel, Knight of Windgrace as an oddly super sweet value generator that outside of turbo fog most decks will have to answer or become buried in knights that gang up and kill most creatures.
Arguel's Blood Fast

Flip card draw, a bit better in a knights list running Paladin of Atonement but it still is probably the hardest to remove card draw you could run and it can sometimes flip to a land that sometimes could be useful.
Dauntless Bodyguard the cheapest knight in the format, can sometimes be used as a means to overextend into a likely board wipe, but most games it'll be the most powerful as a turn 1 play to be aggressive or get convoke ramp going.
Shalai, Voice of Plenty makes your creatures hard to remove and makes your face hard to burn, also protection from Settle the Wreckage is sweet.
Price of Fame a murder that's easier to cast for a 3 color deck, becomes cheaper vs the scariest type of creature, and gives you card selection with surveil.
Ledev Guardian almost any combination of turn curve with history you'll usually only trade at worst 2 points of dmg to cast this for free on turn 4, making it an extra 4 dmg from the last verse.