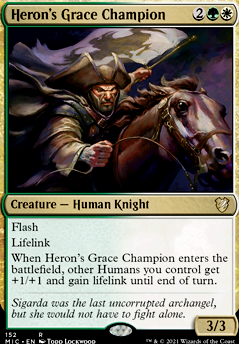 Legality
10 months ago
Well hello there! I had way too much time on my hands, so here's this. By the way, it's all ordered best to worst. (:
3 years ago
I like Heron's Grace Champion a lot, but it can't be hit off of coco, and that matters a lot to me. As a low curve deck, I'm okay with 2 copies just in my sideboard.
4 years ago
Also I forgot to mention this in my other comment, take all of the forests out and replace them with plains. There are some pretty intensive mana requirements like Knight of the White Orchid and Benalish Marshal that you can't afford to have any non-white sources in the deck. Also, Heron's Grace Champion is the only green card so it would be best to maybe have at most one forest if you really feel the need to.
5 years ago
Though Heron's Grace Champion seems strange to me, it sounds like a lot of fun, maybe I'll see how it works.
Load more