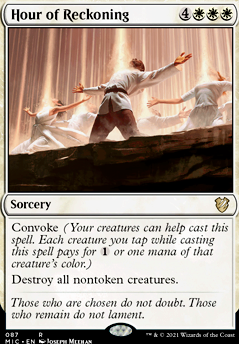 Hour of Reckoning
Sorcery
Convoke (Your creatures can help cast this spell. Each creature you tap while casting this spell pays for or one mana of that creature's colour.)
Destroy all nontoken creatures.
Latest Decks as Commander
Hour of Reckoning Discussion
6 days ago
Hey! Kinda late, but I would like to suggest some stuff:
(Disclaimer: I have a budget way lower than yours, but I've been tinkering with Ghired for almost two years - he's my favorite commander. I'll break the suggested upgrades down into categories for better organization.)
Haste enablers:
Ramp: Run at least 15 ramp cards to make your deck flow smoother and faster.
As an aggressive deck, speed is fundamental. Fellwar Stone, Nature's Lore, Three Visits, Skyshroud Elf, Bloom Tender, Faeburrow Elder, Chromatic Lantern, Coalition Relic, Wood Elves, Skyshroud Claim and Mirari's Wake can ramp and heavily fix your mana, taking the place of Gyre Sage, Solemn Simulacrum, Rampant Growth, Sakura-Tribe Elder and Xenagos, the Reveler - the latter is a win-more ramp, and his 2/2 token is not large enough to synergize with the power-based card draw, while the other four fix for a single color of mana (Ghired decks can sometimes be color-hungry), and this deck can't abuse the sad robot for value.

In the land department, Krosan Verge and Blighted Woodland pull their weight, and synergize greatly with Avenger of Zendikar and Rampaging Baloths. Maybe remove Cascading Cataracts? (Your spells are not THAT color hungry.)
Direct damage:
Extra combats: You don't have to worry about your opponents' answers if they never get to their turn, so...
Boardwipes:
Card draw: Alongside ramp, it is my main concern with Ghired. I want to be able to rebuild my board after a boardwipe.
Some cards I suggest you to remove:
Some cool lands for you to try out: (landbase is my favorite part of deckbuilding)
I hope I've been of some help to you. I didn't suggest many token-related cards because I believe that, as long as you have decent ramp, draw and removal in your deck, you can win to your heart's content. Wanna throw in a Godsire? Do it. Prefer to clone your opponents' creatures with Hate Mirage? Go ahead. But the fundamentals of the deck is what makes it flow consistently. Have fun and smash 'em all (and run Doubling Season for extra fun) ;-)
4 months ago
Hey xram666, thanks for your suggestions :)
I have had a look at Endless Swarm, and also other potentially good epic cards like Eternal Dominion, Neverending Torment, and Undying Flames. My problem with these cards is that 1) I don't feel like its safe to cast them early, so if I happen to draw them to the first Golos, Tireless Pilgrim activation, its kind of a waste; and 2) they are a bit boring. I mean, if I play Neverending Torment, I wont be able to play any more big sorceries for the rest of the game. And playing big sorceries is kind of the point of this deck. That said, it could be really good, especially if I have a Reliquary Tower on the board, and have gotten to cast one of the draw spells. That should easily give me a hand of 15 cards.
I really like Feral Incarnation, and will probably add it right in :D. I've done the comparison on token producers really easy for myself (and maybe a bit stupidly), and I am currently just adding power together. So for most of my token spells, they add up to about 8, like Elemental Masterpiece, which is 4x2 in power. So since 3x3=9, it beats several of the ones I have included :)
The categories are a bit tangled, but I like them the way they are. Some spells are a bit hard to place, like Inspired Ultimatum and also Necrotic Hex, because they could have been placed in more than one category. What I've done is added them in the category which identifies why I'm playing the card. And in the case of Necrotic Hex, I'm playing it as a board wipe variation that is able to clear indestructible creatures. Might switch things around later on though, nothing is set in stone.
Hour of Reckoning is good, and I have thought about playing it, but I just barely felt like not doing it. I don't want to swap out a board wipe that doesn't kill Golos for it, and the ones that don't kill him have nice side effects, like killing all enchantments and artifacts or giving me tokens. It's also a bit scary to let tokens live when I know of quite a few decks that like to spam tokens. In many cases, those are the most important board wipes - Like if your playing against Krenko, Mob Boss, and he has created 300 goblin tokens, but they have summoning sickness and there's no sac outlet. I don't know.. I might have to think more about how well Hour of Reckoning would work in the deck.
4 months ago
Nice deck: +1 from me for sure.
A really interesting card for token production: Endless Swarm. Somewhat dangerous but winning with this card definitely feels satisfying.
Another option for tokens would be Feral Incarnation
By the way. I would additionally add Necrotic Hex in the token category.
With only token aside your commander you can also think about Hour of Reckoning
6 months ago
Thanks for commeting my dude. I really like Descent of the Dragons , i dont know how i forgot about it and yea i know Double Major isnt that good so i will surely replace it. About Mythos of Snapdax i was thinking of putting it but i dont rly wanna kill my tokens but i actually quite like Hour of Reckoning and i will surely try to fit it in.
6 months ago
Descent of the Dragons can turn your opponents big guys to 4/4's, turn your smaller tokens into 4/4's and give you a way to kill Codie. I'd probably replace Double Major with it.
7 months ago
I'd suggest Damn over Wrath of God . The BB is hard but you also have Ashiok, Dream Render in your sideboard so... Fetid Heath could help mana fixing for those cards and Procession.
Hour of Reckoning is another good wrath for this deck.
Zealous Persecution claps enemy 1 toughness creatures while buffing all your dudes.
Load more