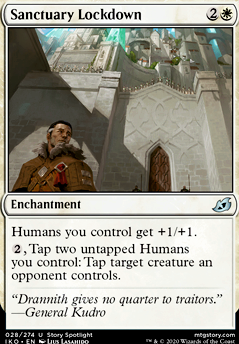 Legality
5 months ago
Well hello there! I had way too much time on my hands, so here's this. By the way, it's all ordered best to worst. (:
2 years ago
Hello Breakaway,
Rally the Ranks is a new 2 CMC lord effect and will benefit you more than Sanctuary Lockdown because Rally the Ranks ' reduced CMC cost will allow you to play another 2/1 creature during the turn you play it turn.
Thanks,
Philosopher
2 years ago
This would appear to be a bug. Zirda states that it can't reduce the mana in a cost to less than one mana. You still need to pay and tap two untapped creatures to activate Sanctuary Lockdown.
Hope this helps!!
Load more